Apple announces iPad — available in March from $499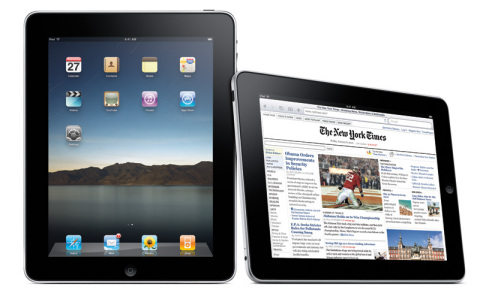 As expected, Apple unveiled its take on the tablet computer yesterday — the iPad. Amusingly, most of the expert predictions about the device turned out to be wrong and the iPad is a remarkably restrained device that's essentially a big iPod Touch.
Here's the skinny — the iPad is a tablet device with a 9.7" (1024 x 768) multi-touch TFT display that uses Apple's own 1GHz A4 processor to run (a variant of) iPhone OS 3.2. It runs iPhone apps (scaled-up with pixel-doubling) and is half an inch thick with a claimed 10-hour battery life when playing video. There are six models — 16Gb, 32Gb and 64Gb capacities, each with either Wi-Fi only, or Wi-Fi and 3G. Prices start from $499 and the iPad goes on sale in March. Full specs here.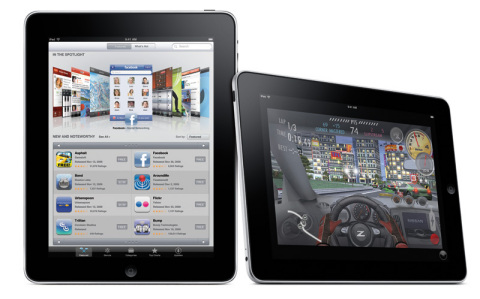 Looking at the iPad with a cynical eye, that's pretty much all there is to it, which might explain why the initial response to Steve Jobs' big reveal ( QuickTime video of the event) at the Yerba Buena Center in San Francisco seemed rather muted. The subsequent hour-long demo didn't do much to lift the audience's spirits either — a few new applications aside (including an iPad edition of the iWorks suite), the iPad works just like a big iPod Touch or iPhone too, and most people are already familiar what that those devices can do.
Much of the immediate disappointment with the iPad, however, seemed to stem from what it can't do. Even if you discount the ridiculous features that some people seemed to think that an Apple tablet should have, there's no denying that the lack of multi-tasking on a big-screen device like this is a bizarre omission, as is a video camera — after all, Apple was touting video chat as a key feature of its tablet concept in 1995.
The lack of any ports other than a Dock connector and a 3.5mm headphone jack also smacks of penny pinching — you'll have to pay extra for a memory card adapter to import your digital photos, and for a VGA adapter to connect the iPad to a bigger screen. Before unveiling the iPad, Steve Jobs quipped that the reason Apple wasn't interested in producing a netbook was because they worse than a laptop at everything, but all netbooks models at least have a built-in memory card slot…
Offering six different models with a mix of Wi-Fi and 3G is also unusual move for Apple — a company that usually specialises in simplicity. 3G also adds $130 to the price of each capacity and although these models are sold unlocked for use on any network, they require a Micro SIM. This is a relatively new and smaller format of the current mobile phone SIM card that measures 12 x 15mm (current SIM cards are 15 x 25mm) and we're not aware of any UK mobile provider that currently offers them.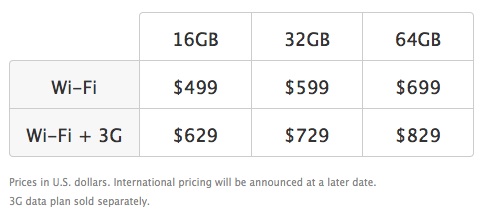 Given that 3G chipset components only cost around $16, we also can't help but wonder why Apple is bothering 3G-less models at all. Dispensing with Wi-Fi-only iPads would simplify the line-up and a $499 model with built-in 3G would be far more appealing.
Finally, the iPad's 4:3 aspect ratio screen is far from ideal for watching widescreen movies and TV programmes — two key components of Apple's iTunes offering. The Unnofficial Apple Weblog has knocked up a handy graphic to show how widescreen content will fare on the iPad, and it's not a pretty sight: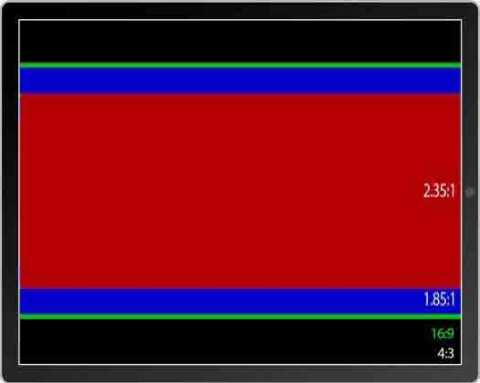 Still, it's not all bad news and the iPad does bring two particularly interesting developments for Apple. The first is its processor — the 1GHz 'A4' chip has been developed by Apple itself and hands-on reports suggest that it's very, very fast. Given that Apple is now one of the world's largest mobile manufacturers (its latest financial results show mobile revenue greater than that of Nokia, Sony and Samsung), this gives Apple a clear advantage when it comes to developing new smartphones and other mobile devices.
Second, Apple also announced the iBooks app for e-books sold through iTunes. Amazon won't reveal how many Kindles its sold, but it's a given that Apple will shift many more units of its more versatile iPad. If it can repeat even a small part of the iTunes Music Store's success with ebooks, then it stands to become a major player in electronic publishing and the iPad's colour, video-capable screen presents even greater opportunities for e-magazines (a fact that magazine publishers are not oblivious to).
iPad pondering will occupy most of the web for the next few days, but we suspect a conclusive opinion won't form until the first reviews appear when people have spent some serious time using it for its intended purpose. UK pricing hasn't been announced yet, but assuming that we're part of that "worldwide availability in 60 days" announcement, we should know more soon enough.
Originally published on www.mobilecomputermag.co.uk, now incorporated into Broadband Genie
Comments
Add your comment now