iPad! iPad! iPad! iPad! iPad! etc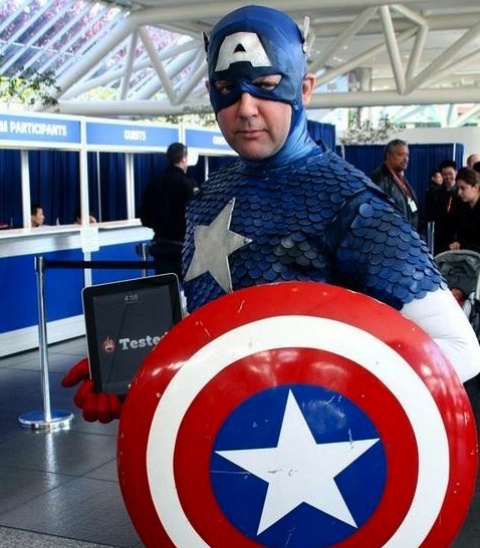 If you didn't spend the bumper-sized Bank Holiday weekend sitting near a media outlet, you may not have heard that Apple launched its iPad in the US on Saturday. Most tech blogs have covered nothing else in the meantime, but we'll spare you the long list of links to reviews web-wide — there are just too many to list, and besides, with no UK launch date in sight, there's only so much torture we can take.
Instead, we'll run through a few more iPad-related stories that have cropped up over the last few days. First, it looks like Apple designer Jonathan Ive didn't get a box of free iPads to give to friends and family — he has to pop into an Apple store to buy some, just like everyone else. Steve Jobs also dropped by his local Apple Store in Palo Alto, California, but it looks like he just wanted to help out behind the tills.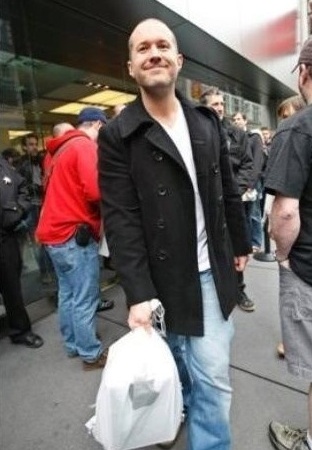 iPad problems have been quick to surface, with some owners complaining about an inability to charge via a USB port and weak Wi-Fi reception. The former seems to be nothing more than a side effect of the iPad's enormous battery and the 40Wh cell simply can't draw enough juice from some USB ports to recharge and run at the same time. It seems that the USB ports on some non-Apple computers only have enough power to recharge the iPad when it's turned off, and then only slowly — turn the iPad on and it displays a "not charging" indicator.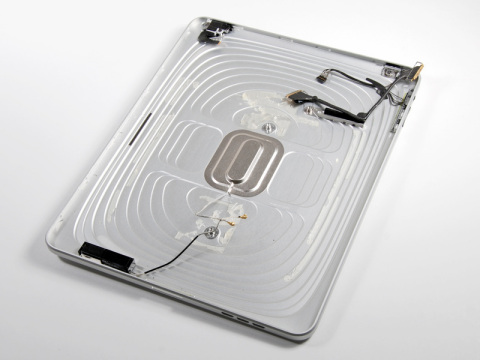 Wi-Fi problems seem to be less clear-cut, with some owners reporting that signals fluctuate between full strength and next-to-no strength. There's some speculation that the iPad's Wi-Fi antenna position behind the Apple logo on the rear of the unit could be to blame, since this is often placed facing downwards on a desktop or blocked by the legs in a sitting position, but this doesn't sound likely to us. We have a similar problem with Wi-Fi on the iPhone 3GS, so it'll be interesting to see if this some deeper compatibility problem between wireless chipsets and certain routers.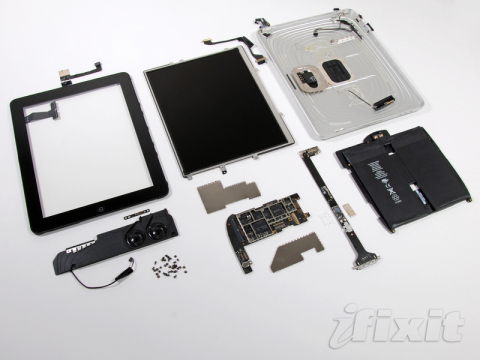 iFixIt was quick to take an iPad apart to reveal its inner secrets — that aforementioned bug battery being one of them. The elegant and spare interior doesn't reveal much else, other than the hole that looks custom made for a missing webcam is actually used for the ambient light sensor. It also shows the position of the Wi-Fi antenna — something we'll no doubt be hearing more about over the next few weeks.
Some iPad owners have been less constructive in their deconstructions, however. The inevitable "Will it blend?" video has already appeared, but the fact that the iPad is larger than the blender posed an interesting problem. Tom Dickson seems to solve it, but we suspect some cheating took place, since there's no way that the milled aluminium iPad body is going anywhere without a more serious appliance that the one he favours.
Macworld employed some similarly pointless techniques for its iPad stress tests, the conclusions of which are that the iPad isn't waterproof and can't be dropped on a hard surface. Senior editor Tim Moynihan also appears incapable of affecting an English accent.
It turns out the iPad also can't withstand an impact from a baseball bat, which is something to bear in mind when it launches in the UK and you're using one on the sofa.
Anyway, that's enough iPad silliness — here's something far more useful. The iPad Arcade Cabinet is a desktop cradle that, yes, looks like a mini arcade cabinet. Install the free iCade app and you can then play Donkey Kong, Dig Dug, Q*bert and some other game we've never heard of just like it was the early 1980s — all for a combined price of just $650, give or take. Looks like someone at ThinkGeek needs to check the calendar for this one…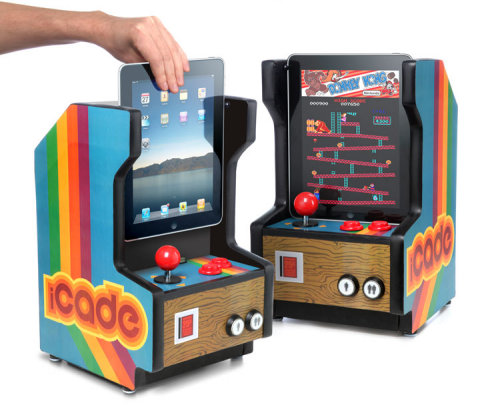 Originally published on www.mobilecomputermag.co.uk, now incorporated into Broadband Genie
Comments
Add your comment now