BT launches YouView TV with BT Vision; Sky Sports coming soon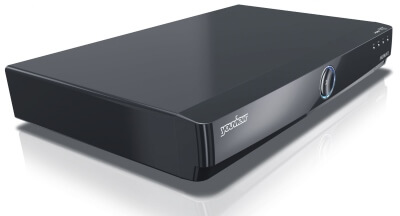 BT broadband customers can now sign up for a 'triple play' bundle from BT which includes a YouView freeview box, marking the start of a new TV strategy for the venerable telephone company.
YouView takes an innovative approach to freeview TV; as well as offering the standard range of freeview channels with recording like Sky+ and Virgin's TiVo a YouView box is also a gateway to the on-demand services of BBC iPlayer, ITV Player, 4OD and Five On Demand.
The clever part is how this is smoothly integrated into the YouView EPG, so you can skip up to seven days in the past to find missed shows on supported channels, which then stream and play through the relevant on-demand service. A lot less hassle than balancing a laptop on your knees or watching The Great British Bake-Off on a tiny smartphone screen.
BT joins fellow YouView project partner TalkTalk, which last month began dishing out YouView boxes to new and existing customers, but for BT this isn't just an extra feature to compete in the tough broadband arena.
Anyone taking a YouView box from BT will also gain access to BT Vision where thousands of TV shows, movies and music videos are available to stream, alongside the usual freeview and catch-up content.
BT Vision has previously required a separate box and was positioned as a basic pay-TV upgrade for those who wanted more than freeview provided but didn't want to shell out for Sky or Virgin Media. That continues to be available but customers will also now have the choice of taking YouView.
This additional option means a little more confusion for consumers, strange when YouView's philosophy has been simplicity, however it appears this will only be temporary until YouView is upgraded to handle additional channels.
BT scored a major coup when it nabbed the rights to air the premiership football, giving Vision users access to Sky Sports 1 and 2. When possible this will be added to YouView, at which point Vision will presumably be retired so YouView can take centre stage as BT's TV product.
This may mean that - legal wrangling and money not withstanding - BT could become the third major pay-TV provider in the UK, serving up premium channels via YouView.
New and existing BT Infinity users can get YouView for a £49 'activation' fee, while ADSL customers will also need to pay for the TV Essentials package from £4 per month. BT will also throw in free powerline network kits if the router is too far from the YouView box as it does not support Wi-Fi.
The box is a 500GB Humax model which normally retails for £299 so this is heavily subsidised, and if you later cancel your BT connection it will continue to function as normal - minus BT Vision of course.
You can find out more about BT Youview packages and compare the best deals on our dedicated BT TV page.
Comments
Add your comment now