Backup and stream your music collection with Google Music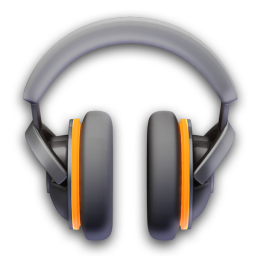 After a stint as a US exclusive since its unveiling last year Google Play Music has now arrived in the UK.
That doesn't just mean we have the honour of purchasing songs from their store; we've now got a fantastically easy tool for backing up and streaming digital music without having to muck about bypassing geographical restrictions.
With Google Music you can upload 20,000 music tracks for free, and once saved in your account these can be streamed through smartphones, tablets and computers, giving instant access to your library wherever you've got a half-decent connection speed.
Setting up Google Music
Head to music.google.com. Enter your standard Google account details to log in. If you've not got a Google login hit 'sign up' and follow the prompts, hardest part is passing the annoying captcha.
Depending on how you've used your Google account previously you may need to enter some payment details when first signing in to Google Music so they can verify you're from the right country. This won't cost anything.
Once that's done and you're logged in to the main GMusic interface you can begin the uploading process. If you're not given the prompt for downloading Google's Music Manager application click 'Upload Songs' in the top right corner, then download and install this software. It's available for Windows and Mac OS X.
Uploading songs to Google Music
After installation we need to tell Music Manager which folder(s) to monitor for new tracks. Go to the application's Upload tab to manage these folders.
It will detect and upload the most common audio file types: MP3, FLAC, OGG, AAC and WMA. DRM protected music is not supported, but otherwise it will simply upload any compatible file, regardless of whether it's already available in the Google Music store.
Note that uploaded tracks are converted to 320kbps MP3. That's good enough for most but if you're an audiophile with a collection of lossless FLAC it means a drop in quality.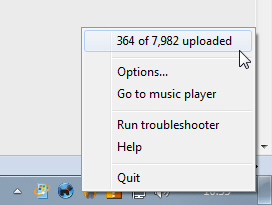 Uploading will begin as soon as Music Manager detects new compatible files in the monitored folders. Progress can be monitored by hovering the mouse cursor over the Music Manager icon in your system tray, or by opening Music Manager itself.
Uploading can take a long time depending on the size and content of your library, and connection speed of course.
Google does now offer scan and match, automatically adding songs which are already available in its database to avoid the need to upload, but otherwise it can take some time. Be prepared to leave your computer on overnight, perhaps for several days, in order to complete the process.
Playing and managing music
The web interface is self-explanatory. Switch between categories such as genre and artist using the links in the left panel, play controls are at the bottom, along with shuffle and repeat.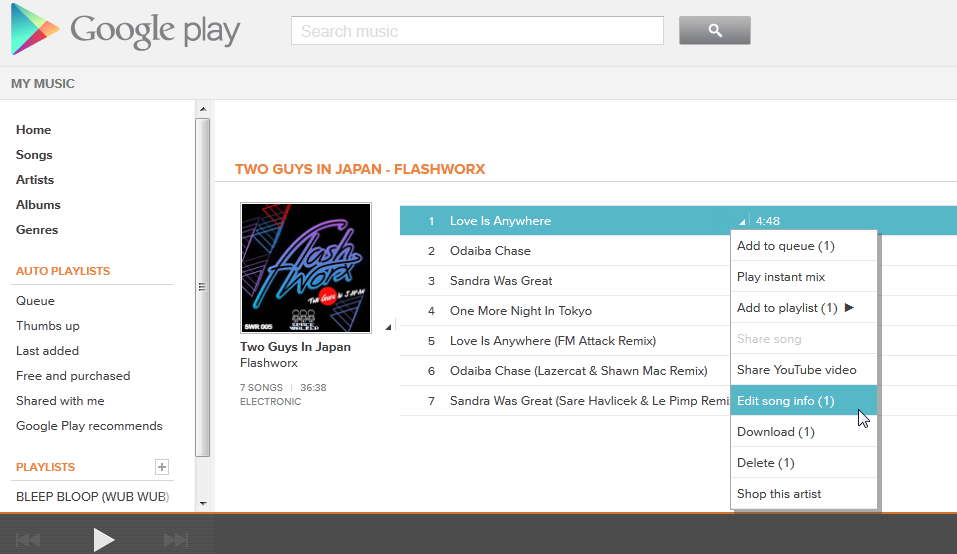 For further options click the artist or album name in the main track listing window.
If you hover the mouse over an album cover or an individual track a drop-down menu can be opened where you can do things like add to playlist, download and edit the tag information.
When editing you are able to change the album cover as well as things like album name and year.
Uploaded songs can be downloaded via GMusic but it is important to remember that you can only ever do this twice for each song via the web. However, you are allowed to download the contents of your music locker as many times as you like using Music Manager, useful if you don't have a local backup.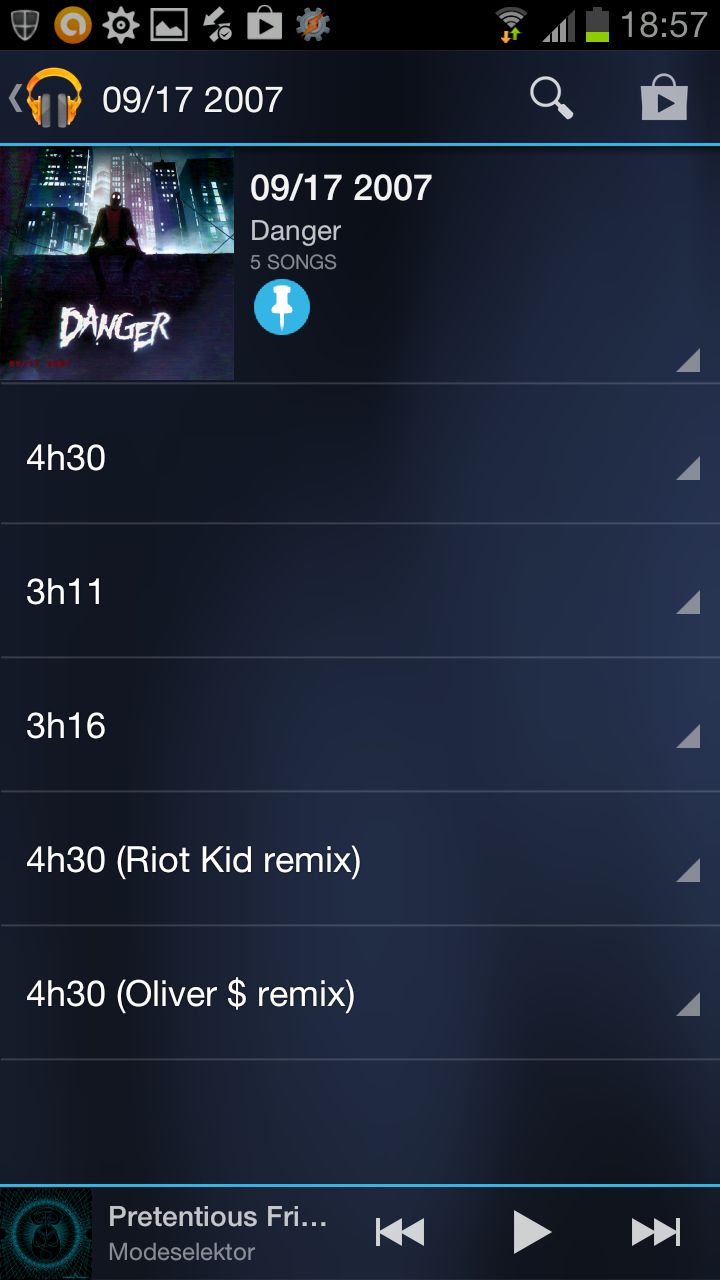 Google Music on Android
One of the best reasons for using GMusic is the ability to easily stream to a tablet or smartphone. This is done using the free official Play Music app which is now available to UK users.
Once installed on your phone and/or tablet it'll pull down the details of any tracks stored in your Google Music locker. The app will also play tracks stored locally so you don't need to have another music player.
The latest version has a couple of new features, including gapless playback and the very useful ability to save tracks so they're accessible offline. You no longer need to sync your device with a USB cable - just upload to Google Music from your computer and then hit the pin icon in the app to begin downloading.
3 top tips for Google Music
Organise your library before uploading
This is really important. If your collection is not properly tagged you'll end up with multiple entries for the same albums and artists, incorrect album art or tracks in the wrong order. It'll look a mess.
Take the time to ensure all your songs have the proper details and it'll be easier to use and look much nicer, particularly on the Android app which prominently displays cover art.
While you can edit this information after uploading it is incredibly tedious for a large library and you really don't want to have to delete everything and start again.
For easy editing of large numbers of files Windows users should grab MediaMonkey, Mp3tag and Bulk Rename Utility.
Fix failed uploads
Sometimes Music Manager will encounter tracks it is unable to upload, giving an error message about the "file being marked a permanent failure on server".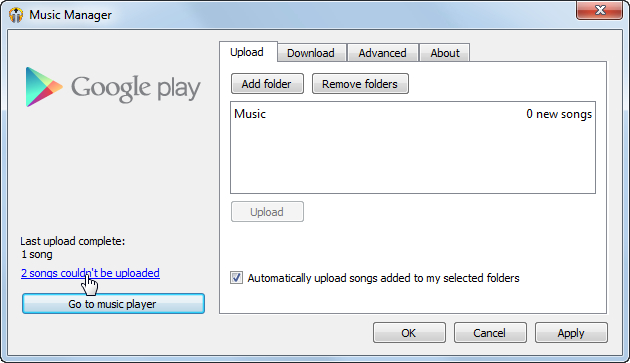 This appears to be a measure to prevent people uploading the same files on multiple accounts, but to get round it all you need to do is modify the track enough so that Google thinks it's different.
This can be done by simply editing the ID3 tag data; adding some characters to the album or track name is enough, you can change it back once it's uploaded.
An alternate method is to download Foobar2000, open the failed tracks and use the 'Fix VBR MP3 header' option. Once one of these things is done Music Manager should pick it up as a new track and automatically upload.
Sort out mismatched album art
Very often you'll find that album art on Google Music is wrong, or you're seeing multiple images for a single album.
What can sometimes happen is a single song has embedded artwork which doesn't match anything else, but for some reason Google decides that's the appropriate image to display.
If this is happening you'll need to 'edit info' on each track in an album to discover which have the offending art, then upload the correct picture.
When organising your songs before uploading use Mp3tag to ensure all artwork matches. You may want to delete any embedded cover art to make sure, then just leave a single cover image file in the same folder as the album tracks; Google Music will upload this along with the songs.
Comments
Add your comment now