3 tips for choosing business broadband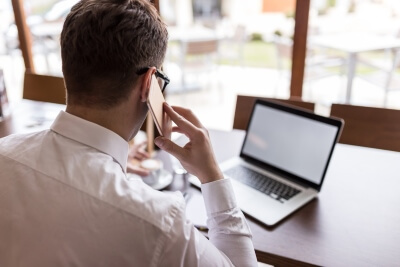 These days, most businesses would struggle should something happen to their internet connection. Email has become a very important form of business communication, and many companies also have their telephone calls go through the internet.
So whether you're thinking of starting up a new business, or have an existing business that needs better connectivity, here are some things to keep in mind when choosing your business broadband.
Get more than one internet line
If your business relies on an internet connection to get work done then it is strongly suggested that you get a secondary internet connection to support your first.
There are many devices out there that can manage two internet connections, and automatically switch over to the other should anything happen to your primary line, and even intelligently prioritise traffic to ensure business critical information goes through first.
That being said, the best solution for having two internet lines would be to have separate devices managing the individual connections, because it is best practice not to have a single point of failure with your IT equipment.
As the UK is now seeing its first rollout of 4G for mobile data, another alternative for businesses in a pinch would be to get a mobile broadband dongle should there be an interruption with your broadband service. At the time of writing, 4G coverage is limited so you may end up on 3G, which is adequate for simple browsing and emails.
Ideally you would have two broadband connections with different providers. The slight cost increase of having multiple connections will be favourable to having an entire office not being able to work, and the often unseen cost of loss of business should a potential client not be able to reach you on time.
Remember the "up to" speed isn't necessarily the speed you get
Many broadband connections use old copper lines and so are capable of a theoretical speed of 24Mb. The most common fibre broadband, sometimes known as FTTC (fibre to the cabinet), has a theoretical maximum of 80Mb. However these speeds are dependent on many factors.
The two main reasons why you might not get those speeds is your distance to the exchange, and how many people are "sharing" your line (also known as contention ratio).
The further away you are from the exchange the slower your connection will be. This is particularly true of ADSL broadband, where the theoretical 24Mb limit is never reached - more likely you connection will be somewhere between 5 and 16Mb. Fibre is less susceptible so you should get a connection speed much closer to that quoted, but there will still be some loss of performance.
The contention ratio is a bit more difficult to predict. A typical home broadband connection may have a ratio of 20:1, meaning 20 people per line. This is why you may experience speed fluctuations during peak times. For business broadband, this number may be closer to 5:1, which is why it's sometimes more expensive than a home broadband connection. These are of course general numbers, and different service providers may choose to use different ratios.
Remember to ask for what's achievable in your area and ensure that you have the right to cancel should what they not be able to deliver the speed they promised you.
Upload speed may be just as important as your download speed
The speeds advertised pertain to the download speeds achievable. But as a business you may need a good upload speed to work with cloud solutions, upload large files, or perhaps you have a telephone system that dials over the internet.
Should any of the above apply to you then you'll want to speak to your service provider and find out what upload speeds are achievable. ADSL isn't the only broadband standard, you could also get SDSL (this is a synchronous connection, where your download speed and upload speed is the same), AnnexM (a broadband connection with a theoretical maximum upload speed of 2.5 mbps), or get a fibre broadband connection, which has a theoretical maximum upload speed of 20 mbps.
About the author: Michael Kiruba-Raja is a hybrid cloud specialist for the SMB market. He's currently
with Prosyn, a business IT support company that help businesses in the London area get the best out of their IT.
Comments
Add your comment now