Google Nexus 4 review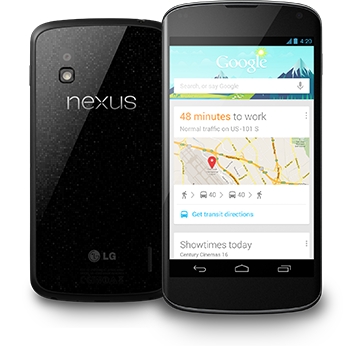 It took a while, but we finally got our mitts on the latest Google smartphone. Having underestimated demand LG has not been able to make the Nexus 4 quick enough and they've been running out of stock almost as soon as it goes on sale.
They really should have known better, because the Nexus 4 is brilliant value for money, with a processor and build quality far above its relatively modest price tag.
This is a smartphone that immediately grabs attention with its slick piano-black casing, then blows you away when that gorgeous LCD screen lights up.
Apple is often lauded for the iPhone 'Retina Display' but the screen on the Nexus 4 is at least its equal. Vibrant and razor-sharp, it's the standout feature of an exceptional handset.
Most amazing though is the price tag. The 8GB model is just £239, and if you want to splash out the 16GB version is just £279. In comparison, a 16GB iPhone 5 would set you back £529. We have some great contract deals on the N4 but its SIM-free price is so good you might want to buy it outright and save money with a rolling 30-day contract or PAYG SIM.
For more details see our full review.
(And now we're done with the review our Nexus 4 competition winner Simone Lee can have her new phone! It's in the post...)
Comments
Add your comment now