Best iPhone 5 & 4S deals on contract
Check below for the cheapest iPhone deals
Minutes
Data
Phone cost
Tariff
Contract
Effective cost

The average theoretical monthly cost after adding in the handset cost and then deducting all available cash back and line rental discount. Doesn't factor in the value of any free gifts. For comparison guidance, hope it helps!

1

Apple iPhone 5S 32GB + "Apple iPod Shuffle (2GB

300

per month

250MB

per month

£254.99
£25

/mth

24


months

£35.62

/mth

Incentive FREE "Apple iPod Shuffle (2GB worth £0. Info

25.00, unlimited texts

Handset colour

Silver

Check coverage>

2

Apple iPhone 5S 32GB + "Apple iPod Shuffle (2GB

UNLIMITED

UNLIMITED

(fair use policy of 1GB)

£249.99
£47

/mth

12


months

£67.83

/mth

Incentive FREE "Apple iPod Shuffle (2GB worth £0. Info

47.00, unlimited texts

Handset colour

Silver

Check coverage>

3

Apple iPhone 5S 32GB + "Apple iPod Shuffle (2GB

UNLIMITED

UNLIMITED

(fair use policy of 9GB)

£244.99
£40

/mth

24


months

£50.21

/mth

Incentive FREE "Apple iPod Shuffle (2GB worth £0. Info

40.00, unlimited texts

Handset colour

Silver

Check coverage>

4

Apple iPhone 5C 32GB + "Apple iPod Shuffle (2GB

100

per month

100MB

per month

£374.99
£13

/mth

24


months

£28.62

/mth

Incentive FREE "Apple iPod Shuffle (2GB worth £0. Info

13.00, unlimited texts

Handset colour

Blue

Check coverage>

5

Apple iPhone 5S 32GB + "Apple iPod Shuffle (2GB

UNLIMITED

UNLIMITED

(fair use policy of 2GB)

£234.99
£34

/mth

24


months

£43.79

/mth

Incentive FREE "Apple iPod Shuffle (2GB worth £0. Info

34.00, unlimited texts

Handset colour

Silver

Check coverage>

6

Apple iPhone 5S 32GB + "Apple iPod Shuffle (2GB

UNLIMITED

UNLIMITED

(fair use policy of 2GB)

£224.99
£52

/mth

12


months

£70.75

/mth

Incentive FREE "Apple iPod Shuffle (2GB worth £0. Info

52.00, unlimited texts

Handset colour

Silver

Check coverage>

7

Apple iPhone 5S 32GB + "Apple iPod Shuffle (2GB

UNLIMITED

UNLIMITED

(fair use policy of 5GB)

£224.99
£39

/mth

24


months

£48.37

/mth

Incentive FREE "Apple iPod Shuffle (2GB worth £0. Info

39.00 4G, unlimited texts

Handset colour

Silver

Check coverage>

8

Apple iPhone 5S 32GB + "Apple iPod Shuffle (2GB

100

per month

100MB

per month

£209.99
£25

/mth

24


months

£33.75

/mth

Incentive FREE "Apple iPod Shuffle (2GB worth £0. Info

25.00, unlimited texts

Handset colour

Silver

Check coverage>

9

Apple iPhone 5S 32GB + "Apple iPod Shuffle (2GB

600

per month

UNLIMITED

(fair use policy of 500MB)

£199.99
£29

/mth

24


months

£37.33

/mth

Incentive FREE "Apple iPod Shuffle (2GB worth £0. Info

29.00, unlimited texts

Handset colour

Silver

Check coverage>

10

Apple iPhone 5S 32GB + "Apple iPod Shuffle (2GB

UNLIMITED

UNLIMITED

(fair use policy of 9GB)

£179.99
£44

/mth

24


months

£51.50

/mth

Incentive FREE "Apple iPod Shuffle (2GB worth £0. Info

44.00 4G, unlimited texts

Handset colour

Silver

Check coverage>
Finding the best iPhone deals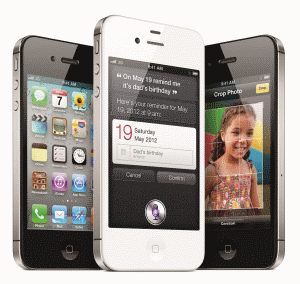 At times it can feel like all the world owns an iPhone. It has become the most popular single smartphone on the planet and has proved particularly popular in the UK.
But with a host of deals and offers available, how do you go about finding the best one? That's where we come in; we put all the best deals in one place, so you can compare prices, read reviews and make the right decision.
So why is the iPhone so popular?
If you're wondering what all the fuss is about, it's probably best to briefly run through a few of the key iPhone features (skip this bit if you've heard it all before!).
When it comes to touch screen phones, while Apple's iPhone certainly wasn't the first it was the one that really caught the public's imagination. People were already in love with their iPods, so bringing the iTunes experience – alongside an industry leading selection of apps – to 3G phones proved irresistible.
The sleek design also helped, the marketing machine is an awesome thing to behold and best of all – after a few issues with early models – it worked really well, from the camera to the calls to the internet experience.
The iPhone 4S, iPhone 5S and iPhone 5C
The Apple iPhone 4S was released in October 2011. It's a 3G handset with a 3.5-inch touchscreen and 512MB or RAM that's superficially similar to the iPhone 4, but with a faster processor, larger memory capacity, sharper screen and better camera.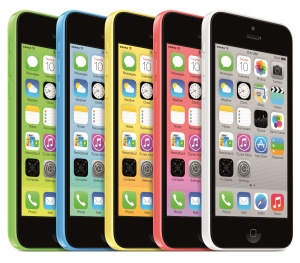 While the 4S was superseded by the iPhone 5, Apple chose to continue selling it as a cheaper alternative, and has continued to do so even with the release of the iPhone 5S and 5C. If you're not fussed about getting the very latest model, the 4S is a great moneysaving alternative.
The iPhone 5S is the most powerful iPhone yet. It has even faster hardware, and also includes the larger, higher resolution display first seen in the iPhone 5. The major differences are the improved camera for better low-light photography, and the new 64-bit A7 processor.
Alongside the 5S, Apple also released the iPhone 5C. This is quite a radical departure for the firm, as it's the first iPhone not to feature premium materials in the construction. Instead, it's available in a variety of bright colours with a polycarbonate rear panel. It has the same display as the 5S, but other specifications are lower, so overall it's a cheaper handset.
Both the iPhone 5S and 5C support 4G mobile broadband, so you can enjoy superfast next-gen mobile data where available.
Cheap iPhone deals
While it's tempting to just search for cheap iPhone deals, remember there are reasons why they're the cheapest! Think carefully about what you want from your phone before you buy.
Network: There are four actual mobile phone networks in the UK: O2, 3 Mobile, EE (which also runs T-Mobile and Orange) and Vodafone. Each has strengths and weaknesses, so be sure to check out our network overviews (both ours and the reviews written by thousands of our site visitors). Also, make sure to look at each network's coverage checker before narrowing down your choice of iPhone deals; UK 3G coverage is pretty good nowadays, but all the networks still have plenty of 'not-spots'.
Data limit: While minutes and texts are still important, modern smartphones – and the iPhone in particular – are all about using data. You can of course connect your iPhone to Wi-Fi in many instances, but if you're likely to be using it a lot on the move you need to be sure any cheap iPhone deals you consider have enough data to suit your needs; otherwise excess data charges may make that cheap deal rather expensive! Be especially wary of 'unlimited' deals as their can be some distressing stuff in the small print!
3G or 4G: 4G mobile networks are now available in the UK and coverage is growing fast. With the latest iPhone models supporting this new standard you can now choose to take a 4G contract. But while it does provide much faster mobile internet it may come at a high cost. Depending on what you do with your phone this may be an unnecessary. 4G is great for streaming video or downloading large files, but if you mostly use your phone for web browsing and Facebook 3G is still more than adequate, so you might want to save your money for now and wait until 4G is more affordable.
How much data do you need?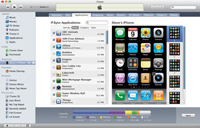 This can be a really tricky part of the decision, especially if you haven't had an iPhone before. Smartphones use data in a slightly different way than your broadband works at home too; for example, images and websites are often downloaded in lower quality forms to help save you a bit of money.
We would suggest starting on a cheaper, lower data deal and try and download as much as you can when you can access free Wi-Fi – at home, work etc. Keep a close eye on your data usage though and simply upgrade to a more expensive package if you need to.
It's better to start on a cheaper tariff and work up, as if you get a sweet iPhone deal and then try and opt down to a cheaper one you may find a bit of resistance from your network! Also, it's easy to just forget about usage on a more expensive deal and not realise you're paying for a lot of allowance you're not using.
For more information on this topic, read our guide to mobile broadband data usage. While aimed at dongles much of it still applies to smartphones too.
iPhone contract deals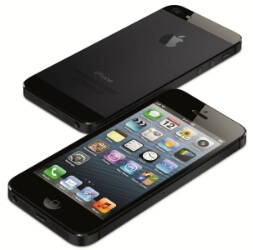 If you're looking for iPhone contracts, you'll find deals available from all the major retailers and networks. So how do you choose between them?
As you'll see from our comparison tables, there are several key differentiators. Beyond the obvious (call, text and data limits, as mentioned above), there are several other points you need to think carefully about:
Contract length: What looks like the best iPhone deal will probably have a 24-month contract attached. This is a very long commitment to a network, as well as a long time to keep the same handset, especially if you're going to be using it a lot. If you're confident in your network and are more than happy not to upgrade your smartphone when the latest model arrives, these could well be the best iPhone deals for you. But if you must have the latest phone, a one-year (or shorter) deal will be a better option.
Phone cost: While your iPhone may be listed as 'free' on many deals, what this actually means is that you get it free up front but pay a little extra each month for the duration of the contract to actually pay for the phone. So, if you can afford to pay more for the handset up front your monthly payments will be reduced. As they say, there's no such thing as a free lunch!
Extras: The smartphone retail sector is a very competitive market, so all the players are constantly looking for an edge over their rivals. One way they do this is offering little extras; these can be anything from cashback schemes to free gadgets; or high street vouchers to free months off of your contract. While these can look great at first glance, think carefully about whether you really need what's on offer – and if really makes the deal sweeter.
When looking at our comparison tables, you'll notice an 'effective cost' column; this takes into account anything you have to pay up front for your iPhone, as well as other extras or benefits a deal may have.
Prepay: iPhone SIM free options
If you can afford to buy your mobile phone up front, and don't want to be tied to one network or iPhone deal for a long time, it's definitely worth considering the iPhone SIM free option. You may have already found a great iPhone price; UK online retailers have some really great bargains for unlocked iPhones.
If you buy an unlocked iPhone you'll be able to put in a SIM from any network, meaning you can switch between prepay options as you see fit – or get a contract later if you find the right deal for you. Another benefit is you only have to pay for what you use – top up when you need to, instead of paying monthly for a load of data and minutes you may not even use.
On the downside, prepay options tend to work out more expensive in terms of per call, per MB etc. However, many of us see that as a fair price to pay for the freedom involved.
What to do next
Hopefully you're now ready to sort through all of the iPhone deals listed on Broadband Genie and make your decision. Once you've done so, buying the iPhone couldn't be easier – simply click on the link next to your chosen option to be taken directly to the official site of that particular retailer and the deal you wanted.
From there it's simply a case of following the instructions and signing up for your contract with them. Enjoy your new iPhone!