Beginners guide: How to install a mobile broadband dongle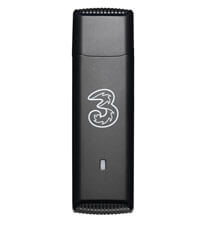 Got a mobile broadband dongle but not sure what to do next? Here we go right back to basics to give a hand to any of you just starting out with mobile broadband. Step by step, we're going to look at how to install your shiny new mobile broadband dongle!
In the box
In the box you should find...
A dongle (otherwise you're a bit stuck)
Instruction manual (helpfulness may vary)
USB extension cable
SIM card (should be in its own little envelope)
If you're missing anything, particularly the dongle or SIM, then it's time to shout at your provider. A software disc won't be included as - on newer dongles anyway - the drivers are all stored on the dongle itself.
Once it's all unpacked you'll need to pop the cover off the dongle and slide in your SIM card, just like a mobile phone.
For the following installation guides I'm using a Huawei E1750 provided by 3 Mobile and Windows XP SP3. Your steps may differ slightly, though as most are now Huawei models any recently purchased dongle should be about the same.
Installation
Step 1
Plug in the dongle. All you need is a spare USB port. If you've not got one then you'll either have to use a USB hub (make sure it's powered) or unplug something else. The extension cable included with your dongle is handy as it means you don't have to worry about the dongle not fitting in next to another device, and you can easily run it down to the back of a desktop tower. It's also useful for boosting the signal.
Step 2
Wait a few moments and Windows should detect the dongle and start popping up its usual "Found New Hardware" messages. If Windows shows its standard dialog asking you to install drivers, just click Cancel.
Step 3
Your dongle should autorun its installation software, if not, and assuming Windows has successfully detected the dongle, you'll need to run it manually, so open up My Computer (or Computer if you're on Vista and Win 7) and open the dongle, which will be listed as a drive.
There will be a few files in there, probably including some kind of setup.exe and an autorun.exe file. Either of these will start the process.
You may have separate installers for 64-bit Windows, so make sure you run the right one for your version.
Step 4
You'll now see a standard step by step installer screen. Just keep clicking Next until it starts copying files and wait for the process to complete.
Along the way you can choose where to install the software, but unless you need it placed on a specific hard disk just leave it on the default settings.
Step 5
That's it. Run the software package installed by the previous steps and you can connect and begin browsing.
Step 6
Okay, that might not quite be it. You may have a software update to install. If a window pops up that looks like the one pictured here then it's a good idea to install the update as soon as you can to ensure you're getting the best service possible.
Just watch out for the download size of the update. It won't be massive enough to put a serious dent in your data allowance, but it could take a while if you're not on a 3G connection.
If you don't want to wait try grabbing it from your provider's web site with a home broadband connection. The provider should have the latest updates available there, usually under the help and support section.
Troubleshooting
Currently supported versions of Windows are Windows 2000 SP4, Windows XP, Windows Vista and Windows 7 so if you're still running Windows 95 it's time to start thinking about an upgrade. Make sure you have the latest updates installed, too, particularly if you're using Windows 2000 or XP as earlier un-patched editions may have problems with some USB devices.
As with any USB gizmo, don't yank your dongle out without first disconnecting it safely. In your system tray (little icons at the bottom right corner of the desktop) click the one that says 'Safely Remove Hardware', stop the dongle from running and wait for Windows to tell you that it's safe to disconnect.
If you've connected your dongle to a USB hub then it will need to be a powered hub. Dongles need more power than other USB devices, if yours is connected to a basic hub that's not got its own mains power and you're having issues, that's likely to be the culprit. If you don't want to leave the dongle hanging out the back of your PC then place it on your desk and connect with a USB extension cord.
If something happens during a software update – power cut, system crash, cat jumps on the keyboard etc – then there's a good chance your dongle will refuse to work afterwards. Unplug the dongle, go into Control Panel > Programs and Features (Add/Remove Programs on Windows XP) and uninstall the software, then start the installation from the top.
Some Windows Vista and 7 users have reported problems with their dongle not working when plugged back in after being properly disconnected. If this happens you can restart the PC, which should solve it but quickly gets annoying, or try going into Devices and Printers from Control Panel, right-clicking your dongle and choosing the Dial or Autostart option to connect again.
Comments
this information is going to be very useful indeed, very clearly steps to take

this was everything i needed to know,and explained in the simplest way possible,
easily understood for a novice like me
thank you very much

I have a Qosmio G30 running XP (SP3). However there is a bug with XP in that dongles (and flashdrives) can be unrecognised by Windows Explorer. Microsoft state that this is a problem but have failed to fix it. I have a 3 dongle but on my laptop the autorun and setup will not run because the OS has not allocated a drive letter to the dongle. Simply - it cannot find the files. Clicking on My Computer and going to Drive Manager (whatever) does not list any drive letter allocated to the dongle. All that is there are C: & D: (hard drives) and E: (CD Rom). The dongle should be at F: - but F: is not allocated although trying to assign it also fails because it is not listed as being available. But if I open say Word or even IE and then use File / Open the F: drive is listed and files can be found there. So from that point I clicked on setup and the drivers installed OK. But then when I trtied to click on wilog.exe the 3 console started but refused to make a connection. Then another window started up stating new hardware found - please install drivers. But this process failed because it couldn't find any drivers. And the F: drive was still missing from WE. This is a nightmare I believe due solely to Microsoft in refusing to fix this bug (which is actually widespread according to a Google search).

I can't get the cover off my new 3 dongle to insert the SIM, what's the secret?

This may be a silly question but I will ask anyway.I am wanting to set up a dongle on my laptop.I do not have internet set up on it nor do I have wifi or any other source of internet in the house besides my mobile phone.Am I able to set up my dongle on my laptop without any internet avalaible on it.hope I explained properly.Thankyou for your time.

Editor

- Matt Powell

Hi Linda,

Yes you will be able to set up the dongle without internet. It does not require a connection initially, the dongle will connect after you've plugged it in and installed the software.

I cant connect my haiwei dongal to pc.. Which software i need to open and connect.. Bcoz pc doesnt asking me to install software

Got a dongle off a web site that ships from China, no brand name on it and instructions are impossible to read! I am wanting to go from my MAC laptop to my TV and cannot seem to get it installed. Can someone PLEASE help me?? I would really appreciate any help that could get me a little further ahead than I already am ( which is plugging it in) lol Thanks in advance 😊😄

Editor

- Matt Powell

Hi Brandy, is this a mobile broadband dongle? I'm not sure what you mean by going from your laptop to your TV?

Hi Sorry it took so long to get back to you. It's a Wifi Display Dongle, does that help? I have no clue how to hook it up, I've followed the few instructions that made sense; was able to connect to the wifi when laptop recognized the dongle but that's as far as we got😞😱 again any help would be appreciated. Thanks again 😊

Editor

- Matt Powell

Sorry Brandy, don't think I can help. I'm not familiar with those devices, the dongles we deal with are for mobile broadband.
Add your comment now