Google Nexus 7 review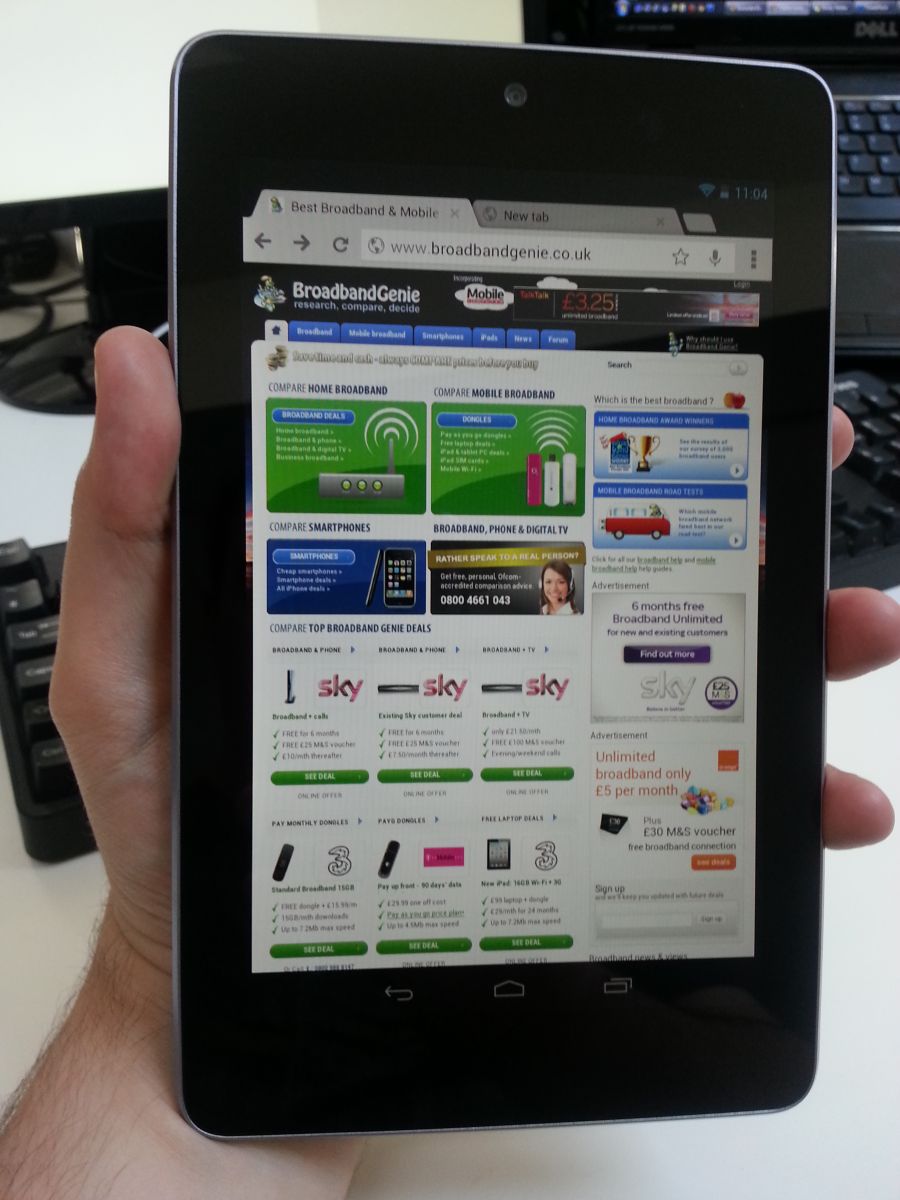 Android has been stomping all over the smartphone market, quickly establishing itself as the dominant mobile platform across the world, but hasn't had anywhere near the same luck in the tablet space.
The Nexus 7 is Google's attempt at changing the situation and it's aiming to achieve this through some extremely aggressive pricing. The N7 is just £159 for 8GB or, if you feel like splashing out, £199 for 16GB storage. As well as undercutting the iPad it's also a direct challenge to Amazon's Kindle Fire.
Bargain tablets are nothing new - your local electronics store probably carries £99 Android slates - but what makes the N7 unique is that the hardware specification is far in advance of anything else in its price range.
NVIDIA inside
Providing the raw horsepower is an NVIDIA Tegra 3, a quad core CPU which offers powerful graphics processing grunt and is more commonly found in much pricier devices like the HTC One X (£400+) and Asus Transformer TF300 (£399) so it's really impressive that they've managed to stuff it inside the N7 and still keep the price low.
You'd expect this would have led to major cutbacks in other areas but this tablet manages to stand up very well against devices costing two or three times as much.
The 1280x800 display is a high quality IPS screen rather than the cheaper flat panel technology normally found on this end of the tablet scale. Although AMOLED is more energy efficient and provides vibrant colour, the N7's IPS display has a natural warmth to its picture as well as excellent viewing angles. It would be a good display on a pricier tablet, here it's exceptional. There have been some complaints about backlight bleed but we did not experience this on our review sample.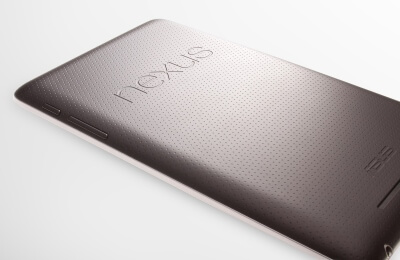 The N7 hasn't lost out on the usual smartphone/tablet hardware extras - Bluetooth, GPS, compass and accelerometer are all hidden away inside its 340g body. It's also bundled with Near Field Communication (NFC) for wireless short range data transfer using Android Beam.
The front of the N7 has a silver trim and is covered with Corning Gorilla Glass to resist scratches. The rear is covered in a textured plastic which helps with grip and has a pleasing leathery feel. The whole package is sturdy and gives the impression of being a great deal more expensive.
Controls and ports are at a minimum. There isn't a single button on the fascia, the only hardware switches being a power/unlock key and volume rocker. On the lower edge is a standard microUSB port and headphone socket. A power adapter is included in the box but provided you have any recent Android smartphone you'll only need to take one USB cable and adapter for tablet and phone, a major plus when travelling.
It should be noted that the microUSB port does not support mass storage devices so you can't hook it up to an external hard disk or USB stick. And as the N7 does not include a microSD port this means you could easily run out of space by filling it up with movies, music and apps. This is one of the N7's biggest flaws; even the 16GB model feels very limited and those with an appetite for media will be forced to either rely on streaming services or constantly swap out files.
It's also disappointing to find that there's no HDMI port so you can't output the screen to a TV. This is fast becoming a standard feature of other tablets and is extremely useful for gaming and video so its omission on the N7 is noticeable; would it really have cost that much extra?
Android 4.1 Jelly Bean: Google Now and Project Butter
The Nexus 7 is the first device to come equipped with Android 4.1. Codenamed Jelly Bean, the next iteration of Android doesn't look vastly different to Ice Cream Sandwich but there are a couple of important changes.
Project Butter is Google's attempt at improving performance on smartphones and tablets. Android has had performance issues since day one with some stuttering and slowdown visible even on cutting-edge quad core hardware but with Project Butter it's finally on track to deliver an experience that's as smooth as the iPad.
Thanks to these efforts the Nexus 7 is slick and responsive, apps and menus popping open without juddering or delay. It's a huge improvement even next to Ice Cream Sandwich and we can't wait for Jelly Bean to make the same difference on smartphones.
The other major software tweak is Google Now. This is a direct competitor to Apple's Siri voice control, and it is in many ways superior. Now is activated by just swiping from the bottom of any screen to load a search box into which you tap phrases or simply say 'Google' to ask questions.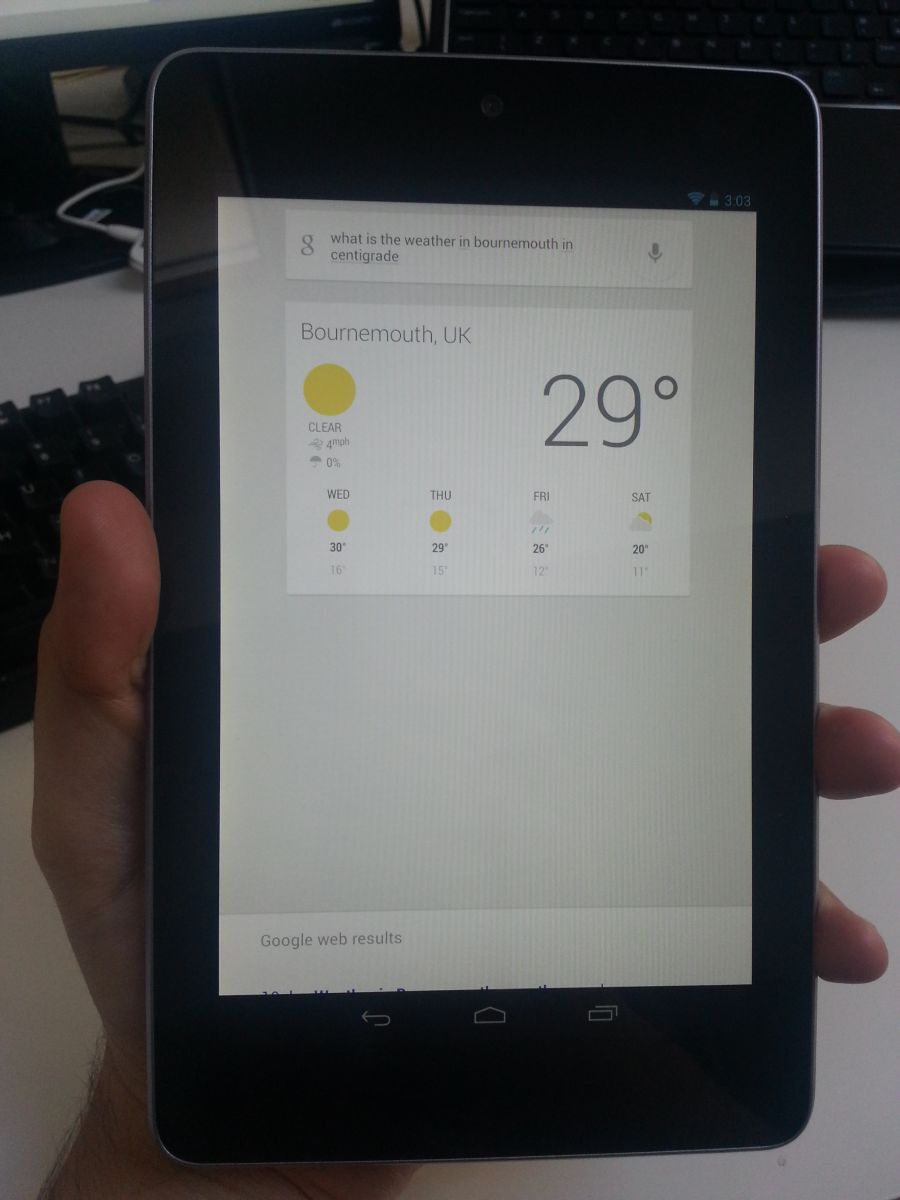 But Now goes beyond just a simple search. Ask it the weather and it'll read out the current temperature in a surprisingly natural voice, however you can also specify fahrenheit or celsius. Ask for the nearest coffee shop and it'll load up directions in Maps while a picture request will display results in an image gallery.
Now also acts more like a personal assistant than Siri ever did, monitoring calendar events to issue reminders and even provide traffic warnings. It's fast, too, quickly translating your commands and rapidly loading results.
As with any voice control function it frequently makes mistakes, but this can be overcome with careful diction, and its ability to learn from your searches and provide personalised results is extremely impressive. Such features are usually gimmicky but Google Now could become something we use on a regular basis.
Conclusion
The Nexus 7 offers a combination of low price, great specification and fantastic software that Apple, Amazon and other manufacturers are going to find is tough to beat. It isn't perfect - many will miss the microSD slot and HDMI port - but if you're shopping for a new tablet this should be very near the top of the list.
Comments
Be the first to comment