How to root the Google Nexus 7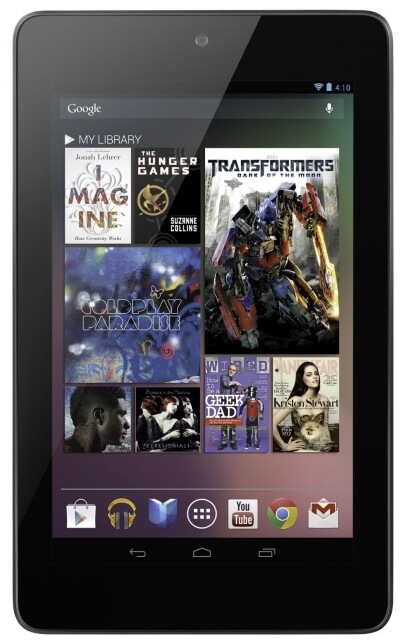 As a Nexus device the Google Nexus 7 has the advantage of running plain vanilla flavour Android, unencumbered with manufacturer skins or bloatware.
That nullifies the main reason for many people to root Android hardware but even if you have no interest in installing new ROMs a rooted N7 means getting access to many fantastic root-only apps, expanding the capabilities of your tablet and opening up new customisation options.
With our guide you can very quickly and easily root your Nexus 7, and it's straightforward enough that even Android novices can have a go.
Please keep in mind however that rooting always carries a risk. Read through the steps first and ensure you understand each before trying it on your own gadget. The N7 may be cheap but nobody wants to end up with a bricked tablet. If you have any questions leave us a comment below and we'll do our best to help.
Before you start: preparing the Nexus
1. Make a note of the model number via Settings > About Tablet > Build Number.
2. Enable USB Debugging. Go to Settings > Developer Options , switch Developer Options on and check USB Debugging.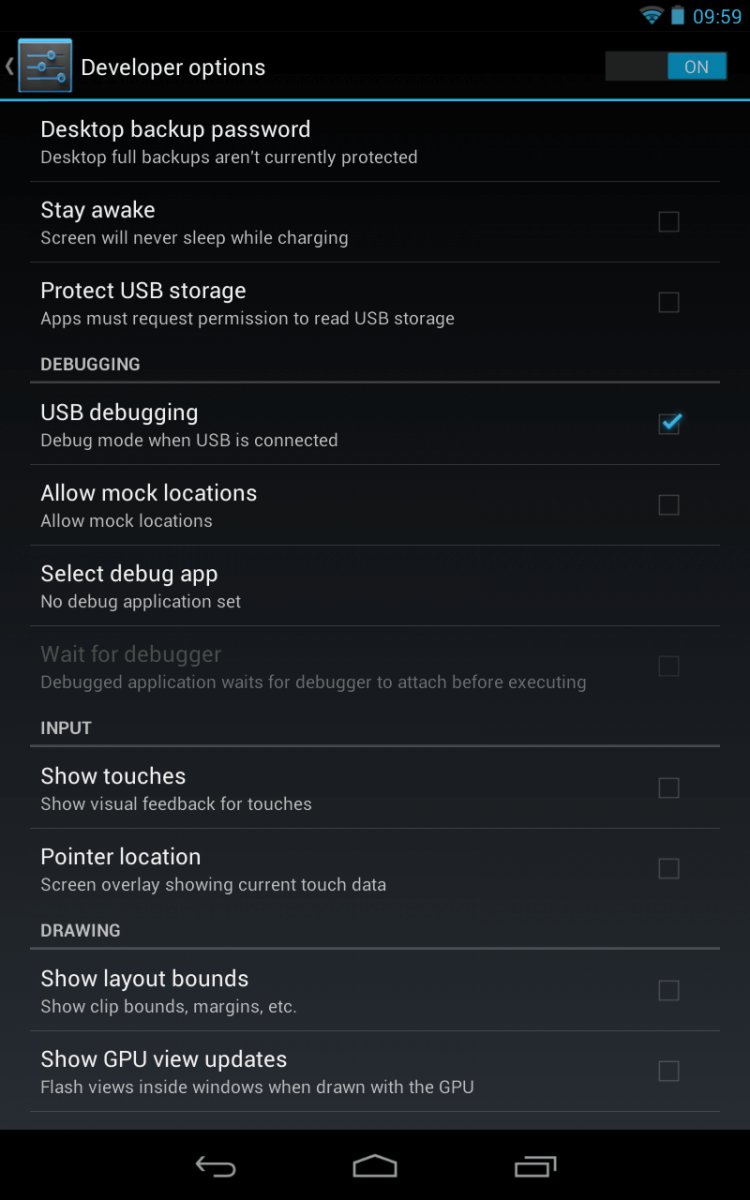 3. Download and install the Nexus Root Toolkit.
Rooting the Nexus 7
1. You need to run the Nexus Root Toolkit as an administrator. If it started automatically after installation, close it down and open again from the desktop shortcut by right clicking and selecting Run as Administrator.
2. In the Your Model Type section ensure the build number matches what you noted previously. Last letter may say 'C' or 'D' but this doesn't matter. It prompts for model selection when the Toolkit is first opened but you can choose again by clicking Change.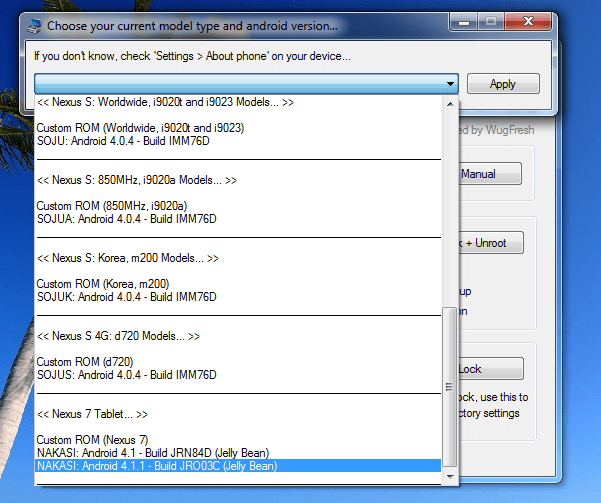 3. Install device drivers by clicking Full Driver Installation Guide – Automatic + Manual. If you're using Windows 7 select automatic and sit back, if using any other Windows version run through the individual steps. Your N7 may restart several times during this process, and when asked to connect your device please do so.
4. Click Backup. Backup anything you want/can using the options available, these will get saved to a default location to be restored later. Follow the exact instructions as there will be some prompts on your N7 for you to select.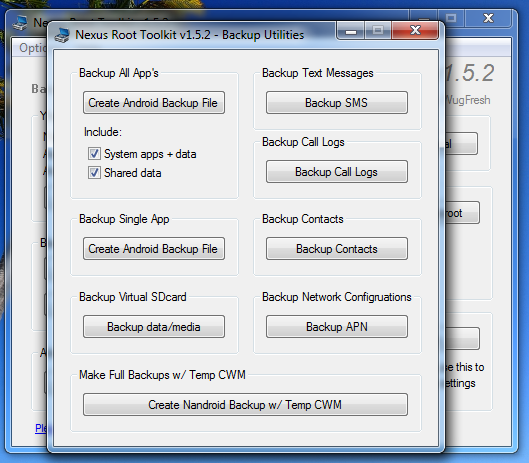 5. Unlock the Bootloader. Select Unlock and read the warning message. This will erase all data so backup if you haven't already, then click OK and follow instructions on screen. When prompted use the power button on your device to confirm unlocking the bootloader.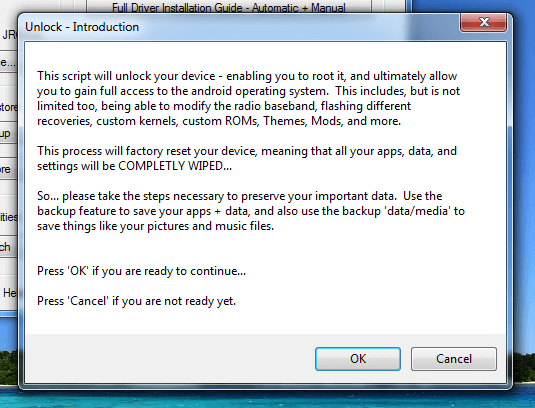 6. Now we can root the N7. From the main Toolkit screen whether or not you wish to install ClockworkMod Recovery using the radio buttons, then click Root and follow the on-screen instructions. Your Device may restart several times during this process.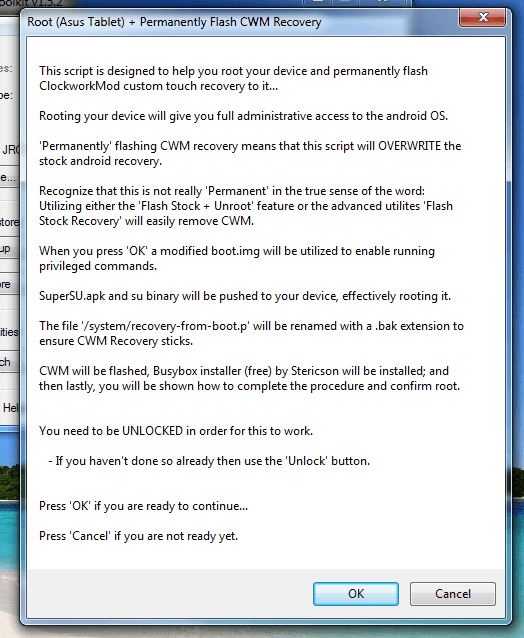 7. Don't unplug the N7 yet. The Toolkit will ask if you have SU/BusyBox. To check open the App Drawer and locate the SU/Super User app. Make sure you're connected to the internet so it can check you have latest binaries, allow the app to download the binaries if necessary. Then open BusyBox Installer to allow installation and grant SuperUser permissions when prompted. Once complete select OK to exit the rooting script on your PC.
8. Now you can restore data to your N7. From the Toolkit home screen select Restore and choose the options depending on what you backed up earlier. Locate the backups on your PC and follow the instructions on your device when prompted.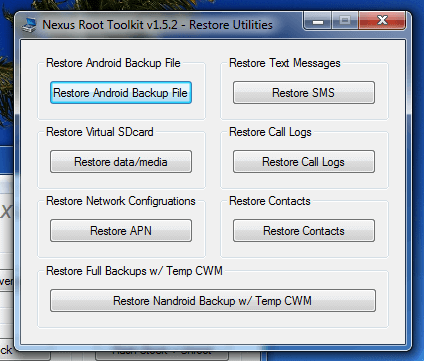 9. All done! Close the Nexus Root Toolkit, your device now has an unlocked bootloader and is rooted. Enjoy.
Comments
"many fantastic root-only apps" such as...?

Editor

- Dan Makwana

Hello Jim,

There are some very good and some very useful root only apps. Some I'd recommend include:

Titanium Backup
ROM Manager
Root Explorer
Avast Mobile Security
Tasker
Juice Defender

There are of course plenty more available. If you'd like a list of these and for information as to what these apps do, then there is a great post on the XDA forums that outline these - http://forum.xda-developers.com/showthread.php?t=1569607

I hope this helps!

Dan

Also:

Setcpu
Adfree

Rom toolbox


Editor

- Matt Powell

ROM Toolbox is excellent.

Lots of apps have root-only extras, too.

Hi

I only want to Root / not use any custom rom.. only need rooted.. for some fun apps
I would like to know how to if once i root >> unlock >> root >> su/busybox ..
How do i simply unroot or put in original state without deleting any data ?
do i simply .. lock the boot loader ? or any other steps ?
please let me know

Root

and

undo the root for getting back the device in original state without deleting any data ... means i can only check for updates.... for any firmware updates.. ?

Thanks

I rooted my Google nexus when I first got it and if was running jellybean 4.1.1. However since the new jelly bean update, I have discovered that I can't use my USB stick on the device any more. Does anyone know if have to root the device again because of the jellybean update? If this is the case, that would be such a hassle.
Add your comment now