Top 5 smartphones of MWC 2013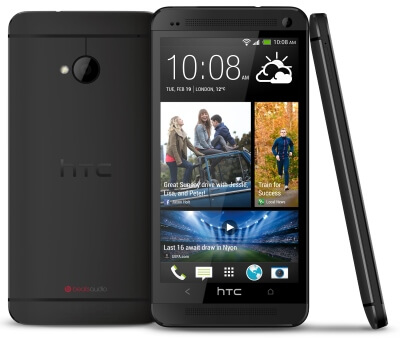 In previous years manufacturers have used Mobile World Congress to announce their big new products, but many of the surprises were spoiled by the time MWC opened its doors because they'd been revealed in the weeks leading up to the show.
That was a little disappointing, but while bereft of ground-shaking announcements there were still many smartphones being demonstrated so we were never short of things to see.
Almost every company had at several handsets up and running (some with a mind-boggling selection) so this is set to be an extremely busy year, particularly for Android. To help narrow down the choice if you're in the market for an upgrade, here's our pick of the five best smartphones at MWC 2013.
HTC One
Announced a week before MWC, the HTC One was unusually the only handset being demoed by the firm at the conference, which will give you some idea of this device's importance to HTC.
They've gone all out here. The beautiful unibody aluminium shell puts the plastic Galaxy S3 to shame, feels more like a premium product than the Sony Xperia Z and reaches Apple levels of build quality and attention to detail.
Also nice to see that HTC resisted the temptation to slap on a 5-inch-plus display. The One uses a large, but not cumbersome, 4.7-inch screen and doesn't skimp on quality; it's a Full HD 1080p LCD with razor-sharp 468 ppi pixel depth.
Their decision to use BlinkFeed as the default home screen may be contentious - it isn't like a normal Android widget which can be moved or deleted - however BlinkFeed does work very well and the UI in general feels slick and confident. In comparison to other manufacturers efforts Sense is a smarter and more mature front-end that won't immediately make you yearn for vanilla Android.
BlackBerry Q10
While BlackBerry is attempting to take on Android and iPhone directly with the Z10, it's the Q10 that may be its biggest success for the new BB10 platform.
Sporting that signature QWERTY keyboard, this handset is familiar enough to keep diehard BB fans satisfied with plenty going on under the hood to tempt those swayed by big numbers.
There's a 1.5GHz dual core CPU and 2GB RAM to keep things ticking over, 16GB storage plus 64GB microSD support, 8-megapixel camera and a lovely 3.1-inch OLED screen. This is a square 720 x 720 resolution display with 328 ppi pixel density, and like the Bold 9930 it is touch-sensitive.
Despite the differences in screen size the Z10 and Q10 run exactly the same apps, and the Q10 runs BB10 with all the same features, including the excellent 'Type and Go' function which can search the phone or perform tasks (like Tweeting or texting) just by typing from anywhere in the OS.
Type and Go is ideally suited to the Q10's physical keyboard, which has seen some design tweaks from previous BB handsets to fit in larger keys that make for more accurate and comfortable typing.
Huawei Ascend P2
Huawei proclaims the Ascend P2 to be the world's fastest smartphone. This isn't about processing power though - it's in relation to its category 4 LTE chipset which supports mobile broadband speeds of up to 150Mb.
Unfortunately only a few networks support cat 4 right now and even then it's a theoretical maximum so this is wasted on most of us, but the Ascend P2 has plenty more going for it.
While it wasn't the sexiest phone on show at MWC, the P2's plastic body does make it light (just 122g) and its 4.7-inch 720p screen gives you plenty of room without treading into phablet territory. It's powered by a 1.5GHz quad core CPU and unusually this is Huawei's own silicon, rather than a part from Qualcomm or another firm, so that will help keep costs down.
And price is a key differentiator. It might not be the most powerful or best looking handset but Huawei is pitching this as a mid-range device with an estimated cost of just 399 euros so when it comes to the UK in the second quarter of the year it should be available on some very affordable contracts.
Asus Padfone Infinity
With the Asus Padfone you get both a smartphone and a tablet dock with big screen. It's a useful novelty but one that has failed to gain much attention, at least in the UK, because Asus has done little to promote the products.
Hopefully that'll be changing with the release of the Padfone Infinity, the third version of this concept.
The Infinity ups the stakes by giving us a significantly more powerful handset to play with. In line with other manufacturers the latest Padfone boasts a 5-inch 1080p display and premium aluminium build. Packed inside is a 1.7GHz quad core chip and 2GB RAM, with up to 64GB of storage (but no microSD slot).
And when it's time for some big-screen fun the Padfone satisfyingly slots into the back of its tablet dock, giving you a 10.1-inch 1920 x 1200 display and extra battery life. In fact Asus claims up to 40 hours of talk time when docked thanks to the hefty 5,000mAh battery pack.
It's not hard to see this being a massively appealing hybrid for both work and play, but there is one stumbling block: the price tag is 999 euros. Asus will need to work on reducing that if the Padfone Infinity is to be anything more than a niche rich man's toy.
Sony Xperia Z
This is the first Sony handset to be made entirely without the influence of Ericsson since the two dissolved their partnership, and the difference is immediately apparent. Sony's design prowess has resulted in a neatly attired Android smartphone that's full of nice touches.
You've got little things like the detailed machined power/wake button on the side, and the device is built from a durable material that is both impact and water resistant. As you can see from the video below this phone can actually survive full immersion in water and the touch screen functions even when wet.
There's been a lot of buzz about the Xperia Z since it was first announced, and with good reason. This is a stunning high-end smartphone brimming with advanced hardware and features that's easily capable of challenging the Samsung Galaxy S4 and HTC One.
Comments
Be the first to comment