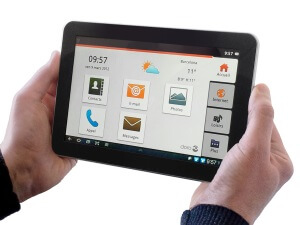 A press release this week from research firm IDC suggested that, for the first time, 2013 will see more smartphones sold worldwide than traditional feature phones.
Add to this the ever rising take-up of internet use in the over-50s and it's clear to see a new market emerging: senior smartphones.
A year ago figures from Kantar Worldpanel showed over-50s had purchased more than half of the smartphones in Q1 of 2012.
And they were using them in the same way they used the internet at home; browsing the internet and using email, as well as downloading apps. But as these users get older, will their changing needs be catered for?
The Fujitsu Stylistic S01
At this year's Mobile World Congress (MWC) in Barcelona (the world's biggest mobile conference) we got a look at a fantastic new smartphone made by Fujitsu; the Android powered Stylistic S01. The handset is being strongly backed by Orange, which is releasing it in its home French market in June.
A version of the handset (named the 'RakuRaku') released in China last year and was an instant hit, landing two Universal Design Awards this week. If the French launch of the Stylistic is as successful we can expect to see it hitting shelves across Europe, although there are no firm plans yet for a UK release. However, the phone works perfectly here so there's no harm in picking one up online after its release and using it on your current contract.
As you'll see in our video the smartphone has been specifically designed for the senior market. Key features include large, distinctive colour coordinated keys one-touch calling to three numbers; simple photo sharing and a simple user interface (UI) with adjustable complexity. It's also waterproof and includes an emergency buzzer that, when activated, calls a chosen number for assistant.
The Doro 'Experience'
But it's not as if the Fujitsu Stylistic is the first senior smartphone on the market. Last year's MWC saw senior mobile specialist Doro release its PhoneEasy 740 smartphone, equipped with the Doro Experience UI.
Again using the Android operating system, the Doro PhoneEasy 740 has a slide out standard mobile keypad as well as a touchscreen. It features easy navigation through large clear icons, enhanced security (including GPS location software) and a camera. And importantly for a senior phone, remote assistance allows someone you trust to remotely help you with your settings, apps etc from anywhere in the world.
In the UK, O2 and T-Mobile both range Doro's 610 feature phone, while Orange offers it on contract, but none of the UK's five networks currently offer Doro's PhoneEasy 740 smartphone. A spokesperson said at MWC this year that they'd been pleased with sales and that a follow-up smartphone was in the pipeline for later in 2013.
The Doro Experience doesn't end with the 740 though. Doro has adapted it for both PCs and tablets too, making a downloadable UI app for seniors that will work across Android tablets (see below) and home computers. This is perfect, as it means only one simple interface needs to be remembered across multiple form factors, both at home and on the move.
A growing market
As a 40-something myself, it's easy to see what a massive market this is going to become. Today's 70 or 80-somethings were born around the Second World War, where home telephones were only owned by around five per cent of the UK population, and who were already in their 60s when the mobile revolution really took off. Despite this, smartphone take-up has been pretty strong.
So bring that forward just 10 or so years and you're talking about a generation who have worked towards retirement at work through the evolution of the smartphone and who consider the internet an integral part of their lives. This market is going to be huge and impossible to ignore – so expect more and more 'senior smartphones' to hit the market in the near future.
For now though, although they may be a little hard to find, both the Doro and Fujitsu smartphones and UIs are definitely worth further investigation.