Guest post: Asus FonePad review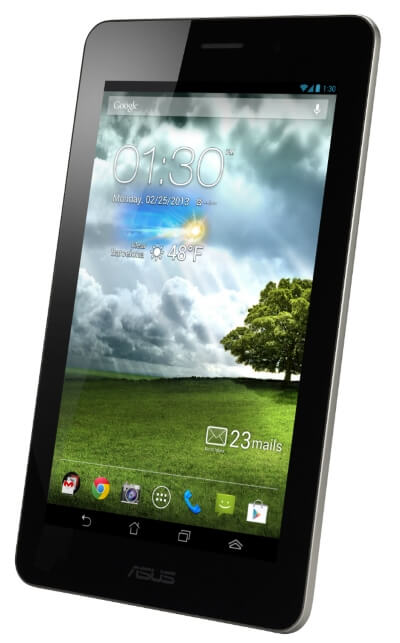 The Asus FonePad is the first Android tablet offering from the Taiwanese manufacturer to be powered by an Intel processor. It runs the latest version of Google's mobile OS and has display similar to that found on the Nexus 7.
But unlike the popular N7 the FonePad offers voice calling as well as 3G, so if you wanted to you could look at using this as a phone replacement. Better have some mighty big pockets though...
Design
The FonePad has a nice brushed aluminium finish on the back panel making it look more expensive than it actually is, though it doesn't cover the whole area. At the top is a plastic strip to allow for the radio antennas - Asus has learnt its lesson after the disastrous Wi-Fi performance of the Transformer Prime.
You can't swap out the battery, but this plastic portion pops off to reveal microSD and SIM card slots. Also situated on the rear is the FonePad's lone speaker, and its primary 3.2-megapixel camera. There's a second 1.3-megapixel sensor just above the display.
The volume and power keys (the latter doubling as a screen lock) are sensibly located on the left side of the tablet, making them easily accessible despite the Fonepad's relatively hefty proportions. The 3.5mm headphone jack and microUSB can be found on the bottom edge.
The back is a bit more slippery than the pleasing rubber-coating of the Nexus 7, but we still found it to be pretty comfortable to hold.
Display and performance
The 7-inch display on the FonePad has a resolution of 1280 x 800, same as the Nexus 7. In fact the screen is very similar in performance to the Nexus 7 all round, and is likely the same panel under the hood.
It offers good viewing angles making it well suited as an ebook reader, the text appearing clear and images bright. The tablet can be used outside without too much hassle as the brightness can be set to 'Outdoors' mode.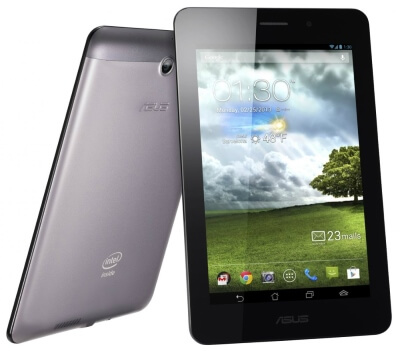 As mentioned, the FonePad is the first tablet to be powered by an Intel processor, which comes in the form of the 1.2GHz Atom Z2420 processor.
It works well when completing basic tasks and navigating around Android, though visually intense games may be a struggle as it's coupled to an older PowerVR SGX540 graphics chipset.
One important thing to note about the FonePad - and indeed any Intel-based device like the Motorola RAZR i - is that due to the differing architecture software compatibility is an issue.
While a good chunk of the apps on Google Play will work (Motorola told us last year there was over 70% compatibility) you will almost certainly come across some which will refuse to load. If there's something vital you rely upon we'd recommend checking it works on Intel hardware ahead of time.
By today's standards the 8GB internal storage is meagre, but this is backed up by the microSD slot which takes cards up to 32GB, something that's not an option on the Nexus 7. You also get 5GB free cloud storage on Asus own WebStorage facility for syncing photos, docs and files.
But while the memory allowance may be lacking, Asus hasn't skimped on the battery. It's toting a chunky 4270mAh cell that offers around 7 hours of video playback. And under more normal usage we found the FonePad was able to last almost 2 days of notifications and emails plus an hour of calls, hour of video and 30 minutes of gaming. The FonePad also has a Power Saving mode that lets you extend the battery life by configuring it for different usage such as reading books, watching videos and web browsing.
Voice calling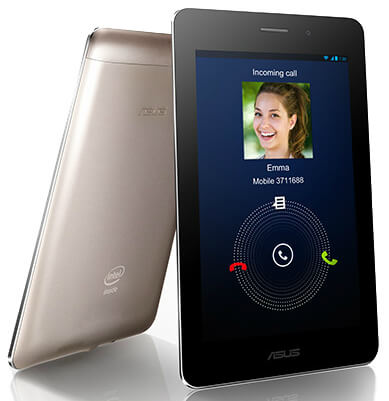 Of course, the FonePad also makes calls, but it's here things start to fall apart somewhat. Because of its size we can't imagine most people will use this function all that often and it'll end up just being used as a tablet.
It's comically oversized when held like a normal phone to the side of your head, and tricky to hold in one hand. Annoyingly, the small speaker on the back is also too weak even at full volume, so switching to speakerphone means you're straining to hear what's going on.
Call quality is adequate, on a par with a mid-range smartphone, but you'd have to be pretty shameless to wield the FonePad like a normal handset in public. Bluetooth headset is a must, and it's a shame Asus didn't include one in the package.
Camera
The Asus FonePad sports two cameras, with a 3-megapixel camera on the back and a 1.2-megapixel camera on the front. The camera offers a variety of options when taking photos including panorama mode, exposure settings, white balance and many other goodies to tweak. The front-facing camera is ideal for making video calls using Skype.
For quick snaps the quality is acceptable, though if you have decided to go for a FonePad as a smartphone replacement its camera pales in comparison to the 8-megapixel sensors found even on an inexpensive handsets. Looking at it as a tablet it's not terrible, most aren't fitted with high-end sensors, and we wouldn't expect this to be used as a main photography device as it just isn't pocketable enough.
Software
The FonePad is running the Android 4.1.2 "Jelly Bean" operating system. Asus has added its own customisation to the OS with the notification tray showing off a new skin, and you get additional apps and widgets, among other features.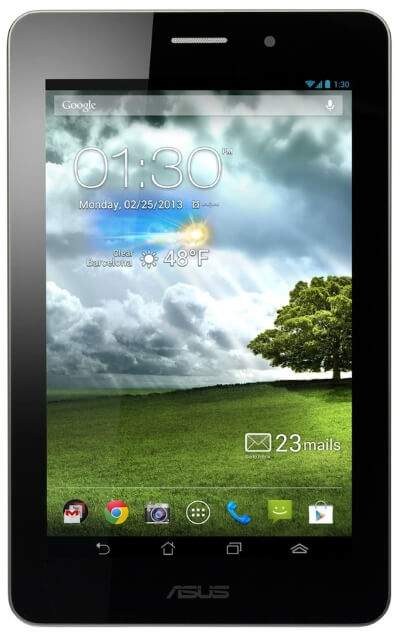 The experience of Android 4.1.2 on this tablet was excellent, little pausing or stuttering when launching an app or scrolling between web pages. Some games did display lag but as we said above the FonePad does have an outdated graphics chip.
The FonePad has its own Android browser, which renders web pages reasonably well, but being Android you can choose to install own preferred browser from the Google Play Store.

Five home screens can be customised with shortcuts to apps and widgets. The tablet comes with some preloaded apps including Amazon Kindle for reading e-books, App Backup for saving your software and its data, and the useful App locker that you can use to password protected your apps. There's a few nice creative tool, too. Asus Story lets you create photo books from photos and Asus Studio can browse, edit and create images.
As this tablet is running the Jelly Bean OS, it offers 'Google Now', the Android equivalent iPhone's Siri voice assistant. Just like Siri you can ask questions and it will return either the direct answer or a search result. Google Now works by using 'cards' that offers different information such as weather, traffic and currency conversion.
It collects this information based on the behaviour of the user and their location, and will automatically email information as well. It may not be as immediately impressive as Siri, but Google Now is in many ways a far more accomplished and helpful tool.
Verdict
The Asus FonePad is a solid all-round tablet which also gives you the option of making voice calls if needed. We feel it's too big to be used instead of a smartphone, but the voice calling functionality is a nice extra.
It helps that the price is low. It's available for around £179, undercutting the 3G enabled Nexus 7 by £60, plus you get a microSD slot to make up for the lack of internal storage.
We'd probably ignore the voice side of things entirely: chuck in an inexpensive SIM with plenty of data allowance and it's one of the cheapest mobile broadband tablets going.
Andrew Wall writes for Save On Laptops, which is one of the UK's largest online laptop and technology specialists.
Comments
Be the first to comment