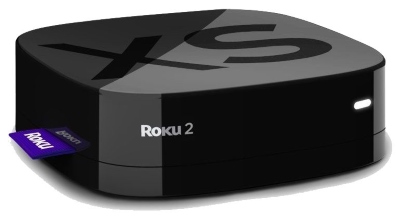 Between smart TVs, tablets, laptops with HDMI and home theatre PCs, most of us probably have at least one way to view online video through the TV. So with all this hardware lying around our homes already, where does that leave a dedicated streaming player like the Roku 2 XS?
Well, thanks to a few killer features and a hassle-free experience, it makes a strong argument for taking a prime position underneath your television.
How to pronounce Roku
Roku is the brainchild of Anthony Wood, who was responsible for ReplayTV, an early competitor to TiVo. The name is pronounced 'row-koo' (or thereabouts) and means six in Japanese, so-called because it was the sixth company he created.
The device aims to simplify online video streaming by presenting you with a vast selection of channels which can be installed to give easy access to online streaming media.
The advantage of Wood's approach is these channel apps are built for the Roku with the TV in mind so you get video which is correctly sized for a big screen, often in HD, and setup to work seamlessly with Roku's compact remote. It's a far more comfortable way to consume media than a HTPC or mirrored Android tablet, which don't always have the most ideal control setup for relaxing on the sofa.
Roku LT vs Roku 2 XS
In the UK we currently have the choice of two models, the entry level Roku LT or the top end Roku 2 XS. The LT retails for £49.99 and the 2 XS has an RRP of £99.99. In the US the 2 XS has been discontinued and replaced by the Roku 3, however aside from a headphone socket on the remote and a new design these two are virtually identical so we're not missing out, though it is irritating to see a straight $ to £ conversion. Based on the exchange rate at the time of writing the $99 Roku 3 is only £65 before tax.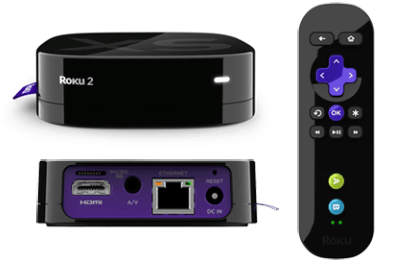 The Roku LT is perfectly adequate if you just want something to stream media, and don't plan on delving into 1080p Full HD video. It supports up to 720p over composite or HDMI and connects to your home network with Wi-Fi.
But the Roku 2 XS adds an ethernet port, USB and memory card slots, motion sensing remote and, vitally, 1080p support. That makes it the one to have if you're serious about HD content, and the ethernet is helpful if you plan on streaming HD across your own network.
Setting up the Roku 2 XS was painless. Once the power, HDMI and either Wi-Fi or ethernet are connected the installation process guides you through the act of creating a Roku account, which is required to use the device. You must also provide a credit/debit card during this procedure, however a PIN security lock can help prevent unwanted purchases. The Roku does not have a power switch and remains on at all times, but the manual promises it uses less energy than a nightlight; if you're still bothered by that just yank the power cord.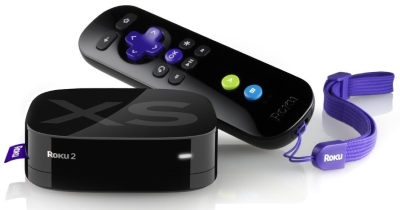 The remote is small and simple, with just a d-pad, back and home keys, play and track skip, and a couple of buttons labelled A and B for gaming. Volume adjustment has to be done using your TV remote.
There's some nice integration between your Roku account and the box itself which allows you to easily manage subscriptions, linked devices and private channels via a web interface. Like many other aspects of the Roku it's been designed with simplicity in mind so you spend a minimal amount of time getting things up and running.
The Roku channels
Right now, Roku boasts over 300 channels. Before you get excited though many of these resemble the wasteland of higher numbered cable and satellite TV listings: low-budget indie productions, poor quality religious broadcasts, paranoid conspiracy waffle and a large number of public domain and straight to video television series and movies.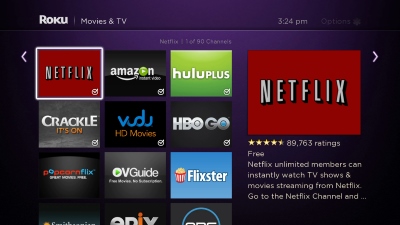 There is something to be said for it covering so many niche interests, however. It's not often we see a TV channel dedicated to Linux, there's a huge choice of foreign language channels, and if you've got a thing for hilariously awful action, horror and sci-fi you'll be in heaven wallowing in the cheap effects and bad acting which abound on Roku's numerous movie offerings.
Among the more mainstream channels are an official Twitch.tv app, the obligatory iPlayer, Spotify, TuneIn Radio, Dailymotion, Vevo and streaming services Netflix and NowTV.
The likes of Netflix, NowTV and Spotify will only work with a subscription, but if you're already signed up it's a really great way to access them on a TV, particularly as NowTV offers PAYG Sky Sports in addition to movies.
You may have spotted a few major omissions though: 4OD, ITV Player and Demand 5 are not yet available as channels through Roku, and there's currently no official YouTube app.
As a workaround, 4OD and YouTube can be accessed via Plex, which is also, in my opinion, the Roku's best feature.
Plex: Roku's killer app
Plex is a media server application that makes your media library accessible across local networks and the internet, allowing you to stream your video and music to computers, smartphones, tablets and - with the Roku - televisions.
It's free to download and relatively straightforward to setup. The catch is that whatever you use as a Plex server must, obviously, be powered up in order to deliver your media.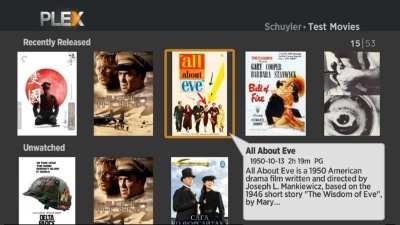 The Roku's Plex app is added like any other channel, but once it's all configured you will be able to access your entire TV, movie and music collection through the TV via Roku.
It means the PC doesn't need to sit under the TV and you don't have to worry about how you're going to control a computer from the sofa. And because the Roku is so small you can easily stream to any room in your home across the LAN or take it over to a friend's house to watch movies or listen to music across the internet.
Plex also has the ability to add its own channels. And since these include both 4OD and YouTube you can gain access to an even larger library of free content. It's slightly awkward using the Roku remote and on-screen keyboard to search for videos on YouTube, but it appears to have everything you'd find on the full YouTube site, from music videos to odd clips like 20th Century Fox Flute Edition.
Roku with Plex is an amazing combination, and since testing it out my Sky+ box has barely come out of standby.
Conclusion
The Roku 2 XS is a smart, well made gadget that's incredibly easy to setup and use. Even the most jittery of technophobes should not find an issue with the straightforward UI. I'm still not convinced the RRP of either the Roku LT or the 2 XS is quite justified, however it is available for much less at retail so do some shopping around.
But if you just use it for the free channels I'm not sure you'll ever feel you've got your money's worth no matter what you pay, even the most ardent fan of trash TV will soon tire of the roster of straight to video and niche interest content.
Roku is at its best when working alongside Plex or premium services such as Netflix and Spotify, providing zero-effort access to streamed content on a big screen without a PC or any other hardware. Though if you're only going to use it as a viewer for streaming subscription services and the likes of iPlayer, the Roku LT may be the best choice.
The Roku 2 XS really shines when you take advantage of its ethernet port and 1080p output with a Plex server. If you're planning on setting up a home media server a Roku should be very high on the shopping list.