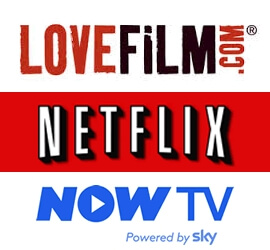 Now the UK's broadband infrastructure has reached a point where a significant number of us have access to affordable high speed connectivity, we can more seriously consider the potential for online streaming services to offer a compelling alternative to content delivered via satellite, cable or TV aerial.
New streaming offerings are springing up all the time, but there are three big names which are fairly well established in the UK: Amazon's Lovefilm, recent US import Netflix, and Sky's NOW TV.
Let's take a look at how they measure up in a few vital areas.
Content choice
Streaming video services live or die by the quality of their catalogue. Which offers the best selection?
Movies
Lovefilm would seem to have the clear numerical advantage when it comes to movies, with 2,777 titles at the time of writing. Current headliners include brilliant SF actioner Looper, the surprisingly great X-Men: First Class and hit comedy Bridesmaids. Lovefilm offers a very strong line-up of kids entertainment, too, with numerous Disney flicks including classics like Dumbo and more recent Pixar offerings like Up and Wall-E.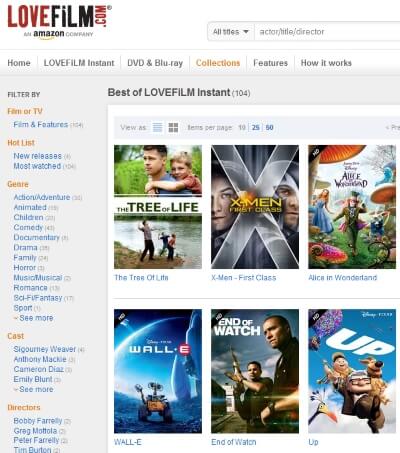 The Netflix movie selection is smaller - numbering 1,668 at the beginning of 2013 - but does still offer some recent big hitters, including Avengers, Captain America, Mission Impossible: Ghost Protocol and the awesome B-movie nonsense of Lockout.
Sky doesn't provide exact numbers for NOW TV, but our rough approximation puts it around the same as Netflix, with each genre category containing about 100-200 titles. NOW TV's advantage is its ability to offer movies before Netflix or Lovefilm - because it streams content from Sky you're getting films at the same time as they premiere on Sky Movies. Currently available are relatively new releases such as Jack Reacher, The Dark Knight Rises, Prometheus and Men In Black 3.
NOW TV also has a fairly respectable back catalogue with plenty of cult horror and SF, older 007 movies and some great old comedies.
Winner: Lovefilm Instant
But only just. NOW TV has a decent mix of contemporary movies and plenty of older films that aren't available on Lovefilm Instant or Netflix. And while Netflix has perhaps the weakest range of the three, it seems better at newer releases than Lovefilm. Worth noting that there's relatively little cross-over between the three, with many films only available on a single service.
TV series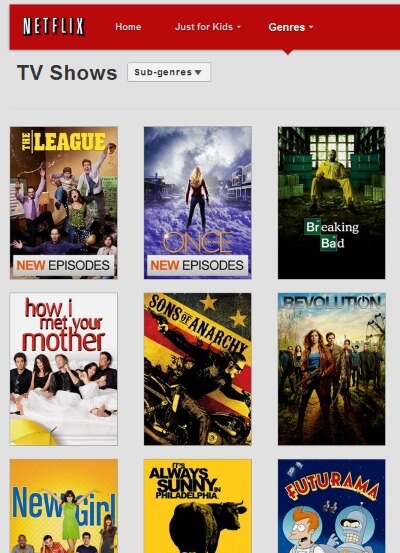 Let's get NOW TV out the way first: Sky's streaming package currently has no TV shows. There was talk of it getting access to content from the likes of Sky Atlantic and Sky Living but this has not materialized yet.
There is Sky Sports, but this costs £9.99 for just 24 hours access, and is only really going to be of use to those of you who want to see a particular game and have no other way of viewing it. Personally, we'd just go down the pub instead.
Netflix and Lovefilm are quite well matched on their TV selection. Both provide US shows like 24, Heroes, Battlestar Galactica and Dexter, among many others.
Netflix, though, have some big exclusives such as Breaking Bad, Revolution and original productions House of Cards and Orange Is The New Black. In comparison, Lovefilm's exclusives are quite scarce, with only the recent Vikings standing out (which is well worth watching, by the way). Lovefilm has a good choice of British TV also, though it's only the BBC stuff that's really useful since Channel 4 provides a vast amount of content free on 4OD.
Winner: Netflix.
Netflix takes first place thanks to some brilliant US exclusives and its excellent homegrown offerings, though Lovefilm isn't too shabby.
Third party and app support
Streaming video isn't just limited to web browsers. Assuming you want to watch on a big screen or via portable devices it's important to consider the availability of apps and third party hardware support for your chosen streaming provider.
Netflix
Netflix is available on a huge range of devices, including Roku, Apple TV, Playstation 3, Xbox 360, Wii and Wii U, plus apps for Android, iPhone and Windows Phone. It's also available on many smart TVs.
Lovefilm Instant
Lovefilm Instant is not quite as flexible as Netflix. You're still able to access it on games consoles and some smart TVs, but there's no Roku app yet and mobile support is disappointing. Since it's owned by Amazon the Android version is only available for the Kindle Fire tablets, while the only iOS support is for the iPad.
NOW TV
NOW TV supports the Playstation 3 and Xbox 360, but Wii owners are left out. It isn't available on smart TVs, though can be streamed via a YouView or Roku box. When it comes to mobiles you can download NOW TV to an iPad, iPhone or iPod Touch, it's worth noting that due to geographic restrictions it will not work if you bought your device outside the UK. It's also important to remember that NOW TV, for some unknown reason, only allows you to register two devices at any time and you can only change devices once a month, a frustrating and seemingly pointless restriction.
One interesting advantage NOW TV does have is its dedicated streaming device, the NOW TV box. This rebranded Roku costs just £9.99, which is something of a bargain.
Winner: Netflix.
Chances are if a device supports streaming video Netflix should work, and probably in HD too.
Picture quality
Content choice and price count for nothing if the picture quality is poor, so which streaming video provider pushes a sufficiently pleasing number of pixels?
Netflix
When indicated by a HD logo, Netflix offers streams up to 1080p Full HD, which it confusingly calls SuperHD. Usefully, the full resolution is available on many other devices like the Xbox 360, PS3 and Roku, not just when streaming via the web.
Lovefilm Instant
Lovefilm also tops out at 1080p, but only when you watch through a web browser or Kindle Fire HD tablet. All other devices are limited to 720p at best.
NOW TV
Shockingly, NOW TV mostly offers video in standard definition. It is possible to get 720i (yes, i, not p) if you're using an Xbox 360 or Roku and signed up to a monthly pass, but otherwise the stream quality is severely lacking next to the competition. Their support forum is filled with complaints about the poor picture quality.
Winner: Netflix
A comfortable win for Netflix on this front since it offers 1080p across many platforms.
Price
Netflix: £5.99/pm
Lovefilm: £5.99/pm
NOW TV: £15/pm
Winner: Netflix and Lovefilm
Netflix has a single £5.99 price point. Lovefilm also starts at this price, but while we are focusing on streaming video here you shouldn't ignore Lovefilm's combo Instant and DVD by post options, which start at £7.99 for access to Lovefilm Instant and one DVD loan at a time. NOW TV's pricing is bemusing.
Conclusion

Netflix offers the best all-round streaming entertainment package, with a strong choice of content, reasonable price, good quality video and excellent app support.

However, Lovefilm is perhaps the best alternative to a premium pay TV service like Sky or Virgin because for £9.99 you get unlimited access to Lovefilm Instant plus the option to borrow three DVDs at a time from a selection of over 70,000 (even if you do have to wait a couple of days for delivery). With all that choice movie and TV buffs should find plenty to keep them entertained for a very long time.

As for NOW TV? That's a disappointment, especially coming from Sky. While its movie catalogue isn't terrible, and it's nice having live access to Sky Movies, the lack of HD streaming and excessive monthly fee (with no TV shows to boot) makes it impossible to recommend.
But even the best streaming services have a lot of work to do. There are big gaps in their catalogues, with long delays in delivering the latest movies and TV seasons. In order to get a great selection you'd have to sign up for all three, and still be missing out on some favourites.
Ultimately their main competition isn't each other, it's the pirates who are able to deliver flawless HD video the moment it's broadcast. The streaming outfits and content producers need to step up their game if they hope to compete with the salty sea dogs of the Pirate Bay.