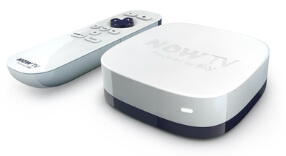 Last month, Sky unveiled a surprising new addition to its entertainment line up with the announcement of the NOW TV box.
This compact little device allows you to stream content from the likes of iPlayer and Five On Demand, and Sky's own NOW TV service, onto the big screen. If you usually watch streaming TV via a laptop or tablet you'll find the box's interface and remote a far more comfortable option.
And as it costs just £9.99 the box sits comfortably in impulse buy territory.
This gadget is actually a rebranded Roku LT (we reviewed the similar Roku 2 XS recently), however the NOW TV box is a little more restrictive than an original Roku as it does not allow you to install the same selection of channels and apps. While it's understandable that Sky wouldn't want you accessing Netflix and Lovefilm, it's also missing the essential Plex.
Plex is a media streamer tool which allows you to access your own music, film and TV collection over a network. With the Plex server installed on a computer content can be streamed to mobile devices, the web, or a compatible player can display it on your television.
It's a shame the NOW TV box doesn't offer this as standard, but it is still possible to install Plex using this guide.
Download Plex 2.6.6 - http://stored.webspace.virginmedia.com/plex/Plex2.6.6NOWTV.zip. Don't open the ZIP file, just save it to your computer.
Using your Now TV remote, press the following buttons on quick concession – Home x3, Up x2, Right, Left, Right, Left, Right. This does need to be done quickly so it may take a few tries.
If successful the screen will display the Developer Settings dialogue. Take note of the IP address shown, then select 'Enable Installer'. Follow the process until your device reboots.
Go to your computer and open a web browser, then type in the IP address you wrote down from the previous step. This should take you to the development application installer.
Click 'choose file' and select the Plex ZIP file you downloaded in step 1. Click on install. If all goes well you should see the message "Install Success" appear.
A Plex icon should now be available on your NOW TV box menu.
In order to use this you will need to download and install the Plex server software to a computer. It's fairly straightforward, but if you get stuck Plex has a good support forum and a comprehensive Wiki. In particular you should read the sections on network configuration and media naming conventions. We'll be doing a more in-depth look at Plex shortly.