Review: Google Nexus 7 (2013)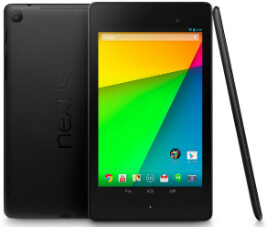 The first Nexus 7 proved to be a big hit for Google and manufacturer Asus. Unsurprisingly, a high-spec tablet for under £200 turned out to be quite popular.
Now there's a new 2013 edition of the N7. A follow-up was always on the cards, it was just a question of whether Google could fix the flaws of the original and improve the specification while retaining that attractive price tag.
Power up
The original Nexus 7 was - to some fanfare - powered by an NVIDIA Tegra3 chipset. This much-hyped hardware was supposed to provide outstanding performance, particularly for gaming, but in honesty we've never been that impressed by NVIDIA's mobile chips so it was a relief to see that this time Asus opted for a quad-core Qualcomm Snapdragon SoC which offers bags of processing grunt.
Alongside 2GB RAM this processor flies, enabling the system to quickly load apps and largely avoid that irritating lag which blights so many Android devices. Alongside an older but supposedly high-end Asus Transformer running Tegra 3 the performance difference is jarring. The Nexus 7 is so slick and enjoyable it's embarrassing that the other tablet cost twice as much.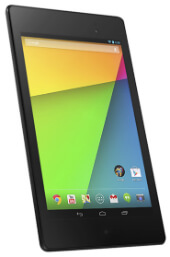 In the Antutu benchmark the Nexus scored a very respectable 20,615, placing it above the Nexus 10 and around the same speed as the Samsung Galaxy S4 and HTC One smartphones.
The new Nexus also benefits from the addition of Qi wireless charging support (third party charger pads are widely available and not too expensive) and a 5-megapixel rear facing camera in addition to the front sensor.
Screen star
The 2013 N7 has a had minor redesign which involved slimming down the casing on its side, giving the impression of a thicker bezel at the top and bottom even though it's the same dimensions. This initially looks odd but means the tablet is easier to hold with one hand in portrait while in landscape orientation you've got something to grip without touching the display
The tablet body feels better this time round, too. There were complaints about the first model's screen coming unstuck from the casing and of unsightly gaps at the edges, but there's no indication so far of a repeat performance here. It feels solid with a reassuring amount of heft, and the soft rubberised back panel is comfortable. As with other Nexus devices it gives a strong impression of quality at odds with its relatively low price tag.
Most striking is the new display. It's the same size - 7-inches, 16:9 aspect ratio - but with a vastly improved resolution of 1920 x 1200 which enables playback of 1080p Full HD video with no downsizing. The IPS LCD is pin-sharp with a 323 ppi pixel depth, and provides outstanding colour reproduction. It's easily one of the best screens on any sub-10" tablet, including the iPad Mini. The original N7 display, with its muted colours and low brightness, was perhaps its weakest feature so this is a huge step forward and may be enough to justify an upgrade all by itself.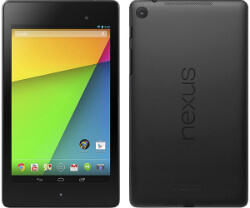 There's little in the way of physical controls or ports to spoil the N7's smooth lines. The only buttons are the power/lock key and volume rocker, and there's just a lonely microUSB port. If we're quibbling the volume key is a little too flush with the casing making it tricky to locate by touch alone, but that's a minor complaint.
Once again the Nexus is missing a HDMI port, but you can now add this functionality with a slimport HDMI adapter, adding around £20-30 to the cost. Annoying, but at least video out is now an option. It's also lacking a memory card slot though this may not be a huge issue if you take advantage of streaming media and cloud storage to save space.
Should you buy the new Nexus 7?
The 2013 Nexus 7 is a little marvel. It's fast, has a gorgeous screen, top specs and solid build quality. The price tag is higher this time round, starting at £199 for the 16GB model, but still represents excellent value for money. Wisely, Google has eliminated the restrictive 8GB option.
Overall, the N7 is one of the best tablets available right now. It's perhaps not an essential purchase if you've already got the original as the differences between the two are relatively minor, though that new HD display is very tempting.
Related links:
Budget tablet head-to-head: Tesco Hudl vs Google Nexus 7 vs Amazon Kindle Fire HD
Top 10 free Android games for a smartphone or tablet
Comments
Be the first to comment