Streaming showdown: Google Chromecast vs Roku Streaming Stick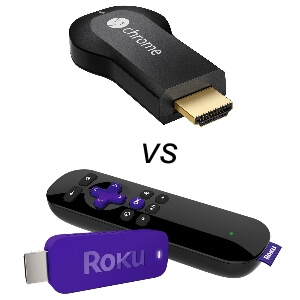 Smart TVs are becoming more popular with UK telly addicts according to OFCOM, which last year reported that 7% of households now had an all-singing and dancing net-connected set somewhere in their home.
That's still a relatively small number though. Despite indications that we're upgrading our TVs more often the slightly higher cost of a smart TV may be putting off potential buyers.
But another factor that could contribute to slow take up of smart TVs is the rise of media players which add smart features without replacing the screen. In particular a new wave of compact and afffordable 'streaming sticks'.
Google launched Chromecast to great fanfare, grabbing headlines with its incredibly low retail price. Soon after, streaming hardware veteran Roku unveiled its competing Streaming Stick which, while not as cheap as the Chromecast, released at a lower price than its previous Roku media boxes.
So which should you go for if you're looking to give your TV a cheap IQ boost?
In the box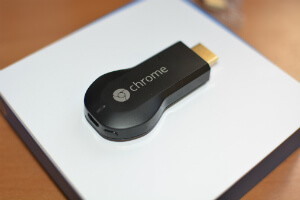 Both the Chromecast and Roku are similar in size and shape, resembling a large USB memory stick with HDMI connector. Each feels reasonably well built, too. They're not meant to be ultra durable portable devices but you shouldn't need to be concerned about throwing them in a bag either.
They cannot run from HDMI alone so you must use either a USB adapter plug or hook up to a USB port. If your TV has USB and recessed HDMI ports on the side (or sufficient room at the back) this is a neater configuration as the sticks and all cabling can be tucked out the way behind the screen.
Since the Chromecast is reliant on a paired smartphone or tablet its package is barebones: you get the device, USB cable and adapter and some instructions for getting started.
Inside the Roku Streaming Stick box it's much the same, with the key difference being its bundled remote control.
As it's not focused on mobile integration this is a necessary addition, and depending on how you're planning on using these gadgets this could tilt a decision in favour of Roku.
If your intention is to just leave it plugged into a TV as another part of your media setup the remote is welcome. No need to keep a smartphone or tablet to hand whenever you feel like watching something, and since it's only purpose is navigating the UI and controlling media playback there's a lot less fiddling (or worries about battery life) compared to using a mobile for the same functions. It also means that you don't need to give up control of your phone or pair a new device when other people want to take control.
Setup and software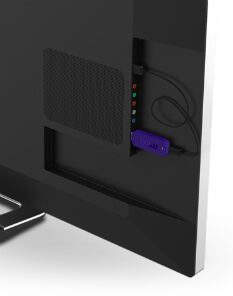 Plugging in the Roku for the first time requires a few minutes are spent setting it up and it's a little more involved than the Chromecast. You'll be prompted to visit their website to create an account and link your device with a code, so have a web browser handy.
Roku delivers all content via 'channels', which are its name for apps.
It boasts of having more than 750 of these, which sounds really impressive until you realise a significant proportion are foreign language or niche interest. The key thing is that it has all the major catch-up services - iPlayer, 4OD, Demand 5 and ITV Player - along with official support from the likes of Netflix, Sky Store, YouTube, NowTV and Spotify (though Lovefilm is notably absent).
Additionally, there are private channels which cover a bewildering array of topics and can be added via your Roku account. Though as we said in our review of the Roku 2 XS, Plex is our killer app, giving easy access to your own personal library of music, movies and TV shows through a slick interface.
In use the Roku is a mostly painless experience. We definitely prefer its real remote over Chromecast's reliance on a mobile device; it makes navigating the UI and controlling playback very simple and is certainly more accessible for technophobes. Our only misgivings are that the Roku interface is still quite laggy. Sometimes button presses go unregistered or it'll take an age to respond, which is also what we experienced when reviewing the older Roku 2 XS.
The Google Chromecast is a slightly different take on media streamers. By itself the stick is useless - what it needs is a paired smartphone or tablet (and this can be Android or iOS) to provide the content.
Essentially it's wirelessly mirroring a mobile display on a big screen, though at present this works best in specific supported applications which have been updated for Chromecast. Mirroring the entire display to view any app is a feature that's coming but it's still in beta and only works on specific Android devices.
Setting up the Chromecast is quick and very straightforward. When powering it up for the first time you simply follow the on-screen prompts to set some options, and enter the code provided to pair a device.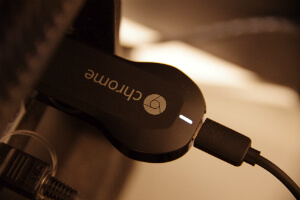 With the Chromecast app installed on a phone or tablet you simply need to hit the 'cast' button in supported apps - which include iPlayer, YouTube, Netflix and Plex - and it will show up on your TV.
Video quality with YouTube was reasonably good, though if you're streaming your own media with Plex it pays to play about with the settings to get the best picture without causing too much stuttering and buffering.
Playback controls are all handled through the native mobile apps themselves, so if you're casting a playlist from Google Music and want to skip, pause or switch albums it's easily done through a familiar interface. The catch of course is that it needs a smartphone or tablet to do this, so if you've not got a dedicated device for that purpose or are unwilling to give up your smartphone new users will need to be authorised to allow them to join in.
Both the Roku Streaming Stick and Chromecast are Wi-Fi only so for the best performance you'll need reasonably good connectivity. Though having said that both worked far better than expected when we tested them in a room with just a couple of bars of Wi-Fi signal. Plex on the Roku required a slight downgrade of the streaming quality to eliminate buffering and we had some problems with 4OD dropping out in the middle of a video, but then setting up a second router as a repeater alleviated these issues. We were also able to comfortably stream when connected to a mobile broadband Wi-Fi dongle.
Roku Streaming Stick or Google Chromecast - what's the best cheap media streamer?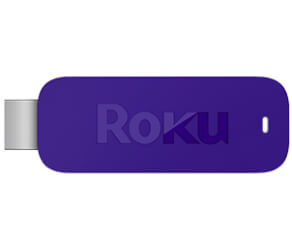 With an RRP of just £29.99 the Chromecast is a comfortable impulse buy. It regularly drops below £20 too, and is available free with Tesco broadband. However the Roku is only slightly more at £49.99, and it's a small premium that's worth paying.
Chromecast is great for sharing. It's a lot of fun when you're with a group of friends taking turns to stream favourite music or YouTube videos, and once full screen mirroring is out of beta we could see it being a neat tool for presentations. It's also very cheap so would be great for anyone who just wants basic smart TV functionality without a more elaborate setup.
But the Roku feels more like a proper media player. That's partly due to the remote control that means you don't need to have a smartphone to hand at all times, but it also provides an enormous choice of content delivered at the push of a button with little to no technical expertise required, while still offering more advanced features for anyone wanting to expand its capabilities. It's also important to note that the Roku now supports casting from a mobile device just like the Chromecast so you don't need to miss out on that either. All things considered it's a better value deal even with the higher price tag.
Comments
Be the first to comment