iWatch revealed: the Apple Watch is here
Ending years of speculation, Apple has announced its first wearable technology in the form of a high tech wrist watch.
Imaginatively dubbed Apple Watch, it bears more than a passing resemblance to many existing smartwatches but also introduces a few new features of its own.
With a square, full face display the design isn't a million miles from competing models like the Samsung Gear and LG G Watch (so the Moto 360 and LG G Watch R, with their round faces, still get to stand apart from the crowd) but in addition to the base Apple Watch model there will also be an Apple Watch Sport and Apple Watch Edition (er, edition), each in two sizes, and a variety of watch straps and materials available, including 18K gold.
Its display is protected by tough sapphire glass, and charging the Watch is achieved with a magnetic docking port to retain its waterproofing.
The screen is touch sensitive and can also detect pressure, Apple has a feature it calls 'Force Touch' which essentially acts as a right-click. But you don't have to use just touch to control it as the crown on the right side is used for zooming, scrolling and UI navigation.
Just underneath the crown is a dedicated button for a very unusual function: Digital Touch. This allows you to communicate with recently contacted friends by sending them pictures, taps (translated as a vibration on the recipients wrist), your current heartbeat (which is...strange) or use the Watch as a walkie talkie.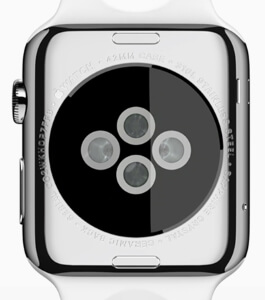 Naturally Siri makes an appearence and like Google Wear you can issue voice commands via the built-in microphone without using your phone.
Fitness tracking is a big part of the Apple Watch. It includes a heart beat monitor using sensors on the back (pictured right), and an accelerometer for steps, with a tethered iPhone providing GPS and other functions.
Speaking of which, the Apple Watch is compatible with iPhone only, and needs at least an iPhone 5 or higher. It could end up being a pricey bundle overall since the Watch will start at $349 for the basic model when it launches next year, but perhaps we'll see subsidised contracts offering both as a deal.
Confused by all this smartwatch stuff? Find out more about them with our guide to smartwatches, and read up about fitness tracking in our article on wearables.
Comments
Be the first to comment