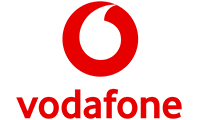 Vodafone has today revealed the full details of its return to home broadband.
Vodafone Connect is a broadband service which offers ADSL and fibre connectivity. Like EE, TalkTalk, Sky and many others they're utilising the BT Openreach network for unlimited ADSL and fibre, though fibre connections will also be run off the Cable & Wireless backbone owned by Vodafone.
It's initially available in just a few areas - Manchester, Surrey, Hampshire and Berkshire - though will soon be launched nationwide.
Vodafone faces an uphill battle. The UK's home broadband market is extremely competitive and making a new offering stand out from the crowd is a real challenge. Vodafone bailed the last time it offered home broadband and other firms haven't stuck around despite attracting a reasonable number of users. In the last few years we've seen O2 home broadband sell to Sky, Tesco broadband move to TalkTalk and Orange's long running home offering wound up in favour of EE home broadband.
Why is Vodafone entering the market at this time? They purchased Cable & Wireless back in 2012, which gave them a significant backbone network across the UK. While they are still going to be relying on BT their intention appears to be to power fibre connections off the C&W lines wherever possible.
Another reason could be the move toward 'triple play' and 'quad play' bundles where providers are attracting users by offering cut price mobile or fixed line internet alongside TV and phone services. Networks that don't diversify into these areas may find themselves left behind by providers that are able to offer the full gamut of communication and entertainment services in one easy monthly payment. Vodafone is allegedly going to be adding TV alongside the broadband, and there have even been rumours that it may purchase Virgin Media.
But for now the question for home users who have no shortage of options for home internet is whether Vodafone Connect provides any really compelling reasons to switch.
Vodafone Connect pricing
In common with EE and Virgin Media, Vodafone Connect offers benefits if you're a Vodafone Mobile customer. Here's how it much it will cost:
Unlimited ADSL up to 17Mb
£10 per month
Vodafone mobile customers: £5 per month (£2.50 for 12 months)
£16.99 line rental (or £163.10 for 12 months up front)
Unlimited fibre up to 38Mb
£20 per month
Vodafone mobile customers: £15 per month (£7.50 for 12 months)
£16.99 line rental (or £163.10 for 12 months up front)
Unlimited fibre up to 76Mb
£25 per month
Vodafone mobile customers: £20 per month (£10 for 12 months)
£16.99 line rental (or £163.10 for 12 months up front)
That initially looks fairly attractive, at least for Vodafone Mobile customers. Even without the 12 month discount these prices are in line with ISPs such as Plusnet (£14.99 for 38Mb, £19.99 if you're on a monthly contract you'll also get an additional 300 anytime minutes.
But if you're not using their mobile service the prices are equal to or higher than many established competitors in the home broadband market.
There's customer service to consider, too, an area where Vodafone has been criticised before. During a call with media the question was put to the firm, who said they are working to improve things, but it's going to take more than that to convince anyone who's been burnt by a poor experience with the mobile division.
So they're not any cheaper than the competition, you have to be a mobile user to get the most additional benefit and customer service has a big question mark hanging over it. What else is there to persuade us to switch? One feature Vodafone has been pushing is its router, which it claims offers some useful extras.
Boost, Beam and the Vodafone Connect app
Vodafone Connect will give all customers a Wi-Fi router worth £130. ISP supplied routers are often fairly basic and provide an unremarkable performance, particularly when it comes to Wi-Fi, so the relatively high specification of the Vodafone model is a welcome sight:
5x Gigabit network ports (1x WAN, 4x LAN)
1x RJ11 internet port (ADSL2+, VDSL)
802.11ac Wi-Fi
5GHz and 2.4GHz dual band
MIMO
2x USB 2.0
128MB RAM
Guest Wi-Fi
The use of 802.11ac (the latest Wi-Fi standard), dual band and MIMO (multiple input multiple output) should mean that the router offers good Wi-Fi range and reliability and it will support the top speed of many Wi-Fi devices.
It also offers 'boost' and 'beam' features. Boost is a way of optimising performance to a designated device for two hours, which could be handy if you're streaming movies to something like a Roku or Amazon Fire TV. Beam appears to be beamforming technology, a method of improving Wi-Fi reliability by focusing the signal at compatible clients.
To make managing your home network easier Vodafone will also be releasing the Vodafone Connect app. Using a smartphone or tablet you'll be able to control guest Wi-Fi, change the network password, SSID, frequency and channel, view connected devices, schedule Wi-Fi access times and even fiddle with the router's notification lights.
The Vodafone router and app may be the most interesting part of the package. While none of these features are groundbreaking and you could achieve much of it yourself using any decent mid or high end Wi-Fi router, it is unusual to get this sort of functionality for free from an ISP.