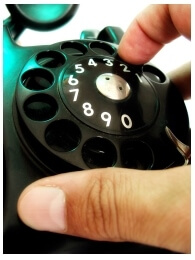 Following the new broadband switching process introduced this month OFCOM is now updating the rules regarding premium rate and freephone calls.
This comes into action from the 1st of July, but what exactly is changing and what kind of difference will it make, if any, to your monthly phone bill?
Premium rate charges
Right now the cost of calling a premium rate number - that is any number beginning 084, 087, 09 or 118 - is not always obvious. If you call from a BT landline the charge is probably clearly stated (such as "calls from a BT landline cost 30p per minute") but it may then say that "other landlines may vary" and also advise that it could cost a lot more from a mobile.
It's not helpful to face a vague and undefined charge when making a phone call. It's particularly problematic for anyone on a tight budget, when surprises in a bill can cause serious headaches.
The incoming changes are an effort to make things much clearer for everyone, so you know exactly what it will cost when calling one of these numbers regardless of whether you've got a BT phone line or not.
From the 1st of July premium rate phone calls will be calculated as an Access Charge plus Service Charge.
Despite their intention to make things clearer it's not immediately obvious how this works, so let's break it down:
The Access Charge is a per-minute fee set by your telephone company for calling premium rate numbers. They will tell you how much this is on your bill.
The Service Charge is set by the party you're calling, and the cost will be given when you call.
So if your phone company levy an Access Charge of 10p, and the organisation you're calling have a 20p Service Charge, the call will come to 30p per minute.
It's worth noting that the cost of the Access Charge is highly variable between service providers so this may be an important factor when you choose a new supplier. For example, EE has stated that its charge will be a hefty 44p per minute, while TalkTalk is asking 20p.
Another thing to consider when comparing broadband and phone deals!
What difference will this make?
This move is not meant to make calls cheaper, but to clarify the cost, so don't expect a big reduction in your bills after July if you regularly call these numbers.
If you only rarely call premium numbers then it should make things a little less confusing, though the system they've settled on isn't the most ideal method. You will still need to know your telephone provider's access charge, and do a quick sum in your head when you're told the service charge in order to work out the total per-minute cost.
The concept of even paying for phone calls is feeling increasingly outdated. A few quid a month can get you a broadband service that permits the transfer of an unlimited amount of information, and even cheap mobile phone deals offer unlimited texts, yet we're still being asked to pay per minute for basic voice communications. Organisations are increasingly utilising online services for contacting and supporting users, too.
Twitter is a particularly popular channel for getting help, as people are realising that a public complaint can be a much quicker way to get a response.
As the likes of Skype, Facebook, Twitter and WhatsApp become the primary way for people to keep in touch the days of paying per phone call may be numbered.
Freephone calls
As well as the premium rate changes OFCOM is also mandating that freephone calls actually become free for everyone, not just landlines. From July you won't be charged for ringing an 0800 or 0808 number from your mobile.
As many of us now use a mobile phone over a landline for voice calls this may result in a welcome drop in the monthly bill. Just keep in mind that premium rate calls will likely remain expensive from a mobile so be sure to check your network's costs before ringing other numbers.