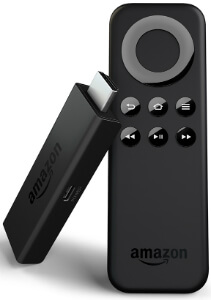 The Amazon Fire TV Stick is a streaming media viewer that offers a wide range of features in one compact and affordable package. It's particularly intriguing if you fancy a smart TV but don't feel the need to upgrade your set as it offers a cheap route to many of the same functions.
We've previously looked at competing devices from Roku and Google, so how does the £35 Fire TV stack up?
In the box
Fire TV Stick
Fire TV Stick remote
HDMI extension cable
Power adapter
2x AAA batteries
Instruction manual
This is everything you need to get started, aside from a TV. It's particularly nice to see batteries and a HDMI extension cable as these little extras aren't always included.
As we've come to expect from Amazon hardware, the build quality is better than you might expect for its low cost. The slim Fire TV remote certainly feels sturdier than the Roku Streaming Stick, which has a chunky toy-like design with wobbly, imprecise buttons.
On the face of it this is a good value bundle. At £35 it's £15 less than the Roku stick and only a fiver more than Google's Chromecast, which doesn't include a remote.
Setup
There's nothing complex about setting up the Fire TV Stick. Plug it into a spare HDMI port on your television, follow the on-screen prompts and you'll be up and running in minutes. If you buy direct from Amazon it'll even come pre-configured with your account details.
The power adapter included in the box is optional, but when we tried running the Stick off a USB port on the TV it complained about a lack of power - and continued to nag even while it seemed to be working (so keep that in mind if you're short on plug sockets). The Roku Streaming Stick and Google Chromecast both have an advantage over the Fire TV Stick here as they're happy to run from USB.
During the initial configuration you'll need to select a Wi-Fi network and login to an Amazon account. Text entry is performed with a virtual keyboard, but entering a lengthy password is tedious so we'd highly recommend installing the Amazon Fire TV app. This turns any compatible Android or iOS device into an alternate remote and provides a keyboard for text entry.
Using the Fire TV Stick
Amazon would really like it if you used its services and software. The Fire TV interface is designed around quick access to Amazon Prime Instant Video and the Amazon App Store, and it does a very efficient job of making it easy to access any new items you've purchased or rented - as well as recommending further viewing.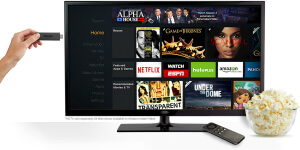 If you've invested in Amazon's vast ecosystem you'll get the maximum value out of the Fire TV Stick. But does it have enough to offer that rare person who doesn't want to buy into its ever expanding empire?
Without Prime access the Fire TV Stick can appear a little sparse and the heavy branding makes it seem like you're missing out, but the good news is that it remains perfectly functional otherwise.
In addition to its Amazon-powered media streaming the Fire TV offers a wide choice of apps including Spotify, iPlayer, YouTube, Netflix and home media streamer Plex. It's nice to find access to these has not been restricted, even when they're a commercial rival.
The apps we tested all worked as well as versions we've seen on smart TVs and other streaming boxes. Though a word of warning for Plex users: if you haven't already got Plex on the Amazon App Store you'll need to purchase it for full functionality.
There are even games to download. Many of them are playable with the remote but it also supports Bluetooth controllers such as the PlayStation 4 pad or Amazon's own Fire Game Controller if you want to get a bit more serious.
In general the Fire Stick feels slicker and more powerful than its budget price tag might indicate. And the UI is smart and responsive; much snappier than some media players in this price range which can display a significant amount of lag.
Should you buy the Amazon Fire TV Stick?
The Fire TV Stick is an easy and affordable way to enjoy your Amazon movies, shows and music on a big screen. The low cost will especially be appreciated by anyone who already owns the full size Fire TV and wants their content in another room, but doesn't fancy spending a further £79 on a second box.
But as it is heavily geared toward consuming media purchased on Amazon's platforms it's slightly less compelling if you're not on board with the Amazon way of life. We'd still consider it a leading choice if your preferred service has a Fire TV app, but if you're interested in a more flexible solution that doesn't tie you down to a particular provider the Roku Streaming Stick is worth the small additional cost. That offers many of the leading platforms as well as an array of more obscure options, even if the hardware and software isn't quite as slick.
The Amazon Fire TV Stick can be purchased from Amazon for £35 or is free with a Fuel Broadband & TV package.