It has been widely reported today that an Ofcom and ASA survey on broadband pricing discovered 81% of consumers were unable to work out the true cost of a broadband deal.
The survey found 22% were unable to identify the monthly cost after viewing a broadband advert twice. In fact 64% believed the headline price of a broadband package was the total cost and that it wasn't necessary to pay line rental.
It's common for broadband packages to be advertised by leading on the cost of just the broadband bit of it, which is often very cheap or free, while the line rental and price after discount periods is less obvious. Not only can this lead some to believe their broadband is significantly cheaper, but the cost after any free or discount periods can be substantially higher than the initial price.
A poll we carried out into broadband switching found that only 10% would trust their broadband provider as a source of information, compared to 25% for family, 23% for friends and 22% for comparison sites.
This has been a contentious issue for broadband for some time, and Ofcom and the ASA have finally had enough. They're going to be "working alongside" providers to clarify pricing, and from the 30th of May the ASA will treat such misleading advertisement of broadband packages as a breach of the advertising code.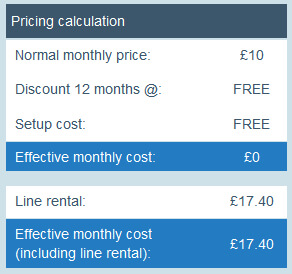 Broadband Genie welcomes any improvements which simplify broadband buying and help people find the right broadband package at the right price.
We already include a pricing calculation on all of our deals which provides an effective monthly cost including line rental, discounts and setup fees. Going forward we'll continue to examine how pricing is presented to ensure that our visitors are getting all the information they need to make an informed decision.
Special offers can be a great way to save money on your broadband, but you need to consider the full cost after the freebies, and be on the ball about switching at the end of a contract. We've seen examples of broadband deals where the price increases by more than £100 in the second year once all the special offers have run out, so it can really pay to shop around once a year to take advantage of the best pricing.