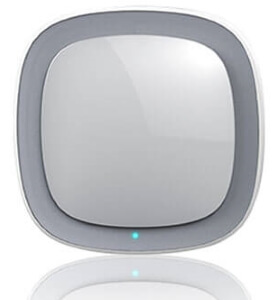 Overseas gadget emporiums have proven to be a real boon for technology fans, supplying all manner of unusual and innovative products at prices which often undercut local suppliers even after shipping and import taxes. They're especially good for cheap smart home hardware, like this entry level bundle from GALAXYWIND.
Beginner smart security on the cheap
You'd be forgiven for never having heard the name before. While prolific - its extensive catalogue includes Wi-Fi lightbulbs and air conditioners - GALAXYWIND is like many Chinese tech firms largely unknown outside its home country.
The MacBee Smart Home Suite is a basic home security package which includes a door/window sensor, motion sensor and gateway to link it all together for just £34. That's the same, sometimes less, than a single component would cost from a brand such as Belkin or D-Link.
But of course price isn't everything. So is this worth the relative pittance, or are you better off upping the budget to go with a bigger brand?
iWulink S101
The core of the bundle is the S101 mini USB gateway. This is the central hub for all the devices (including other hardware in the GALAXYWIND range, such as lightbulbs), and allows each component to be controlled over the internet.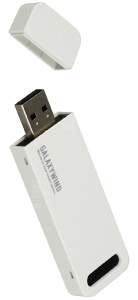 It's a very simple device, a little smaller than a mobile broadband dongle, with USB port on one end and indicator LED and reset switch on the opposite side. Despite its appearance it doesn't need to be plugged into a computer to function, the USB socket only provides power. If you've got one the USB port on a home broadband router makes a convenient home for the gateway, otherwise it can be attached to any spare plug or port. Just remember that this is needed for the entire setup to function so it must be powered round the clock.
A frequent issue with cheap gadgets is the fiddly setup process. English instructions are unclear, or entirely absent, and required software often suffers from poor translation and glitches. However the S101 - and indeed the entire bundle - was absolutely effortless to configure. After powering up the gateway it's simply a case of scanning the QR code in the manual (or searching the app store) to install the 'My iWUHome' app. This instantly detected the S101 and prompted for the Wi-Fi network password, and it was ready to go.
Wuan D2 and S2
With the Home app setup the gateway will automatically connect to additional components of the system as they're added.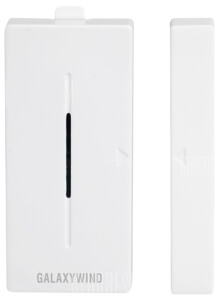 The D2 is a very simple sensor which interfaces with the USB gateway to tell you when a door or window is opened or closed. Two AAA batteries go in the larger of the two pieces, then both sides are attached to a door or window using the supplied 3M adhesive pads.
Also included in the bundle is the Wuan S2 motion sensor which flashes red and sends alerts to the app when movement is detected. It's range appears fairly short and narrow so placement is important. It's best suited to a small room or porch, for larger areas you may need to rig up a ceiling mount to get wider coverage. There's an adhesive pad on the rear to attach it to a flat surface but if none is available it will need a homebrew solution.
The Home app detected both of these parts as soon as they were powered up and required no further configuration, so top marks for ease of use there. By default the sensors were operating in 'unprotected' mode, which means the app records sensor triggers but does not notify you. If set to protected, the app will push notifications to your device.
There are very few options available beyond this for either the sensors or gateway. Nicknames can be set and the door sensor allows you to automatically 'arm' it after disconnecting from Wi-Fi. And the movement sensor has a customisable alert interval, which is important to avoid constant buzzing if placed in a busy area of your home.
Unsurprisingly given the low cost, build quality does not appear to have been a priority for either the door or motion sensor and the manual warns not to get them wet. This is going to limit their utility. You'll need to carefully consider placement to avoid the risk of damage and they're not going to be suitable for outbuildings which aren't weather sealed.
Verdict
With such a small price tag our expectations for the MacBee Smart Home bundle were low. But it was a pleasant surprise to find that it was, if nothing else, very easy to setup and has so far worked as advertised without any major glitches.
The biggest drawback is its simplicity. The app offers nothing in the way of automation or interoperability with other smart home standards, which greatly limits its utility. There's no way to trigger another device with the motion sensor, for example. It's also problematic that none of the sensors can be purchased individually at present (at least on any English language site we could find), which means that adding more sensors will require you to purchase the entire bundle again.
In a specific scenario (such as protecting a garden office or single room) it is a great low cost way to add remotely accessible security to a home, but if your plan is to extend coverage to a whole property and link it to other smart home devices you'll need more flexibility than this bundle offers.
The GALAXYWIND MacBee Smart Home Suite is currently available for £34.03 plus shipping from Gearbest, price is subject to change depending on your local currency. Thanks to Gearbest for supplying the review sample.