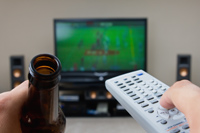 There's a huge change coming to the BBC iPlayer, and it's one that be particularly troublesome for students.
From the 1st of September a TV licence is going to be required for both live and catch-up viewing on iPlayer. Previously a licence was only needed for live broadcasts, allowing TV fans to view BBC shows after broadcast without paying.
This could make things difficult for students - or anyone else on a tight budget - who prefer not to pay the £145 licence fee. While there are no plans yet to enforce the new rule with a login system or any other measures, you can face a fine of up to £1,000 if caught. And remember this applies no matter how you view iPlayer, so it doesn't matter if you don't have a TV.
Free or cheap streaming TV alternatives to iPlayer
You can still watch loads of shows and movies and save money by not paying for a TV licence. Here are a few ways to continue accessing many hours of entertainment for less than a yearly licence.
Remember though that streaming video uses a lot of data. If you're on mobile broadband keep a close eye on the data limits, and for home broadband packages we would always recommended unlimited broadband so you can stream as much and as often as you like without extra fees.
ITV Hub, All4, My5 and other catch-up services
Only BBC iPlayer is affected by the licence changes. Other catch-up services such as Channel 4's All4 and the ITV Hub are not affected (though live broadcasts still require a licence). So provided you don't mind missing out on BBC shows you can still watch a vast amount of content for free.
Netflix and Amazon Instant Video
Netflix, Amazon Instant Video and indeed any other subscription streaming service are not covered by the TV licence. These will cost money, but with Netflix starting at £5.99 per month and Amazon at £7.99 (or the equivalent of £6.58 if paid a year in advance, for which you also get free next day Amazon deliveries) this is cheaper than paying for a licence.
YouTube
There's an enormous amount of content available on YouTube, including movies, TV episodes, music videos and documentaries. The legality is often questionable as much of it is uploaded by regular people, but there are plenty of official channels with officially licensed content.