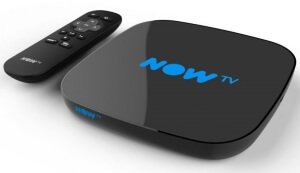 Since launching NOWTV in 2012, Sky has grown the service from a simple Netflix competitor into a standalone broadband and TV brand centered around some very inexpensive hardware.
Now there's a new model for 2016 which upgrades the box yet remains very cheap. But is it any good? We've previously looked at TV devices from Amazon and Roku and were interested to see how the NOWTV Smart Box compares. Let's find out!
Examining the New NOWTV Smart Box
In terms of first impressions, Sky's latest NOWTV Smart Box is a larger version of the previous model, equipped with the same sleek design that we've come to expect from the brand. Despite a bigger size overall, the box is still compact enough to slide neatly into a standard TV cabinet - so you shouldn't have to worry about finding a place to store it.
Perhaps most importantly, the new NOWTV Smart Box still offers a cheap and efficient way of getting your hands on some great entertainment through streaming services, but this new model also has a Freeview tuner inside. So in addition to subscription and catch-up content you can now watch free broadcast TV without any need for a contract. The tuner upgrades the viewing experience by allowing you to rewind and pause as you watch - excellent for making a standard TV "smarter". Though if you don't have an aerial it still works just fine for streaming alone.
The NOWTV Smart box is available as part of a triple-play bundle for entertainment, broadband and line rental, but can also be purchased by itself for just £39.99.
However you get it, you'll be able to choose between a range of packages, including movies, entertainment, kids TV and sports channels on a monthly, weekly, or sometimes daily basis - without the commitment of a fixed-term contract or a satellite dish bolted to the side of your home.
You'll also get access to on demand content from places like BBC iPlayer, the ITV Hub and
Demand 5 as part of the twelve apps available with initial setup. Of course, there's also the option to install your own apps too, including Facebook and Spotify, though notably absent are both Netflix and Amazon Prime Video.
The hardware is manufactured by Roku (it's essentially a Roku 4, which has not yet been released in the UK) and caps out at 1080p, so unlike some competing devices - such as BT's Ultra HD YouView box or the forthcoming Google Chromecast Ultra - it does not offer anything extra for those of you with 4K TVs.
In the package you'll find:
NOWTV Smart Box
HDMI Cable
Power adapter
2x AAA batteries
A simple remote control
Manual
Towards the back of the device, you'll find the aerial and HDMI ports, alongside an Ethernet port if you want to improve stability with a wired internet connection. Generally, wired connections can be the best option if you plan on doing a lot of streaming. A very close inspection underneath the HDMI port will also reveal a microSD slot, which can be used alongside the USB on the right-hand side of the device to playback MKV or MP4 videos, music files in WMA, AAC, or MP3 format, or view images in GIF, PNG, and JPEG format.
The NOWTV remote is pretty typical for any Roku hardware - so if you've had a NOWTV or Roku box before you should be used to it. It's small, simple and runs on two AAA batteries that are included. There's a NOWTV button on the remote which makes it easy to jump straight to the app, as well as a Sky Store button for purchases.
Setting Up the NOWTV Smart Box

Setting up a NOWTV box is straightforward. You simply need to plug in the power, aerial and HDMI, plus optional Ethernet cable, and switch on the device with the remote. The system will walk you through some basic setup steps, including an option for you to enter your Wi-Fi username and password, and choose your resolution. Once you've entered your details, the device will take a few minutes to scan for channels before redirecting to the home screen.
To check out your hardware and get access to basic free functions you don't need any kind of paid subscription, but you will need to register for an account. This does include placing your payment details into the system in case you feel like subscribing at a later date. However, it's worth noting that the lack of a contract ensures you can cancel at any time and only pay for the content you want. It's a good way to binge watch shows without committing to long term payments.
Using the NOWTV Smart Box for Entertainment
The actual Smart Box menu system is easy enough to navigate and use. One of the features we liked most was the fact that the home screen could show the currently playing video picture-in-picture while you browse through other suggestions for entertainment and check out the available content.
The main menu also comes with a useful "Best of Catch Up" section that's great for getting direct access to various streaming services from Channel 4, Channel 5, ITV, and the BBC. There's even some highlights available that you can jump into. What's more, the NOWTV system features a seven-day guide for available entertainment, which can be accessed fully through the homepage menu, either by hitting the left arrow on your remote when watching TV, or checking it out in the mini-guide that pops up at the bottom of the screen.
We found that the picture quality was decent - particularly within the pristine HD channels which make use of the high definition resolutions - and we didn't experience obvious fuzzy peaks and troughs in streaming that can occur with other services. Audio quality was crisp and clean, more than acceptable for long-term watching or listening, however audiophiles should note the lack of audio output options beyond HDMI.
A Viable Alternative to Subscription Services?
An affordable way to access the entertainment you might want from big-brand providers without the pesky problem of subscription commitments, the NOWTV Smart Box represents a fantastic choice for many people who want to get the most out of their viewing time without huge expense. Perhaps the best thing about this device is that its output can be tailored according to your exact needs. In other words, if you just want Sky Movies, then you can choose that package and catch up on all the latest movies for a month. If you want to watch Sky Sports for a day - you can do that too!
With tons of on-demand content, a smooth and sleek system for accessing great entertainment, and easy navigation features, the latest NOWTV offering certainly shows its worth. If you want a budget box that combines a handful of great catch up solutions with a Freeview machine, the NOWTV Smart Box could be a dream come true. However it's a shame that there are some obvious omissions in its support for third party services. If you're looking for something with extra streaming options like Amazon Prime and Netflix then you might be happier with a more flexible and open Roku device.