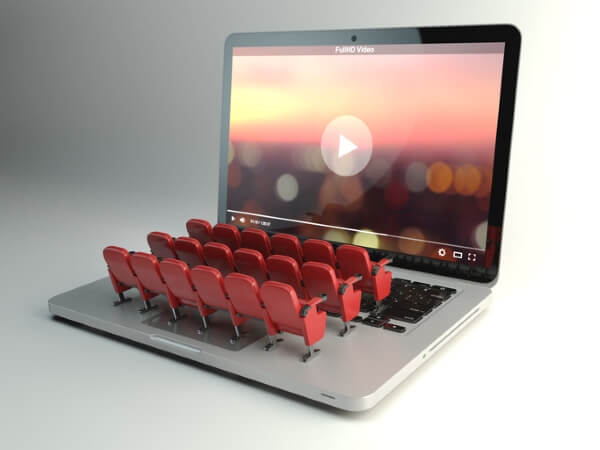 While movie and TV studios chase BitTorrent pirates and clamp down on the sale of Kodi boxes, live streams and video uploads on YouTube, Twitch, Facebook and other sites are broadcasting copyrighted content to viewers around the world, offering high quality videos which can be watched for free on laptops, smartphones, tablets and TVs.
Live streaming was popularised by Justin.tv, which launched in 2007 and later transformed into the gaming-focused Twitch.tv before being bought by Amazon in 2014. Between donations, ads and sponsors, popular streamers can make a comfortable living. But it's also being used to run pirate stations which display full seasons of popular TV series around the clock.
Live streaming is no stranger to controversy and it's never been hard to find all kinds of content which breaches the terms of service, however in recent months we noticed that Google Trend data had recorded a surge of interest in live TV streams on YouTube.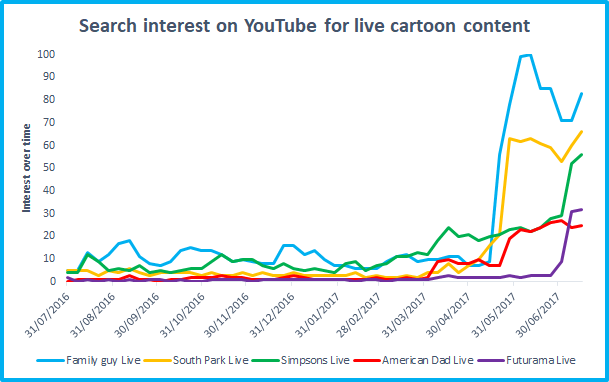 Looking back to August 2016, searches for shows such as Futurama and Family Guy have been fairly stable until May of this year, when there was a significant jump.
(Google Trend numbers represent search interest relative to the highest point on the chart for the given region and time. A value of 100 is the peak popularity for the term. A value of 50 means that the term is half as popular. Likewise a score of 0 means the term was less than 1% as popular as the peak.)
What's causing this? Perhaps a change to the code is driving more viewers to discover the existence of these broadcasts. YouTube did introduce a redesign in May, which - in recognition of the fact that many now use the service to watch hours of video at a time - included a "dark theme" for late-night viewing. This may have coincided with tweaks to the algorithms used to recommend videos. And the more you watch, the more it recommends similar content.
There could be an explanation for one show highlighted above. At the beginning of July the animated sci-fi comedy Futurama was removed from Netflix, and around the same time searches for this series increased. Perhaps fans turned to YouTube streams when their legal source was shut off?
There's certainly no shortage of options if you will not or cannot access a series legitimately. We've found that at any time there are multiple broadcasts of popular TV shows on offer, with hundreds of thousands of viewers between them.
The following were seen on the 20th of July:
| | | |
| --- | --- | --- |
| Show | Number of live streams | Total viewers |
| American Dad | 63 | 8,117 |
| Archer | 9 | 30 |
| Bob's Burgers | 65 | 9,332 |
| Family Guy | 86 | 35,106 |
| Futurama | 77 | 13,902 |
| King of the Hill | 52 | 7,694 |
| The Simpsons | 44 | 20,880 |
| South Park | 59 | 27,919 |
| Spongebob Squarepants | 63 | 19,789 |
Cartoons are most popular, but we also discovered channels offering sports, as well as live action series such as Game of Thrones.
We have asked YouTube for comment, and will update if we hear back from them.
YouTube isn't the only service where illicit video can be found. While not offering the same choice of HD quality 24/7 full series streams, Twitch.tv is also home to many rule-breaking live broadcasts, though from what we've seen Twitch is far more efficient at knocking them offline.
Facebook has its own issues with piracy, but rather than live streaming it has to contend with users uploading videos, which are publicly accessible and easily found through Facebook search. It's also home to groups set up for the express purpose of sharing files, however it has cracked down on these following action by Dutch anti-piracy outfit BREIN last year. Facebook also recently purchased Source3, a company that specialised in identifying copyrighted material online.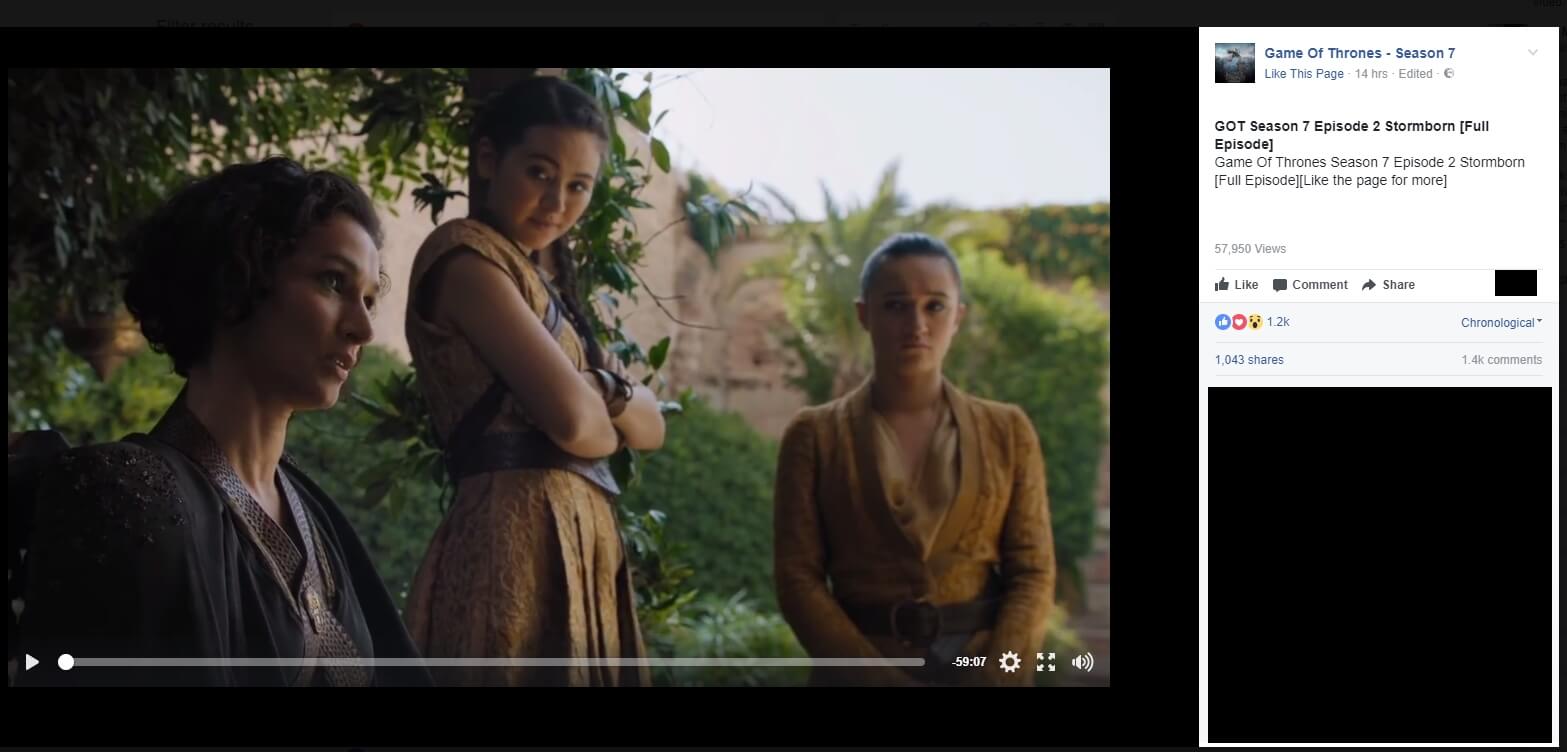 The terms and conditions of Facebook, Twitch and YouTube prohibit such behaviour of course, but stern words have never been a hindrance to pirates.
The sheer number of streams and video uploads, and the methods employed to evade detection, make life difficult for the automated systems tasked with removing content which violates the rules. While many of the videos we found had disappeared shortly afterwards there were plenty of others still available, and more showing up every day.

But the content on YouTube, Facebook and other legitimate sites is only a small - though highly visible - part of the problem.
Outside of the big names there are hordes of video streaming sites which have no concern about the content they host, and no desire to police it. Offering everything from full series to the latest movies, these can be easily located through a Google search. It's also simple to access libraries of movies and TV which can be streamed to a TV through Kodi boxes and other devices.
"Streaming has already overtaken downloads as the main source of pirated video content" says Ernesto Van der Sar of TorrentFreak. "Every day, millions of people watch copyright infringing streams through a variety of streaming portals and pirate devices. Streaming appeals to a wide audience as it's instant, intuitive, and usually requires no additional software."
It appears to a safe option for both parties in comparison to BitTorrent, too. The streamers have so far been able to operate with a large degree of freedom, and viewers are unlikely to face any repercussions. Chasing them down would be expensive, time consuming and ultimately futile.
For the rights owners, the challenge is how to tackle such large scale casual piracy.
Rather than trying to play an endless game of whack-a-mole with pirates, the focus could be on offering a superior legal alternative. Shows such as Family Guy and South Park are available to legally stream online for free, but they don't always include older episodes or full seasons, and are usually locked to specific countries. These sorts of restrictions will only lead viewers to search for alternative sources, and pirates are ready and waiting to cater to that need.