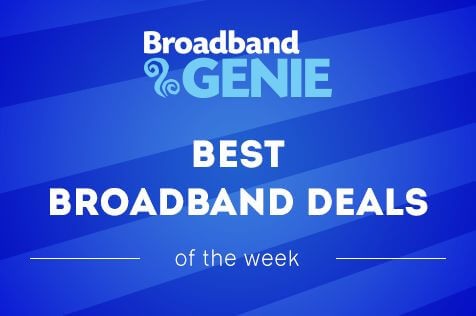 Each week the Broadband Genie team hand picks a selection of top offers to help you save money and get a better broadband service.
Follow us on Twitter and Facebook for more offers, and check out our blog, guides and features to get more out of your home and mobile broadband.
This week: cheap Plusnet broadband with £50 cashback, and a budget TV deal from TalkTalk.
Bargain of the week: Plusnet Unlimited Broadband with £50 cashback
£19.99 per month for 12 months
12 month contract
Free setup
£50 cashback
Ends 14th of November
At just £19.99 per month for 12 months for unlimited broadband up to 17Mb, plus free setup and £50 cashback, this is a great value offer from a leading ISP. The package simply includes broadband and line rental without calls, but if you do use the landline the call plan can be changed at any time.
We like:
Good reputation for customer service and reliability.
£50 cashback and free setup.
Totally unlimited with no traffic management.
We don't like:
Price jumps to £27.98 after 12 months, so make a note and be prepared to switch at the end of the contract.
TalkTalk Fast Broadband and TV, just £19.95
£19.95 per month for 12 months
12 month contract
£25 setup
This is the cheapest broadband and TV bundle available right now. It includes unlimited 17Mb broadband, phone line (no inclusive calls, just pay for what you use) and a TalkTalk TV box which gives you access to Freeview, catch-up TV (iPlayer, All4, etc), and TV and movie purchases or rentals. Extra channels are available to add or remove month by month.
We like
Very cheap TV, broadband and phone line bundle
Add and remove channels each month without penalty
Price is guaranteed for 12 months
We don't like:
Basic TV box without recording
Price goes up to £28.45 after 12 months