In this guide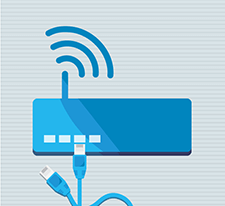 Switching broadband providers can save money or let you get faster speeds...sometimes both! And while it might seem daunting and disruptive it's actually a very simple process.
In this guide we'll answer your questions and explain everything you need to know about choosing a new provider to take advantage of the latest offers and save money.
Why should I switch broadband provider?
There might be many reasons why you may wish to switch providers, including:
Poor customer service
Reliability issues
Overpaying
Faster services available elsewhere
Even if you've got no complaints with your current service it might still be worth looking at a new deal. Switching broadband providers regularly allows you to take advantage of the latest special offers and the lower pricing that's often available to new customers.
Does it cost anything to switch?
There may be a cost for leaving your current provider (see the section on switching mid-contract, below), and the new ISP may have a setup fee or other up-front costs.
There are unlimited broadband deals with free setup but you can still be charged if an engineer is required to carry out any work.
Always check with your existing provider before cancelling so you're aware of any applicable fees, and ask the new ISP for clarification of all costs involved before handing over payment.
Is there a chance I will be left without broadband during the switch?
It is normal for the broadband to stop working briefly as it switches from one provider to another. It does not usually stay offline for long, but on rare occasions there may be a fault or delay which leaves you without broadband for an extended period. If this is a problem you will need to have an alternative in place, such as a mobile broadband dongle or tethered smartphone.
Can I switch broadband mid-contract?
You can switch providers at any time, but if you cancel mid-contract there will almost always be a cancellation fee to pay. This is usually based on the amount of time remaining on the contract so it can be expensive.
It is possible to cancel a contract for free if:
The broadband is very slow. Providers who have signed up to Ofcom's voluntary code of conduct for broadband speeds agree to terminate contracts without penalty if they are unable to provide the minimum speed promised when you signed up.
The price is increased. If the provider raises prices mid-contract you may have 30 days to cancel the service without being charged.
Read our guide to cancelling broadband for free for further help.
Can I still switch broadband if I have TV or mobile services bundled with my broadband?
It is certainly possible to switch broadband providers even when the current package includes extras but you may lose access to some services, or the price could go up.
With TV bundles extra channels or features may no longer be accessible, especially if there are freebies exclusive to the package. If you are subscribed to Sky TV or Virgin Media TV you can continue to pay for TV only and look for a broadband only deal elsewhere, but this will not be an option with services such as BT TV or TalkTalk TV, where the exclusive features rely on the broadband connection. In those cases you can usually continue using the TV box, but only to receive Freeview broadcasts (and may need to pay a charge to keep hold of it).
For mobile you can continue to use the SIM as normal, but you will lose any discounts which were applied for being a broadband customer.
Step-by-step guide to switching broadband provider (with an Openreach phone line)
Step 1: Check you can leave your current provider
Remember, switching mid-contract will probably incur a fee. And you may lose access to TV services or discounts on a mobile service. Check with your current ISP about the potential costs before you sign up to a new provider.
Step 2: Compare new deals
Use our comparison table to find a great new package. When comparing, look out for:
Availability - always enter your postcode to see what's on offer in your area
Contract length - longer contracts are often better value, but you might be committed to that ISP for up to two years
Data limit - Some cheap packages have a monthly data limit.
Free gifts and discounts - Free gifts and vouchers can add extra value. Look out for discounted pricing too, but make sure to check the cost after the discount.
Step 3: Buy your new package
Click 'Go' next to the deal you want to start the process, and follow the instructions on the provider's site to sign-up. The new provider will handle the switch, and should keep you informed of progress. Switching typically takes 14 days, but can be longer if the provider is busy or you need an engineer to carry out work. On the day of the switchover you will experience a short period of disruption, but this does not usually last long.
Switching broadband to and from Virgin Media
Switching between Virgin Media and an ISP using an Openreach (BT) phone line (for example TalkTalk, Sky, EE, or BT itself) is a little different because Virgin has its own network which operates separately from other providers.
If you're signing up for a new Virgin deal you must contact the current ISP and arrange for that service to end. Since they're not using the same line you can have the cancellation date overlap with the start date of the Virgin broadband so you'll continue to have internet access in case of problems.
When moving from Virgin to another provider, you will need to notify Virgin of the date you wish the service to end (again, this can overlap). If you do not currently have an active BT phone line an engineer may be required, and you will need to pay additional setup costs.