Wireless broadband set-up guide
by Chris Marling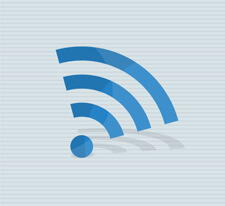 Home wireless broadband internet technology, commonly know as Wi-Fi, enables you to share your broadband connection between several computers or other devices without needing to run unsightly cables throughout your home or office.
Also known as 'wireless networking', it allows you to access the internet wherever you are at home: on the sofa, the kitchen table, or in bed – even in the garden!
To start setting up a wireless network, all you will need is a wireless router.
The majority of fixed-line broadband deals now come with a wireless router as standard, and often for free. They can be purchased separately too, from around £40-£100, with the posher models including extras such as signal boosters, dongle sockets and USB connections for printers and hard drives.
Also, each computer or device you want to connect wirelessly through the router needs to have a wireless adapter. These will be built into laptops and some new PCs, but can also be bought as a USB device from around £10. If you're unsure about which of your devices can access the internet wirelessly, check out our compatibility guide.
You should be aware that, like anything, you get what you pay for – if your machine is going to be quite a distance from the wireless router, or if you have a lot of devices that may cause interference, it will be worth investing in something a little more expensive – more powerful versions can set you back £60 or more.
Setting up your wireless broadband
As it has become more common, setting up wireless broadband has become much simpler. Just follow the instructions carefully, and you should be fine!
If possible, place your wireless router as close to the centre of your home or office as possible. However, you should ensure the modem is connected to the master telephone socket wherever possible as connecting via a socket running off of the master could slow down your broadband.
Initially the wireless router needs to be connected to a laptop or PC in order to configure it – this is usually explained clearly by the manual or a set-up CD that will either arrive from your provider with the modem, or be included in the box if you've bought your modem separately. The wireless broadband should be configured automatically, but you may need to set up security for your network separately.
Is your wireless network secure?
Wireless broadband works by sending information over localised radio waves. This means that anybody who has a receiver and is within radio coverage may be able to access the network. If someone gains access to your wireless connection (which is a crime in itself), they could potentially access your computer too.
Make sure the administrative password on your wireless router is a secured one. It is best if you have a wireless router operating WPA (or even better WPA-2) security encryption. if you have an older WEP encryption model, we advise you to upgrade: they are easy to hack and are less user friendly. You can also hide the SSID (name) of a wireless network for an extra layer of security, so only people who know the name as well as the password can connect.
While we're on the subject of security, most modern routers have extra bells and whistles hidden away in the admin controls too: from being able to restrict internet access to particular computers, or filter web sites based on keywords and content to protect your kids. It's worth having a good read of the instructions to see what else you can do.
Troubleshooting your Wi-Fi connection
If you're having trouble with your wireless connection, there are a number of things to check. Firstly, make sure that you're actually connecting to your wireless modem and not someone else's! If your machine has a half-decent receiver, you could be in range of all sorts of connections, some of which may not be secure, so it's worth checking.
Try to ensure your router isn't set up next to wireless devices such as televisions, other remote controls - even baby alarms. In truth, Wi-Fi can be really temperamental: walls, mirrors - almost anything can be a problem!
One common solution is changing the channel on which the router transmits its signal, as other routers nearby could be causing interference. This will need to be done through your router's settings, via its internet configuration interface. If you're not familiar with this, it will be best to speak to the technical team at your ISP or for the manufacturer of the router, who will be able to talk you through it.
If you really can't get a good wireless signal to one of your machines, and don't want to use a wired set up, another option is to do a quick search on the internet and use a powerline adapter. These clever devices use your electricity supply, via your standard wall plugs, to send your internet connection around the home. They can be relatively cheap (you can find them for less than £30 for a pair of plug adapters) and can be a great answer to your internet problems.