The digital switchover marked the end of an era, but Freeview TV may have a shorter lifespan than its analogue predecessor: Internet Protocol Television (IPTV) is rapidly gaining ground.
IPTV uses an internet connection to deliver your favourite shows, negating the need for an antenna to receive a signal. Until fibre broadband came along it hadn't been a very realistic proposition, but thanks to rapidly increasing broadband internet speeds many of us now have these services in our home.
The introduction of YouView was a big step toward this internet TV future. YouView is a hybrid Freeview/IPTV box which can receive the standard Freeview channels but also provides an easy and cheap way to access the on-demand services from the BBC, ITV, Channel 4 and Channel 5.
And TalkTalk is now offering YouView boxes to customers who sign up for its TalkTalk TV packages, giving you a huge discount on the RRP and potentially saving a bundle over competing television services.
How does YouView work?
YouView combines a Freeview receiver, digital video recorder and some clever software in a box which can be connected to the internet as well as your TV antenna.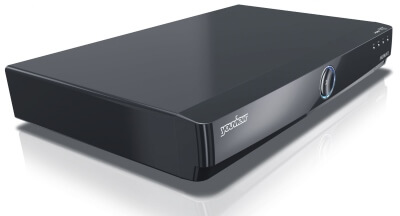 You can watch and record TV (just like Sky+ or Virgin Media TiVo), but also jump straight to previously broadcast shows by going back in time on the programme guide.
YouView works in the background to deliver older shows via the catch-up services of the terrestrial channels, beaming them through your TalkTalk broadband line.
It's the best and easiest way to view on-demand TV without having to use a laptop or computer. The box itself contains a large hard disk and is made by Humax; you can find plenty of reviews online showing off its features.
How do I get YouView with my TalkTalk TV broadband?
If you're considering a switch from another provider such as Sky or BT then you simply need to go through the usual procedure for switching broadband providers, using one of the TalkTalk TV package offers shown above to sign up.

These bundle deals give you TalkTalk unlimited broadband, a TalkTalk phone line and a YouView box. Often you need to pay no more than the regular monthly costs, but do check the small print above for items such as setup fees. You're likely to find yourself much better off than if you bought a YouView box separately, as even the cheaper models retail for more than £150.
The only other thing you need to consider is how you'll get the internet connection to your television. If your TalkTalk broadband router is in the same room it's a breeze, but as the box does not support Wi-Fi you may need to find alternate ways of setting it up if the router is elsewhere. The cheapest, easiest method is a powerline networking kit which uses your home's electricity lines to create a network.
To find out more about all of TalkTalk's broadband deals, please visit our main TalkTalk provider page.