In this guide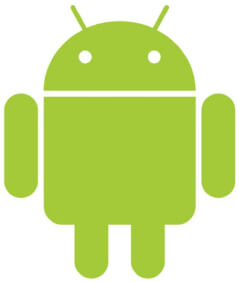 Need to use your laptop or a Wi-Fi tablet for internet access, but there's no mobile broadband dongle or Wi-Fi network to hand? Don't fret: you can turn any relatively modern Android device into a mobile Wi-Fi dongle in just a few clicks.
Android has supported the sharing of a mobile data connection through 'tethering' for some time, and with the newer versions of the operating system it's even easier to achieve by utilising the Wi-Fi hotspot feature.
Tethering is where a mobile device shares its internet connection, either wired through a USB connection or wirelessly over Bluetooth. This means you only need one tablet or smartphone and one SIM to get other devices online.
Before you tether...
We'll show you how to tether in just a second, but before going any further it's important to check with your network operator, because not all networks or plans expressly permit mobile tethering. It will probably work anyway (unless, like US network AT&T, they have removed the option from Android) but if they catch on you could be hit with an additional charge.
If tethering is going to be used regularly you should ask about a deal that includes data for tethering, or find out if the provider offers a mobile tethering add-on.
Also keep in mind that it's a lot easier to use a large amount of data on a laptop. Full blown computers are more likely to have big software updates occur in the background, and you're perhaps more likely to do data-intensive tasks like downloading files. Unless you've got an unlimited data allowance or don't mind paying for additional usage keep a close eye on it, particularly if you're sharing the tethered connection.
How to tether an Android smartphone or tablet using Wi-Fi
To show you how to go about tethering your Android phone, we used a Nexus 5 running Android 5.1.1 (Lollipop). All you need beyond your phone is a USB lead (if you want to connect via USB); alternatively you can connect via Bluetooth. Due to differences between the various versions of Android you may find the exact naming, order and types of settings vary on your device. Some of you may also have additional options, particularly on devices from manufacturers such as Samsung where the user interface is often heavily modified. Generally though you'll find everything you need under the network settings section.
Those of you running Android Lollipop or later will also find you can quickly enable and disable the hotspot function using the quick settings in the notification drawer.
Step 1
On your Android device navigate to Settings > Wireless & networks > More > Tethering & portable hotspot.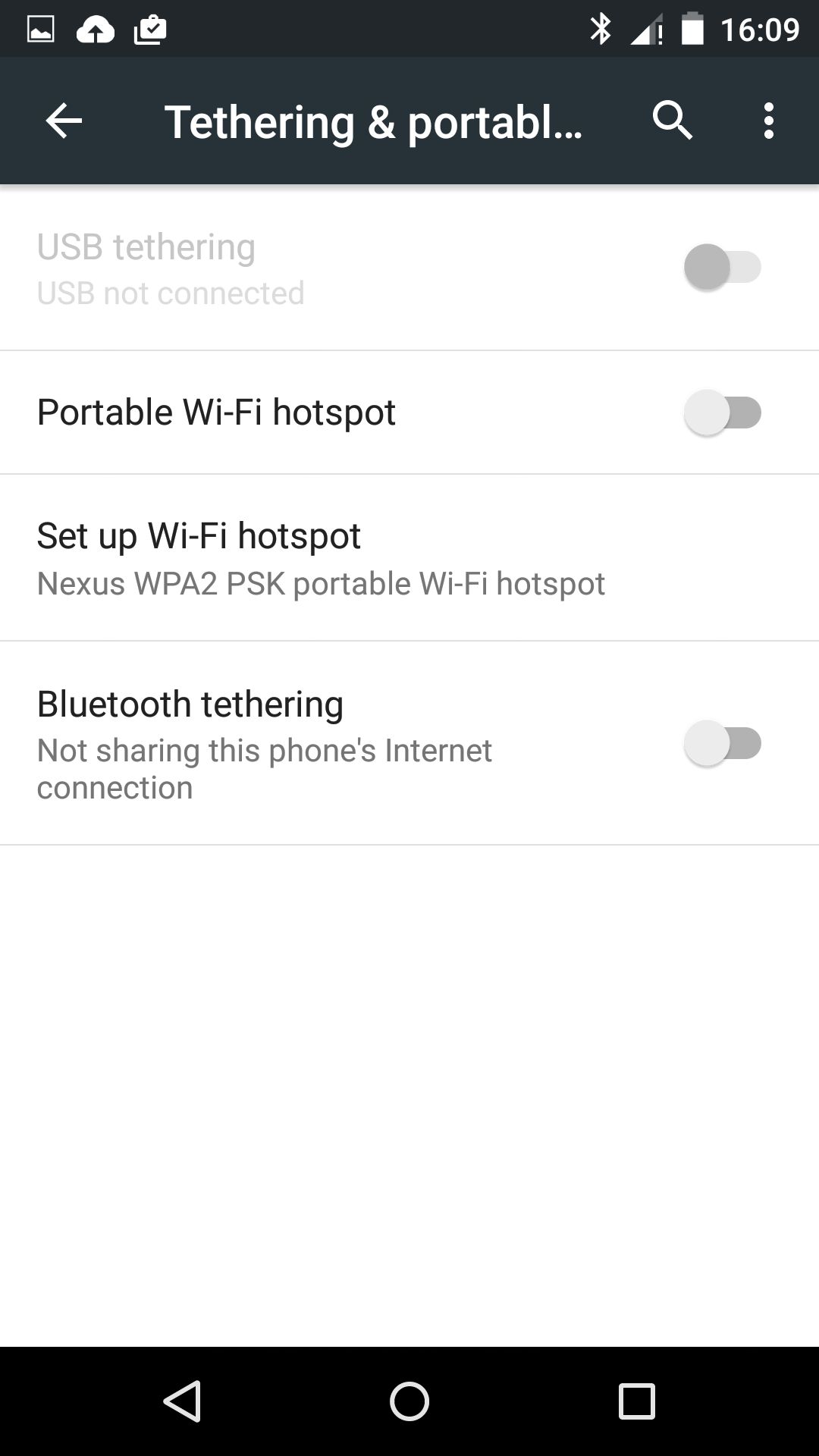 Step 2
Click Set up Wi-Fi hotspot.
Step 3
Enter a network name (SSID), which is what you'll see when searching for a Wi-Fi connection. This will probably be filled out already but you may wish to choose your own more identifiable or humorous SSID.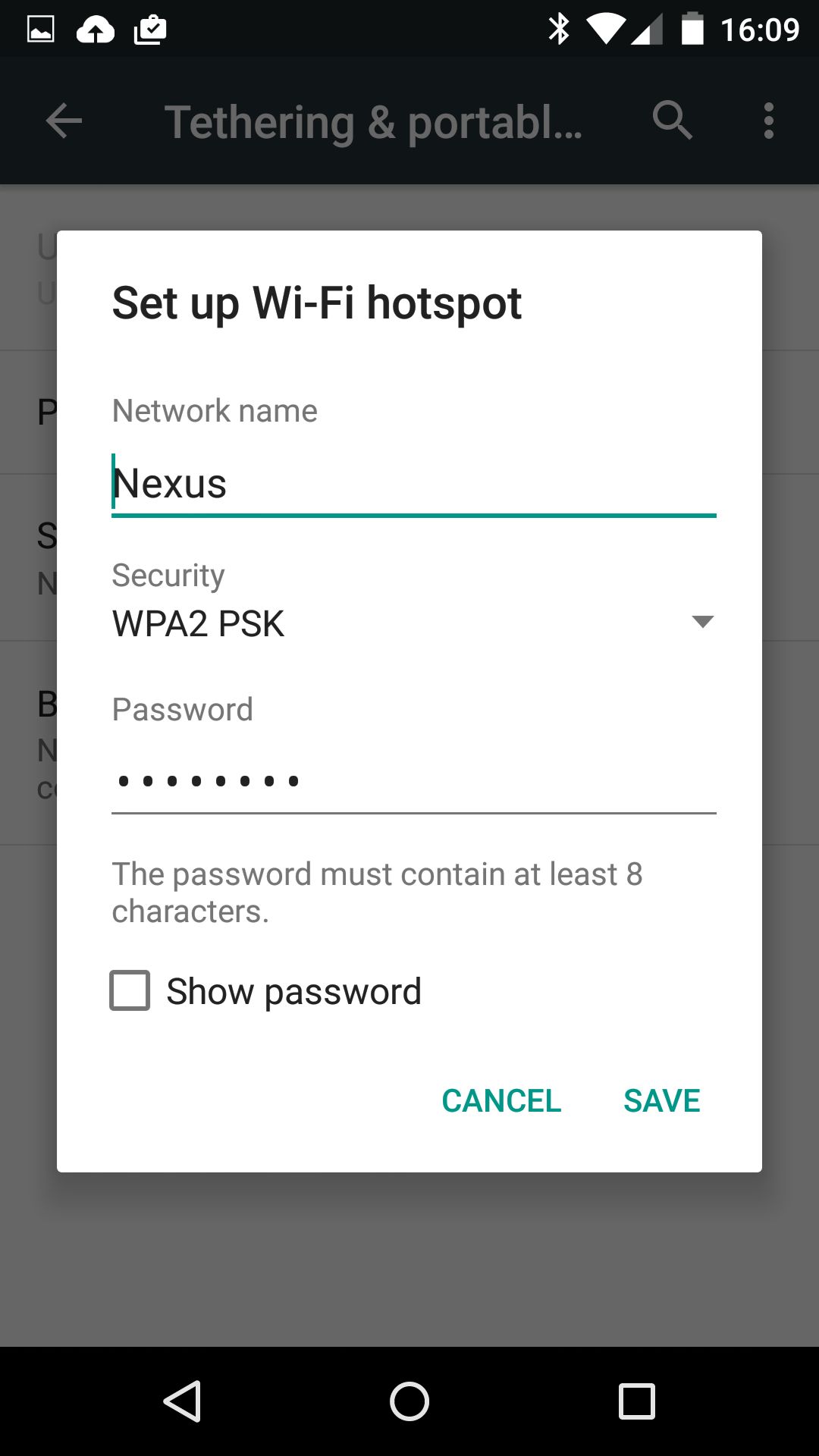 Step 4
Choose a security level for your Wi-Fi hotspot. The Nexus 5 only offers the option of either WPA2 PSK or 'none'. Unless you've got a good reason and trust everyone nearby you should never choose 'none' as it will allow anyone within range to connect without a password.
WPA2 PSK is a reasonably secure standard, though you might find it to be incompatible with some older Wi-Fi devices, such as early models of the Nintendo DS.
If your Android hardware also offers the choice of 'WEP' security you should not use this unless there's no other option, as it is very insecure.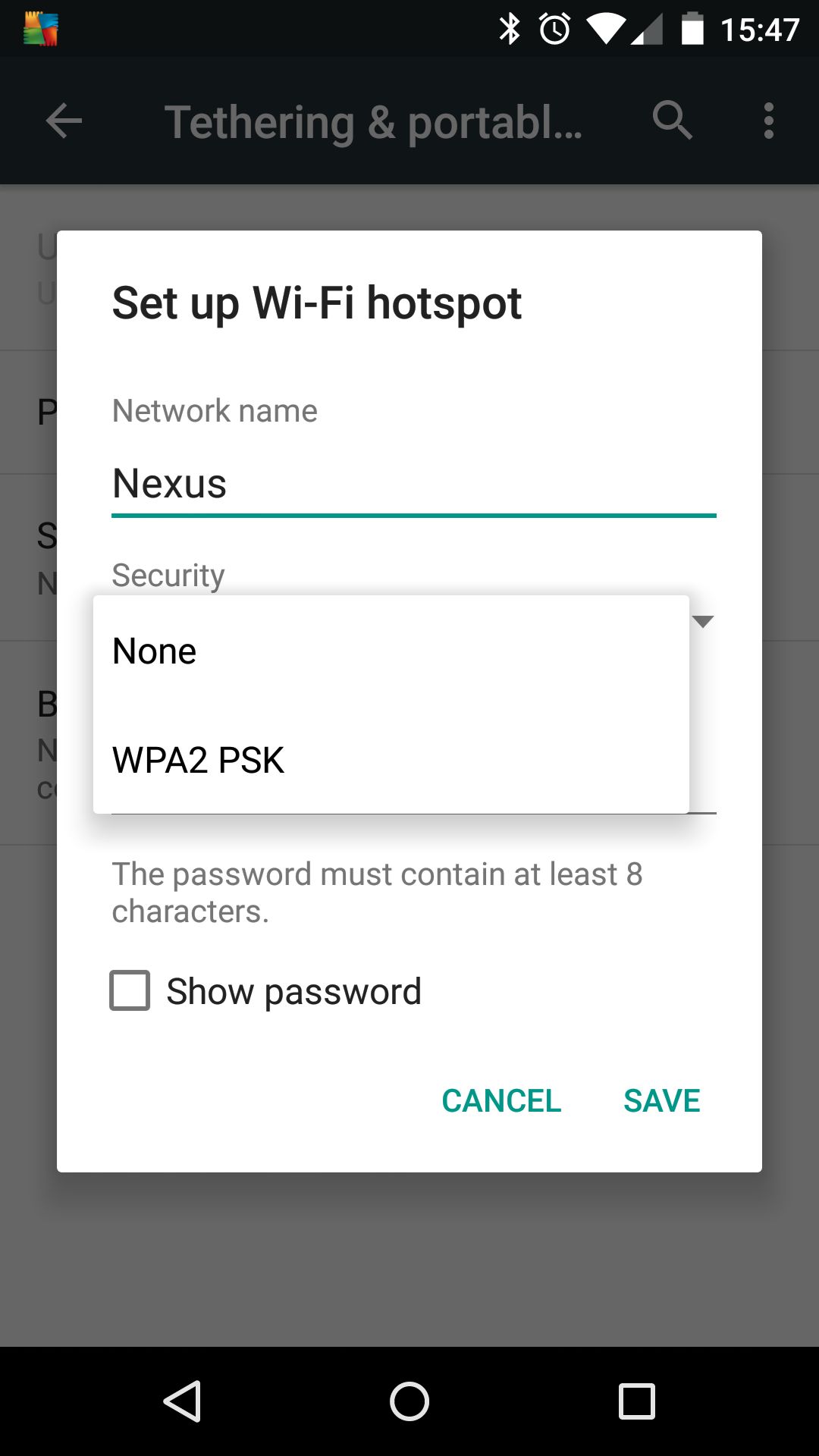 Step 5
Enter a password. You'll need to enter this when connecting for the first time. Some devices may impose a minimum character limit. If you chose 'none' in the previous step this option will not be available.
If you've previously set the password and forgotten, click Show password to reveal it.
Step 6
Click Save to retain your Wi-Fi hotspot configuration. Unless you factory reset your device, need to change anything or forget your password there will be no need to return to this menu.
Step 7
Back in the Tethering & portable hotspot menu click Portable Wi-Fi hotspot. An icon should appear in the notification bar indicating that the portable hotspot is now activated.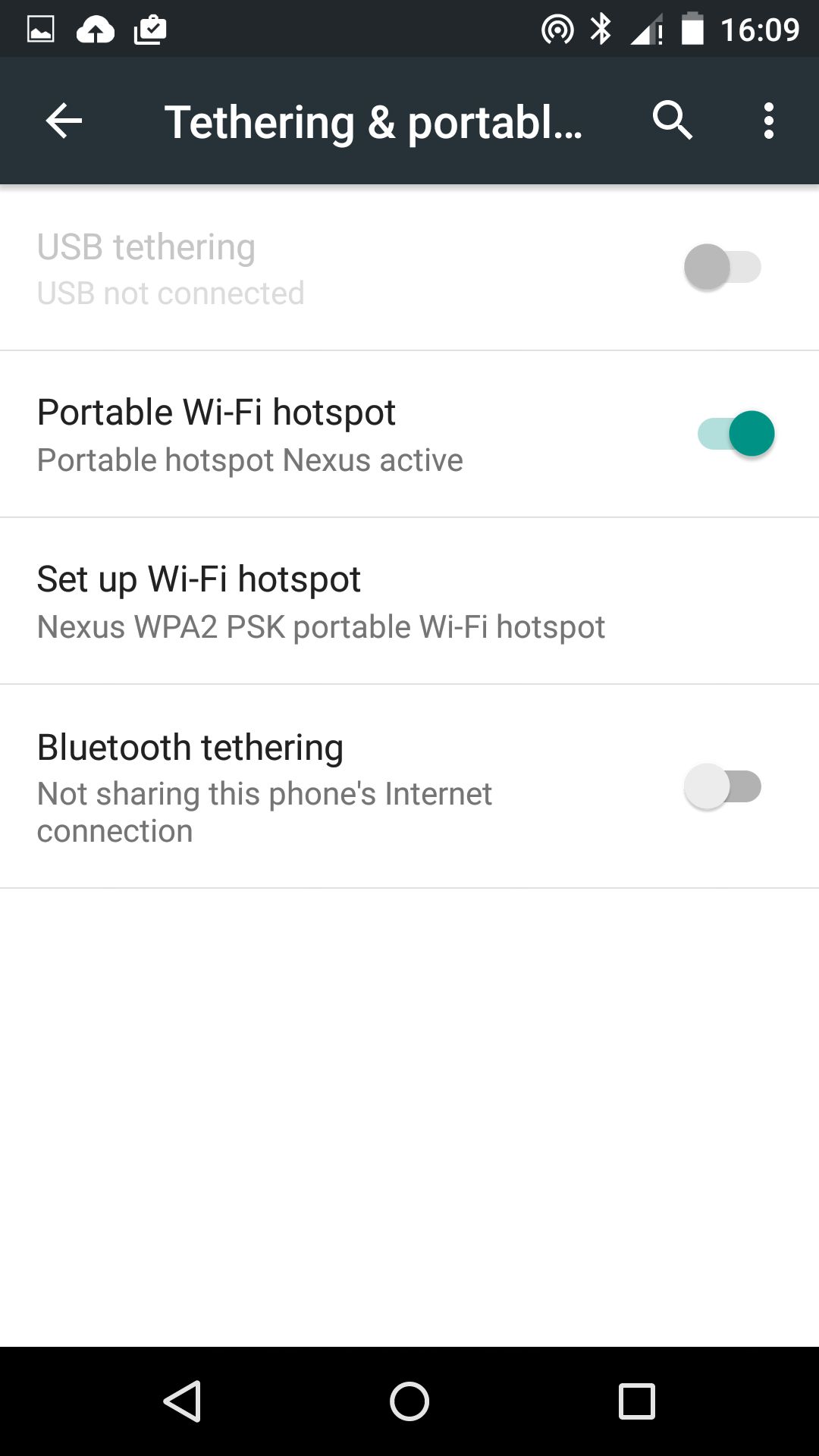 Step 8
To connect to your newly created mobile Wi-Fi hotspot simply search for Wi-Fi connections from another device, such as a laptop or tablet. The first time you connect from a new device you will need to enter the password that was previously set.