In this guide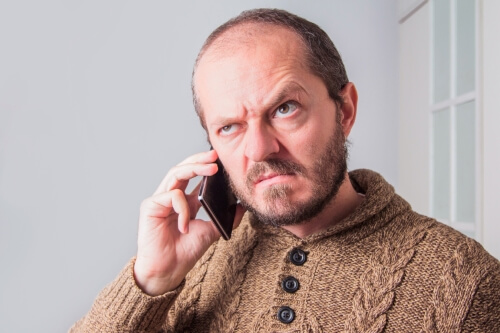 Nuisance telephone calls are a frequent annoyance, particularly those from a seemingly endless parade of PPI and accident claim firms.
But there are several ways to reduce or stop nuisance calls on both mobiles and landlines.
Here are a few tips showing how you can put an end to at least some of those time wasting callers.
If you'd like to know how to make a complaint visit Ofcom's nuisance calls and messages page.
General tips for preventing nuisance calls
Think before giving out your number
If a company asks for your phone number, consider whether they really need it. Don't enter a number on a form unless it's required, and even then you may prefer to provide fake digits unless there's a good reason for them to get in touch (and in those situations a disposable number is useful - see below).
Also watch out for marketing opt-out checkboxes, so even if you do have to give a number you're not also signing up for sales calls.
Block international calls or unknown numbers
Any mobile phone will include the ability to block unknown numbers, though you may have to look up the exact steps for your particular handset as it can vary between manufacturer. There may also be the option to block calls from international numbers.
Landlines can be set to block unknown calls too. On BT lines this is done by dialling *227#. To disable it again use #227#.
Tell them to stop
Many of the calls we receive are from reputable companies and it's not in their best interest to annoy us and generate complaints. If you receive a call and don't wish to hear from them again, firmly (but politely) tell them to stop and remove you from their list.
Report abuse to your phone provider
If you're receiving abusive calls speak to the telephone service provider and ask for their nuisance calls team. They will be able to investigate complaints and provide further advice.
Register with the Telephone Preference Service
The Telephone Preference Service (TPS) is a free opt-out register for both landline and mobile phones. If your number is on the TPS database marketing and sales companies are not permitted to cold call.
Since it doesn't cost anything and takes very little time to register this is something everyone should do.
You can register a number via the TPS web site, though for mobile phones the quickest method is to text TPS to 78070.
Once a number is registered on the TPS it can take up to 28 days to take effect so don't be surprised if you still receive some marketing calls in that time. If you continue to receive calls which should not be allowed you can register a complaint with the TPS.
The TPS remit does only cover sales and marketing however so you can still receive other types of nuisance calls such as silent calls, market research, overseas calls and debt collection agencies.
Identify and block calls with TrueCaller
TrueCaller allows you to block any kind of nuisance caller. It features a huge phone directory which can provide reverse lookup on a number when it calls, so you can instantly identify if it's someone you recognise. Don't want them to call again? Any number can be instantly blocked.
The app is available for both Android and iPhone, though the Android version provides more features and flexibility, allowing you to set TrueCaller as your primary phone dialer.
There is one important caveat to consider before you install TrueCaller however: the app works by building a directory of numbers, and when you share your contacts they are uploaded to the TrueCaller database and become publicly searchable.
Use a disposable number
If you'd like to try to reduce the chance of spam callers getting hold of your phone number you could use a disposable number. Like providing a second email address to to avoid junk mail, a disposable number can be used when a service requires contact info but you don't trust that the details won't be sold on.
Many smartphones now have dual SIM card slots so you could pick up a secondary PAYG SIM. This also has the added advantage that you can block and filter calls with an app like TrueCaller. Just check that the SIM isn't going to expire after a certain amount of inactivity. Some may require a call or text is made every so often, others might need a minimum top-up. At present the best choice may be a Three PAYG SIM as there is no expiry date on top-up credit.
There are also Android and iPhone apps which allow you to create virtual mobile numbers that can be used for both incoming and outgoing calls and texts. There will be a cost, but as it's all handled in the software there's no need to switch SIMs and the number can be discarded when you're finished. Virtual numbers are especially useful for temporary use if you need to give contact details out online but want to avoid providing your real number.