Buyer's guide: Android tablets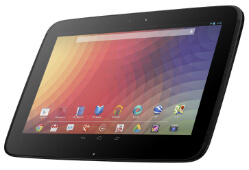 Tablets are now a popular alternative to laptops. Smaller, lighter, cheaper and still capable of many of the same tasks, they're ideal for travel and home, particularly for simple things like web browsing and keeping the kids entertained with games.
But one problem with tablet computers is that standard mobile broadband dongles aren't usually compatible, so to get internet on the move you'll either need to carry around a separate Wi-Fi dongle, or purchase a tablet with built in mobile data support.
But with such a huge array of devices on the market searching for 3G or 4G tablets can be confusing, so to help you out here's some of the key points you should know about comparing and buying Android tablets.
Android tablets vs Apple iPads
Until a few years ago Apple's iPad was the only tablet worth considering. Android devices were underpowered and awkward to use due to the OS not being built with bigger screens in mind. But with the release of the tablet-specific Android 3.0 'Honeycomb' software and new hardware from the likes of Samsung, Asus and Sony, Android became a far more exciting proposition.
So how does the iPad stack up to Android? Let's take a look at some of the pros and cons.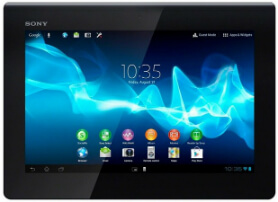 Apple's hardware specification for the iPad has been gradually improved since the first model, though radical changes are rare. The processor and graphics chipsets are now faster, and there's more memory, but the biggest difference is the very high resolution display found in the latest models like the iPad Air 3, iPad Pro and iPad mini 4.
The advantage of this approach is that software compatibility is excellent: generally an app that works on an iPad 1 will run on the latest model and vice versa.
Android is more fragmented. There's no standard or minimum hardware, which can cause issues with apps. However this also means that you've got a much wider choice. Not only are prices much more varied - everything from sub-£100 ultrabudget to high-end premium models - but Android tablets can offer things like standard USB and HDMI ports, memory card readers and keyboard docks with mouse pads and proper physical keys.
It's this flexibility which makes Android tablets appealing. While lacking the comforting standards of Apple, Android is far more suited to replacing a laptop, and you can easily do cool stuff like mirroring the screen to a HDTV and connecting a console controller to play games.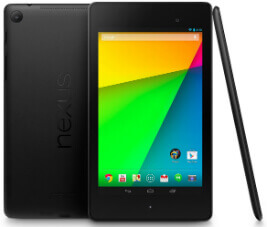 Even if you don't own an Apple device you've probably got some passing familiarity with the Apple iOS system software. It's a very accessible interface that's designed to give you quick access to your apps without a lot of fluff or mucking about in complex settings.
Android cannot compete with it for simplicity, but Google's approach is more about giving the user options. You can customise the home page(s) of your tablet however you like - apps can be laid out in a grid like Apple if you prefer, but it supports widgets which can give up-to-the-minute data on everything from weather to news to the available memory or temperature of your tablet's CPU.
You can even completely replace the default front-end with replacement home screen apps from the Google Play Store. And if you're feeling brave Android tablets can be rooted to allow a completely new OS installation.
But Android's looser approach does mean that you need to take the time to learn about the various settings, and be prepared for things to go wrong.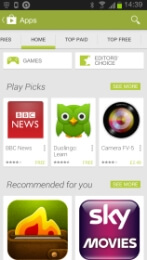 Apple's strict standards and lack of third party hardware manufacturers means software compatibility is rarely an issue. It also benefits from a vast choice of tablet-specific apps, including some very interesting creativity tools.
In comparison, the Google Play Store has a large number of apps but fewer designed with tablets as a priority. It's increasingly common to find apps which adapt to fit either smartphone or tablet displays, but not all will take full advantage of the increased screen real estate. We'd recommended reading the reviews on apps before you purchase or install anything to check for comments about tablet performance.
The situation is improving, however, and once again Android's relaxed approach has big plus points for certain types of users as you'll find apps on the Android store which would never be permitted on Apple's App Store. That could be something as simple as an i, or complex security and network utilities for the more technical among you.
How to choose an Android tablet: what the specs mean
The processor is doing all the hard work so it's important you get something with plenty of horsepower. Luckily this isn't expensive, there are now many cheap dual and quad core chipsets available so it's easy to find affordable tablets with strong CPUs.
A 1GHz dual core is about the minimum you want to keep things running smooth but 1GHz+ quad core is ideal. Heads up though: Android is not the most efficient software ever crafted so you may experience some pausing and stuttering even with the latest hardware, particularly with demanding games or high-def video.
Memory, or RAM, is used to store temporary files while the system is running. If it runs low on RAM apps in the background will be closed down and performance will suffer, so the more you have the better. Aim for at least 1GB. Newer tablets often have 2GB+ onboard but the cheapest models could have 512MB (0.5GB) or less.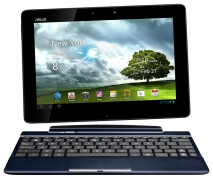 How much storage you require will depend on how you're using the tablet. It's easy to consume several gigabytes with just apps, and games can take up a big chunk as well. If you want to store your own files like video, photos and music a small amount of internal storage isn't going to be sufficient.
However, many Android tablets include microSD slots to expand the storage so you can get away with a small amount. Ultra-cheap tablets may only have a gigabyte or two, perhaps less, in which case a memory card is essential.
Tablets are all screen so this is obviously a really important component. The resolution will tell you how much detail can be displayed, and dictate whether you can fully enjoy HD video. For example, the original Google Nexus 7 has a resolution of 1280 x 800 so can display 720p video (1280 x 720) while its bigger brother the Nexus 10 has a massive 2560 x 1600 res, making it well suited to photo viewing as well as Full HD 1080p video content.
However this only tells part of the story, ideally you want to see the tablet in real life before buying so you can check the screen's brightness, clarity and viewing angles. The latter is important if you plan on using it for things like gaming and video with other people, as sitting just off to the side of the screen may make it unwatchable. Not all screens can be comfortably used in bright sunlight either, so keep that in mind when choosing your device.
How to compare Android tablet offers
Our comparison tables are broken down into the important parts to help you find the right package. Here's a few things to look for...
The up-front cost. What makes many of these tablet deals so good is that the setup cost can be really low, netting you a tablet for a fraction of the price of buying it straight . Some are free, though paying more now will get you a better model and could mean a lower monthly price.
The set monthly fee for the mobile broadband contract. This won't change unless you exceed the data cap. When comparing you need to consider the monthly price alongside the setup fee and data limit to find a deal which fits your budget and requirements.
The estimated speed of the tablet's mobile broadband link. All tablets have Wi-Fi so you can use wireless when it's available, but otherwise you'll be using mobile internet to surf, download and stream. This speed rating is provided by the network and is a best case scenario based on the capabilities of the network and tablet.
Signal is very important here: if you cannot get at least a good 3G signal the internet will be very slow, and remember that 4G coverage is still quite limited compared to 3G.
To check your signal, click the network logos to access their coverage tools:
This is the amount of data you get within your monthly contract price. Everything you do online - both uploading and downloading - will count toward this, so you need to have an idea of how much you might use before signing up for a contract, if the cap is too low you may end up paying extra. For an idea of how much data is used by different activities check out our guide to mobile broadband data usage.