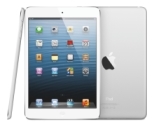 The iPad Air family was first introduced in 2013 as the successor to the iPad 3. It has a 9.7-inch display like the previous models but the redesigned chassis is thinner and lighter, earning it the 'Air' moniker.
While the original iPad Air has been succeeded by the iPad Air 2 both models are still available, with the older version offering a small saving if you don't need the cutting edge specs of the latest release.
iPad Air and iPad Air 2 specifications
The iPad Air, despite its decreased dimensions and weight, retains the gorgeous Retina Display found in the last few models. This provides a stunning 2048 x 1536 resolution, which is higher than a HDTV! The screen also has a razor sharp 264ppi pixel depth, making it brilliant for photo viewing and editing, gaming and high-def movies.
The Air uses Apple's 64-bit A7 CPU. This was the first 64-bit processor to be used on any iPad, and in the years to come will allow developers to create ever more powerful software.
The Air also gets 1GB RAM, a 5MP rear-mounted iSight camera and 1.2MP front camera for FaceTime, a complete suite of communication extras including Bluetooth and 802.11a/b/g/n Wi-Fi and up to 10 hours run time with its Li-poly battery.
The iPad Air 2 has much in common with the first model. Although a little lighter its dimensions are the same, and it continues to use the same excellent 9.7-inch Retina Display. However, the screen is now fully laminated and has an anti-reflective coating.
Elsewhere, the CPU has been upgraded to the Apple A8X chipset, which is up to 1.4x as fast, while the camera is now an 8MP sensor up from the 5MP in the iPad Air 1. It also comes with a TouchID fingerprint sensor, support for Apple Pay and up to 128GB of storage.
Which SIM card do I need for mobile broadband on the iPad Air?
Up until now all the larger iPad models have used the micro SIM form factor, which is common across many other devices. However the iPad Air now utilises the nano SIM first introduced with the iPad Mini.
SIM cards can be cut down to fit the smaller sizes but if you'd rather not attempt this speak to your network provider about a nano replacement - this should be free.
This chart shows which types of SIM are compatible with the various iPad models:
What to look for when shopping for iPad Air Deals
Our comparison tables usefully break down the iPad deals so you can see exactly what you're getting. Here are some key points to look out for.
As with all newer iPads, the Air is '4G Ready' to cope with the new high-speed mobile broadband services spreading across the UK. If you select a package which offers 4G you can start using this right away, otherwise you'll be restricted to the fastest 3G available. Remember though that 4G often costs extra and for now 3G is the cheapest way to get mobile internet on your iPad.
This is the price you'll pay up front for the iPad Air. Generally, a contract iPad Air will not charge much up front saving you from that hefty price tag, instead the cost is spread over the life of the contract and accounts for data usage too. If you go for a PAYG or rolling monthly iPad then the pay now price will be much higher.
The length of your commitment for the mobile broadband service for your iPad. 24 months is very common, especially for iPad Air deals with lower 'pay now' prices, but it is possible to find shorter deals. A 1 month contract (or PAYG) is more flexible as you can cancel at any time without penalty, but it may be poorer value in terms of data limits. The longer contracts are best for heavy users who require larger data caps.
The amount of mobile broadband data usage you get with your contract each month. Our mobile broadband packages offer a range of data limits to suit all budgets, but you'll need to ensure this is sufficient to handle your requirements otherwise you could end up with a larger bill. See our guide to mobile data usage to figure out how much you may use and which deal is best for you.