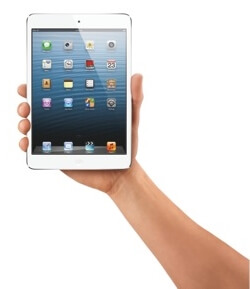 After much speculation, the first Apple iPad Mini hit our shelves in November 2012, followed by the iPad Mini 2 a year later.
While it has a smaller screen and lower price point than the standard iPad, it still packs a pretty big punch in terms of tablet specifications.
Reaction to the new Mini series was generally positive, with reviews praising the lack of compromise from its larger, more expensive brother.
However, the display on the original Mini is not best-in-class and the UK price point is quite a bit higher than the likes of the Amazon Kindle Fire, Tesco Hudl and many other budget Android tablets. But if you want that iTunes/Apple apps experience, you're not going to let these little details stop you!
iPad Mini specification
In terms of hardware, the first Apple iPad Mini has a 7.9-inch screen and comes with 16, 32 or 64GB of internal memory. Unfortunately this memory can't be expanded, but should be enough for all but the most hardcore users.
While the screen isn't up to the standards of the standard iPad's 'retina display', it does have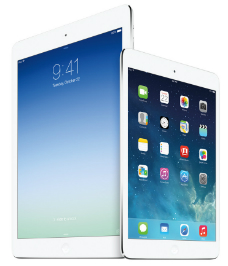 1024x768 resolution. It has two reasonable cameras (5MP, plus a 1.2MP front-facing lens) and it all runs on the A5 processor that powers the iPad 2. It also shares the same graphics processor as its larger predecessor.
Wi-Fi, Bluetooth and USB are all supported, while voice recognition service Siri is also on board.
In terms of software, it hit the shelves with iOS 6 on board and can be upgraded to iOS 7. You'll have full access to the Apple App Store and the iTunes Store, while Apple regulars will find all the apps they'd expect already installed (Safari, Maps, Game Centre etc). There's also iCloud access, while iBooks is an optional extra.
iPad Mini 2 specification
The latest iPad Mini 2 is much the same as the original version, with a couple of important improvements in two key areas.
The most noticeable difference is the new Retina Display. This is a vast step up from the 1024 x 768 resolution to a massive 2048 x 1536. That's the same screen as the iPad with Retina Display and iPad Air, but because it's packed into a smaller size the display appears even sharper - it's got an incredible 326 ppi pixel depth, almost twice the original.
The iPad Mini 2 also benefits from a faster 64-bit A7 chipset that provides some serious horsepower. This puts it on a par with the processing power of the iPad Air so it can handle the very latest games and apps with ease.
Which SIM card do you need for the iPad Mini?
The mobile broadband enabled iPad Mini has an integrated SIM card slot which means you don't need any additional hardware to get online. If you're buying an iPad new on a contract or PAYG deal it will come with a compatible SIM, otherwise you'll need to pick up a SIM separately. The iPad Mini uses the newer 'Nano SIM' format, while other models accept a different size. See the table below for SIM card compatibility between the various iPads.
iPad Mini deals and prices
As of 2014 the Mini was priced from £249 (16GB) at the official online Apple store. Due to small profit margins, you'll struggle to find it much cheaper in other stores, but special offers do sometimes come up for a small saving.
The introduction of the iPad Mini 2 has not changed much. The first iPad Mini continues to be available at the same price, while the iPad Mini 2 starts at £319.
If you decide to pick up an iPad Mini on a contract deal it's possible to grab one for nothing - although you're not really getting a free iPad Mini. In truth it's much like a hire purchase deal; you'll pay northing up front, but your monthly bill will be much higher than usual, and over a long contract (normally two years). You can use our comparison table above to compare all the best mobile broadband iPad Mini offers.
This might not sound great, but it really depends on your circumstances. If you don't have a few hundred pounds burning a hole in your pocket, but do have a steady income and know a Mini is going to fulfill your needs for a couple of years, this is a great way to get your hardware up front.