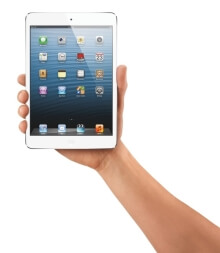 Combining great looks with excellent specifications, not to mention an enormous choice of games and apps to download, Apple's iPad mini is one of the most popular tablets on the planet. At 7.9-inches It's less of a handful than the bigger iPad Air, which is extra useful if you frequently travel with your tablet, and the iPad mini can also be a little bit cheaper than its big brother.
If you want to get online when out and about with an iPad mini then it is easy to do so by purchasing a mini with built in mobile broadband support. That means it has everything onboard to access mobile networks and you don't need to carry any additional equipment, all you'll need to do is ensure you have the correct iPad mini SIM card.
Which iPad mini is right for you?
There are several different iPad mini models available.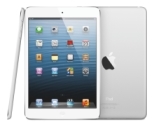 iPad mini 2 (aka iPad mini with Retina Display)
This is an older version which remains on sale as a budget option. The iPad mini 2 features two major upgrades over the first model. Most noticeable is its Retina Display, a very high resolution screen that provides beautifully sharp and vibrant pictures. This is great for movies, photos and gaming in particular!
The iPad mini with Retina Display (or iPad mini 2, as it's sometimes called) also has quite powerful hardware, sharing much of its specification with the iPad Air.
iPad mini 4
The iPad mini 4 is much the same as previous versions, though some notable differences over the iPad mini 2 include a TouchID fingerprint sensor, more powerful processor and improved camera. This is the one to go for if you want the latest and greatest hardware and are concerned about future software support, but otherwise the iPad mini 2 remains very capable.
Which SIM do I need for my iPad?
To use mobile broadband with an iPad mini you'll need to make sure your model supports cellular data, so it accepts a SIM card. If you're buying a new iPad then ensure you look for this feature specifically. If you've already bought an iPad and it doesn't have a SIM card slot then you can still use mobile broadband, but you'll have to use a mobile broadband Wi-Fi dongle instead.
The type of SIM card used by various iPad models has changed over the years, with some using the Micro SIM, and others utilising a smaller 'nano SIM'.
The following table shows the type of SIM cards used in each model of iPad. Luckily, when it comes to the iPad mini you just need a nano SIM, which is the only type listed on the comparison table above.
Note that when buying a SIM now it's common for the networks to supply a 'combi SIM', where you get multiple sizes of card in one, with the smaller SIM popping out of the cardboard surround that forms the larger SIM size.
Choosing an iPad mini SIM card deal
As you can see from the table above, there's no shortage of offers for iPad mini SIM cards. So how do you know which is the best option for you? Let's break it down.
Our comparison tables are set up to allow the results to be filtered, so you can click the column headers to prioritise particular features.
If there's an up-front cost we'll say so in here. Many deals have no setup cost, those that do will typically be PAYG SIM packages which give you some data to get started.
The ongoing cost of the contract, where applicable. This is the minimum you'll pay each month before any other charges. The higher this is, the higher your data limit.
Contract
The length of the network contract. Many of these SIM offers are short term 1 or 3 month contracts so you don't need to commit for a long time.
The top download speed of the service. This is based on what the network is capable of and is an estimate only, that the theoretical top speed is unlikely to be seen in real world conditions. Remember that the iPad Mini supports 4G as well as 3G so you can opt for a much faster mobile broadband service if you want it.
The amount of data you can use for each billing period or per top-up. How quickly this is used up will depend on what you do online, for more information please read our guide to mobile broadband data usage.