Buyer's guide: pay as you go iPad SIM cards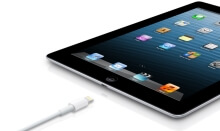 Tablets are now a very popular option for entertainment and keeping in touch on the move, offering much of the same functionality as a laptop in a far more compact package.
But tablets rarely (or never, in the case of the iPad) support USB mobile broadband, and so you either need to tether them to your smartphone, which rapidly drains the battery, or use a Wi-Fi dongle, which is yet more kit to carry around.
The easiest way to get an iPad online with mobile broadband is to purchase a mobile data model and slot in a SIM card, then when you're outside the range of wireless networks you can get online at any time. And provided you're not using it constantly and streaming lots of video, PAYG is a really cheap way to get mobile internet access.
The comparison table above lists offers for iPad SIMs only, which is perfect if you already own one or are buying one outside of a contract. If you'd prefer to get the whole package in one go you can also compare iPad contract deals.
iPad SIM sizes: which SIM do you need?
The iPad, iPad 2, iPad 3 and iPad 4 all take a micro SIM card. These can be made by cutting down a standard SIM, but it's better to just buy the correct card in the first place.
Newer models such as the iPad Mini, iPad Air and iPad Pro use a nano SIM. This is even smaller than the micro, so if you're buying a SIM card for an iPad Mini you must ensure it is a nano and not micro or standard SIM.
This table provides an easy reference for selecting the right SIM size for your iPad:
What to look for in PAYG iPad SIM packages
In our comparison table you'll notice we've broken down the iPad SIM offers into various key parts. Here's a few things to consider to help you get the best package for your tablet.
The up-front cost for the SIM pack. This may seem expensive for a bit of card and circuitry, but remember that you're not just paying for the SIM here, you're also getting a bundle of data to start with. Most will be around £10 but paying more will net you more inclusive data.
Estimated network speed, as provided by the network and based on its best possible performance. This figure should always be taken with a pinch of salt as it's greatly affected by signal strength and network congestion, but you must also keep in mind that faster speeds will depend on the iPad supporting particular standards. To get Three's ultrafast 3G (which is deployed throughout the UK) you'll need to check your iPad supports DC-HSDPA, and only the most recent iPads have 4G support.
Some of the offers you'll see in the comparison table are short term deals on rolling monthly agreements. These can offer better value than PAYG by providing more data allowance for the money, but do not tie you down with a lengthy contract.
We also include the prices of top-ups in our tables to give you an idea of how much you'll get for your money. As is usual with pay as you go, the more you pay at once the better value: it might be £10 for 1GB or £15 for 3GB.
How much data usage do you need?
Your data requirements will vary wildly depending on what you're doing online, but if you don't want to be constantly topping up your iPad SIM with credit it helps to have a rough idea of how different activities impact the usage cap.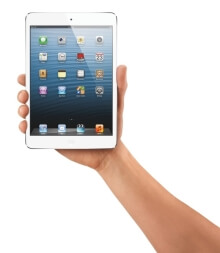 File downloads (such as apps from the App Store) will obviously depend on the file size of the thing you're downloading. You should be able to see that anyway and leave really big files until you're on a Wi-Fi connection. It's fine to download some apps and files but if you go overboard it'll really run through that credit fast.
The big danger area is streaming video and music. This can use a deceptively large amount: an hour of standard definition YouTube streaming could consume 250MB, while HD video can run into 1 or 2GB per hour. Audio is more forgiving but can still use up several hundred MB per hour.
It's really easy to unwittingly use a large amount of your data cap this way, so keep an eye on the credit level if you're watching video or listening to music via mobile broadband.
The good news is that web browsing and email are very lightweight. Most web sites - particularly if they've been mobile optimised - do not have hefty file sizes so you can browse for many hours on a small amount of data. And for emails you're not going to be using much either unless you're sending or receiving file attachments - try to save those for your home connection.
For much more detail on data usage we'd recommended reading through our help guide "what do you get for your gigabyte?". We've also put together this helpful infographic to illustrate common usage scenarios...