EE Mobile Broadband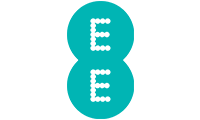 4G network with choice of two data speeds

5GB mobile data boost for EE pay monthly mobile customers

Wi-Fi access on London Underground via Virgin Media

EE's standard terms mean monthly price plan costs will be increased by RPI in March of each year
Best selling deals from EE:
Pay monthly deals
EE 4GEE WiFi Mini Mobile Wi-Fi Router 4G Black

32.5Mb

max speed

24

months

£20

per month
All EE pay monthly deals >
Tablet deals
EE Huawei MediaPad M5 10.8" 32GB Space Grey

32.5Mb

max speed

24

months

£25

per month

EE iPad 9.7-inch 32GB Silver

32.5Mb

max speed

24

months

£27.90

per month
All EE tablet deals >
Who are
EE

?

EE is the newest kid on the mobile broadband block...sort of. This joint venture from T-Mobile and Orange began life as Everything Everywhere when the two mobile giants decided to join forces, but in late 2012 was re-branded as EE for the roll-out of 4G. Now, rather than just a name, EE is a network all by itself while T-Mobile and Orange have been retired. Over the last few years EE has expanded quickly and focused on providing an outstanding 4G mobile experience.

4G can provide real-world speeds in excess of 20Mb so our handy dongles can potentially give faster connectivity than a home broadband service. That's great news for anyone still stuck on an old 8Mb ADSL line.

You do need to make sure you're in a 4G area for the best experience, however. The EE 4G network is extensive but they are often focused on major urban areas so many parts of the country are still without 4G. Even then the signal may not cover the entire location, and if 4G isn't available the dongle will drop back to 3G when possible.
What does EE mobile broadband offer?
Since it launched on a platform of 4G it's not surprising to discover that EE leads the way in terms of technology. It's consistently the fastest network in tests, and EE mobile broadband deals not only include Wi-Fi dongles and in-car Wi-Fi, but also a 4G home broadband option. You won't find any USB dongles on contract however, so if that's what you're after the hardware will need to be purchased elsewhere and paired with one of EE's SIM only mobile broadband deals.
Monthly contracts are available with terms of either 30 days or 24 months, with data allowances from 2GB up to 16GB on regular 4G packages, and 32GB or 64GB on the faster 4GEE Max plans. And if you'd prefer not to be committed, pay-as-you-go is also available (with higher up-front costs for the hardware).
EE mobile broadband review - the Broadband Genie verdict
We like…
Fastest mobile broadband speeds
Best 4G coverage
Big data allowance on Max Plans
4G home broadband packages
Free roaming data
We don't like…
Long contracts on best value deals
Small data allowance on standard 4GEE plans
Annual price increases
EE 4G signal covers more than 95% of the UK population making it the largest 4G network in the country. And it's quick - in the latest Ofcom broadband speed tests it had the fastest 4G download speed with an average of 22Mb. That's better than many home broadband connections, which is interesting because it also offers a 4G home broadband deal (although at up to £75 per month for 100GB data it's a pricey alternative).
Slightly confusingly, EE splits its deals up into different tiers which affect both the speed and data allowance. EE's standard 4G (up to 60Mb) has a relatively small maximum limit of 16GB, compared to the 20GB commonly available on other networks. But if you go for a 4GEE Max plan (up to 90Mb) there's a generous 32GB or 64GB on offer.
Whatever you choose the longer term contracts are cheaper per-month, but the only option is a lengthy 24 months. That's a long time to be with one provider, especially when they have an RPI linked price increase every March - though at least EE is upfront about it.