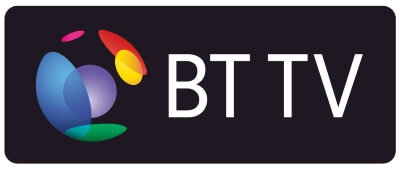 One of the leading home entertainment and communications providers in the country, BT has served the needs of the UK market for decades, and expanded to more than 180 countries across the world. From BT TV packages, to bundles, consumers can enjoy their own customised combination of broadband and TV, alongside phone line services.
BT pride themselves on using the power of communications to create a better world, and many consumers still consider BT to be one of the most reliable companies around for their residential needs. However, with such a vast range of services and BT bundles to choose from, how do you figure out which solution is the best for your needs? Broadband Genie is here to help - read on to find out more about BT TV and all it can offer.
Who is BT?
Responsible for serving the needs of customers in the UK as well as consumers across 180 countries globally, the company offers a range of fantastic broadband, fixed line services, mobile products and TV packages. Thanks to their low prices and comprehensive options for entertainment, BT are among the most popular providers in the UK today.
The origins of BT begin with the creation of the Electric Telegraph company in 1846, which lead to a nationwide communications network. British Telecom was formed in 1980 as an independent company from the Post Office.
BT are well known for their incredible entertainment solutions and TV packages - previously known as BT Vision. But the concept that was once known as BT Vision has now been discontinued, though TV packages still remain. Instead of using the Vision title, all BT TV deals are simply referred to as BT TV.
BT TV Deals
BT TV packages (previously BT Vision) are perhaps one of the most tempting parts of a subscription with BT. From premium shows, to free and unmissable sports entertainment offered as standard, there's something for everyone in these incredible entertainment bundles. What's more, BT offers its customers the chance to adapt and upgrade their package choices with additional extras such as Sky Cinema, premium entertainment channels, Netflix and more.
Some of the most popular channels available on BT TV include:
Comedy Central
MTV
SyFy
AMC
Disney Channel
BT Sport 1, 2, and 3
BT Bundles and Package Deals
BT bundles are generally the best way for customers to get their hands on cost effective TV, broadband and home phone services. The three primary packages offered to new customers today include the Entertainment Starter, Entertainment Plus and Total Entertainment packages.
The Entertainment Starter Package comes with about 100 channels, including BT Sport AMC for free. The package also includes access to unlimited catch up TV and the BT Store, and can be personalised with extras like BT Music, and Sky Sports. The Starter bundle also includes a YouView set-top box which allows you to pause and rewind live TV.
The Entertainment Plus package features 108 channels, including BT Sport and AMC, as well as access to the BT TV app, BT Store, and catch up. These BT TV packages come with the YouView+ set-top box, which allows you to rewind, pause, and record up hundreds of hours of live TV.
The Total Entertainment bundle comes with a YouView+ Ultra HD box that can record up to 600 hours of live TV. This includes 135 channels, including 17 in HD, and comes with a range of features, including kids TV, the BT TV app, the BT Store, and catch up TV.
All BT TV deals come with access to the AMC channel and BT Sport at no additional charge, and extra features can be added onto the package for a nominal fee.
The BT YouView Box
YouView is the platform through which BT provides their TV services. These set-top boxes provide access to Freeview channels, alongside seven-day catch up, but their biggest selling point is the option for seven-day scroll back viewing and the ability to pause and rewind live TV.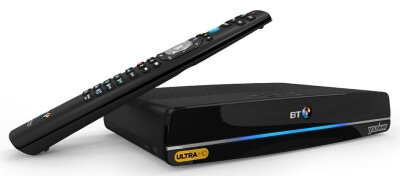 The type of YouView box you receive with your entertainment bundle will depend on your package. For instance, the entry level BT TV packages will come with the basic YouView set top box, whereas more expensive deals come with YouView+ which offer recording and Ultra HD access.
The basic YouView box has a single tuner and supports rewinding and pausing live TV for up to thirty minutes. YouView+ includes two tuners and either a 500GB or 1TB hard drive for storing recorded TV shows. The dual tuners also mean that you can record one show while watching another, or record two shows at the same time.
BT Bundles - TV and Broadband
For those interested in BT Broadband and TV, the company offers a range of different ADSL and fibre broadband packages - many of which come automatically bundled with a plan for landline calls. Alongside your TV and broadband deal, you will also receive the BT Home Hub wireless router. Since BT owns the vast majority of the broadband cabling across the UK, and leases it out to other major providers, you can rest assured that you're going to get a pretty reliable service.
For those with simpler broadband needs, BT offers ADSL broadband. This internet connection can allow you to reach download speeds of up to 17Mbps, transmitted through standard telephone cables. If you're in need of a speedier internet connection, you can opt for BT Infinity packages. The Infinity options from BT come at two different speeds of fibre optic - up to 52Mbps (Infinity 1) and up to 76Mbps (Infinity 2). Generally, fibre products are best for people who want to stream high-quality videos, play games online, or have multiple users logged in simultaneously.
Many BT broadband packages come without any monthly download limits, and a certain amount of free cloud storage as standard.
BT Phone Lines
BT broadband bundles come with a phone line rental charge included. However, the type of phone package that you choose will depend on your specific communication needs. There are three basic solutions to choose from:
Unlimited Weekend Calls - This comes with every BT package, and is ideal for those who only make occasional calls.
Unlimited Evening & Weekend Calls - This is the plan for people who would prefer to have unlimited access to their home phone in the evenings, as well as weekends.
Unlimited Anytime Calls - This package is the perfect choice for people who use their home phone line regularly. With this plan, you can also access half-price pence-per- minute rates to UK mobiles.
BT phone lines come with useful extras like BT Privacy with caller display - to help you pinpoint and ignore unwanted calls. What's more, with BT SmartTalk you can make calls from your mobile using your BT home calling rates - a great money-saving option for BT customers. All you need to do is download the app and you'll be able to make calls on your home plan using Wi-Fi, or a mobile data connection. The app can be installed on up to five different mobiles at once.
BT Free Extras
Great broadband, fantastic TV bundles, and a range of different services to choose from make BT one of the most popular providers in the country, but they continue to surprise their customers with new and exciting extras all of the time too.
For instance, anyone who signs up to a TV package gets free access to BT Sport and AMC.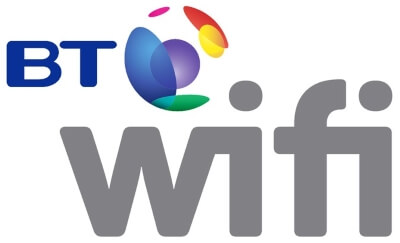 On top of that, BT Broadband customers get access to free cloud storage and parental controls. The higher your package is, the more benefits you receive. For instance, Unlimited Infinity 2 packages come with 500GB of free BT Cloud storage, the latest BT Smart Hub, and BT Virus Protect on 15 devices. But even the most basic broadband package offers 100GB of Cloud Storage and BT Virus protect on 2 devices.
If that's not enough, broadband customers also get access to free BT Wi-Fi in hotspots across the UK. Considering there are literally millions of these hotspots across the country, becoming a BT customer can represent a great way to get online with your mobile device wherever you are - without using up mobile data.
Finally, for those who can't bear to miss their favorite shows, there's the BT TV app and online player. This app allows you to stream BT TV channels on your smartphone, tablet, or computer wherever you are. You can basically watch any live channel instantly, including BT Sport, as well as catching up with some of your favorite On Demand Shows. What's more, you can control your YouView box through the app when you want to record a TV programme from a distance.