What are Sky Original Bundle packages?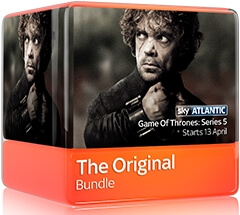 Not everyone wants to sink a fortune into TV packages – but at the same time it's nice to have access to the latest technology, as well as the ability to upgrade or add a little extra when you want it. That's where the Sky Original Bundle comes in.
It may be Sky's cheapest basic package, but it still has plenty to offer. You'll enjoy all the goodness its flagship channels have to offer, with Sky Atlantic, Sky 1 and Sky Living included as standard. There's also Sky News and Sky Sports News, as well as the old favourites such as BBC1, ITV and Channel 4 in glorious HD.
Catch up TV means you can, well, catch up on shows you've missed on all of these channels and more over the last month – whether it be Game of Thrones, Aquarius or Nashville.
What extras do I get with a Sky package?
But nowadays with Sky's digital television experience, it's just as much about the technology as it is about the live channels. And with the Original Bundle deals you get great access to the wider world of Sky.
The first thing that needs mentioning is the free Sky Q box. It allows you to record up hundreds of hours of TV, as well as giving you access to Sky's wealth of on-demand content via Wi-Fi through your broadband.
The Sky Go app also comes as standard. This allows you to access many of your favourite shows when you're out and about, either via a laptop or PC or through Apple and Android smartphones and tablets. You can even upgrade to Sky Go Extra, which allows you to download shows and watch them later.
Can I upgrade to other Sky packages?
It's always best to think carefully about your budget when choosing an entertainment package, as special offers you sign up for tend to rely on you hanging around for at least a 12 month period. And you'll find your provider is much more interested in upgrading you during that time than they will downgrading you to a cheaper package! So if you do want to step up, what's available?
There are several tech upgrades available. For example, you could opt for Sky Multiscreen (which lets you enjoy Sky TV in more than one room in your house) or upgrade to an ultra HD Sky Q box.
Alternatively, you can upgrade to either the Sky Boxsets, Sky Variety, or Sky Complete bundles – or add Sky Sports or Sky Cinema to your deal. Depending on your choice you'll have access to anything from the UK's best Premier League footy coverage (126 live games in the 2016-17 season) to the latest Hollywood blockbusters – or a wealth of on-demand TV boxsets and movies.
And don't forget you can often find even greater savings if you add broadband to your TV deal; as well as enjoying the convenience of a single bill and only having to deal with a single entertainment provider.