What is the Sky Variety bundle?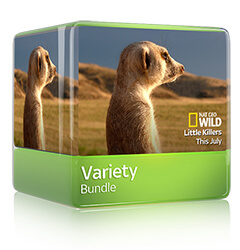 The Sky Variety bundle is all about the TV channels, but with a particular focus on drama, documentaries and children's programming. You'll get Sky's outstanding hero channels – Sky Atlantic, Sky 1 and Sky Living – as well as the likes of Fox, Syfy and Dave – as well as all your traditional favourites including BBC, ITV etc.
In addition you'll find more than 10 children's channels (including Disney and Nickelodeon), the same again of documentary channels (Discovery, National Geographic etc), plus MTV, five sports channels and more. But live TV is just the beginning. You'll also find more than 4,000 episodes of great kids' entertainment available on demand.
What extras do I get with a Sky TV deal?
One of the real benefits of going for a Sky TV pack is all the added extras. The first of these is your free Sky Q box, which comes as standard. As well as letting you pause, stop and rewind live television you can also record hundreds hours of shows directly onto its hard drive (or a bit less if you want the shows in full HD). And that's not to mention access to the Sky Store and catch-up TV via your Wi-Fi connection.
But if you're paying for all this great TV, you'll be wanting to watch it elsewhere too, right? No problem. With the Sky Go app you can watch a lot of your favourite shows when you're away from home, as long as you have access to either a PC or laptop – or Android or Apple smartphone or tablet – and a Wi-Fi connection.
Additional options include Sky Multiscreen. This will be extra on your bill, but allows you access to Sky TV in multiple rooms in your home using Sky Q mini boxes.
What else is available from Sky?
While the Sky Variety pack gives you a wealth of entertainment, there's a lot more out there too. You need to stay within a sensible budget, as it's much easier to add extras than come down to a cheaper deal if you've come in on a great special offer. But if there's room in the budget later, here are some added options:
Sky Sports and Sky Cinema: These can be added to your bundle to bring you unrivalled access to either the Premier League (plus cricket, golf etc) or the latest movie blockbusters.
Sky Box Sets: This deal adds more than 300 box sets, available on demand, to your Sky TV package. You can watch and record at your leisure, all through your Sky Q box.