Popular TalkTalk products:
Who are
TalkTalk

?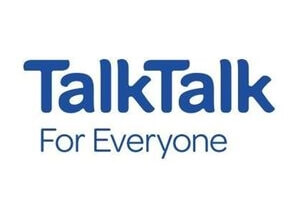 One of the most popular and cost-effective solutions for home entertainment, broadband connectivity, and calls today - TalkTalk has been steadily building a following of loyal customers in the UK over recent years.
While it's not as well established in TV as some other entertainment subscription providers, that doesn't mean that it's not one of the best options around for many customers thanks to its special offers and low prices.
The company was first founded in 2003 as a subsidiary of Carphone Warehouse and it gradually found its position as a standalone company during 2010, with a headquarters conveniently located in London.
Though it started off as simple a fixed-line provider for consumers, TalkTalk now offers broadband and mobile telephony services to customers across the country. What's more, TalkTalk has invested in its own LLU infrastructure.
Today, TalkTalk is one of the biggest telecoms providers in the UK, offering broadband, phone, TV, and mobile to millions across the country. As a quad-play provider, it offers every service the modern household needs, with extra opportunities to pay for optional add-ons at any time during your subscription.
Get the best subscription: TalkTalk postcode and availability check
Because TalkTalk shares the BT network, the chances are that you should be able to have TalkTalk broadband installed in your area. As of 2016 the vast majority of households can get ADSL broadband, and more than 80% have access to fibre optic. However, you may need to conduct a check for your postcode, and read some local reviews if you want a better idea of the kind of service you can get.
You can check broadband availability right here on Broadband Genie using the postcode check tool in our comparison tables.
Unfortunately, if TalkTalk isn't available in your area, you might find that your connectivity options are somewhat limited - since it shares the BT network like many of the other UK broadband providers. For more information on this topic visit our local broadband hub.
TalkTalk deals: Home and business broadband
TalkTalk Broadband bundles
TalkTalk offer a standard broadband package, known as Fast Broadband, and a premium bundle called Faster Broadband.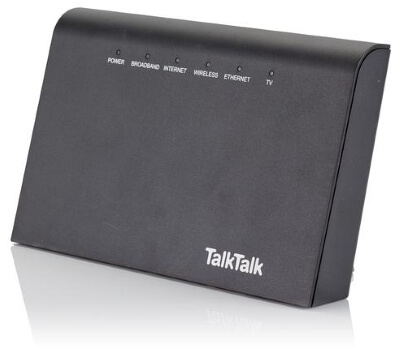 The best broadband deal for you will depend on the amount of speed and features you need from your broadband service. Because TalkTalk uses the BT Openreach infrastructure, you should find that the standard coverage you would expect will be similar to that of BT. What's more, since all TalkTalk deals come with unlimited usage, the primary difference in packages is price and speed.
Fast Broadband is the cheapest TalkTalk offer, with a download speed of around 17Mb max, and prices not changing for 18 months. The deal comes with fixed line rental, with the opportunity to add TV services.
Faster Broadband is the more expensive solution, with fibre optic speeds of up to 76Mb. The fibre broadband provided by TalkTalk is up to 4.5x faster than their standard broadband, and prices will not change throughout your original contract.
Both TalkTalk packages come with HomeSafe security software, and a free wireless router, but you will need to pay extra for telephone if you want inclusive phone calls. Both packages could also come with free setup, potentially saving you that bit more. All TalkTalk deals for broadband come with the added option of including the basic TV package for free (aside from the £25 charge for installation). What's more, all broadband packages offer a free mobile SIM that contains 500MB of data, unlimited texts, and 200 minutes.
TalkTalk TV offers
TalkTalk's partnership with YouView allows them to offer a digital TV subscription service to customers. With a TalkTalk quad play bundle including TV, mobile, home phone, and broadband you can get everything covered under one roof, and perhaps save money compared to using separate providers.
There are two TalkTalk TV packages available: TalkTalk TV and TalkTalk TV Plus. Both bundles include a TalkTalk TV box with 7-day catch-up TV, the ability to add extra 'TV Boosts' without long-term commitments and access to the TalkTalk TV store.
TalkTalk TV box features:
Access to subscription services like BT Sport and Netflix
Pause and rewind features for up to 30 minutes of Live TV
75 Freeview channels
Access to on-demand players like My5, iPlayer, and ITV hub

TalkTalk TV Plus box features:
75 Freeview channels
Pause and rewind live TV
Record up to 185 hours of TV
Entertainment Boost as standard for £12 per month
Access to on-demand players like My5, iPlayer, and ITV hub
TalkTalk Deals: TV Boosts
The standard Freeview channels that are provided by TalkTalk for any TV package contain a wide range of popular favourites for entertainment, including:
4Music
5 USA
BBC 1, BBC 2, ITV, Channel 4, Channel 5
ITV2
Challenge
CBS Drama
E4
Dave
Film4
Food Network
For those who want extra channels, TalkTalk offer a unique feature in the form of TV Boosts which can add extra entertainment to your existing service. TalkTalk TV boosts offer complete flexibility with no pricey or lengthy contracts, so you can choose whether to keep boosts on a monthly basis. All you need to use a Boost is a minimum broadband speed of 5Mb.
TalkTalk TV Boosts offer unlimited access to a wide range of premium content, such as:
TV Starter Boost: This comes with 6 top pay channels, including Sky 1, Sky Arts, Sky Living, Sky Sports News and Real Lives.
Entertainment Boost: 32 top pay channels, including Sky 1, Syfy, Alibi, Fox, Universal, Comedy Central, Lifetime, E! and more.
Kids Boost: Get 9 kids channels, such as Disney, Nick Jr, Cartoon Network, and Boomerang.
Sky Sports Boost: For the sports fan this boost adds 6 dedicated sports channels, including Sky Sports 1, 2, 3, 4, and 5.
Sky Cinema Boost: Great entertainment with 11 Sky Cinema channels, including new premieres every day.
Phone and Mobile TalkTalk Deals
Despite what its name might suggest, the TalkTalk brand no longer provides standalone home phone services. Instead, all phone packages come bundled with broadband. Fortunately for those who want to make sure they're getting the best deals, TalkTalk have also integrated their pricing so that the price you see advertised includes line rental.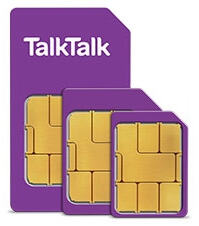 By default you'll simply pay for the calls you make, which is fine if you don't often use the landline. However if you want to add a calls package to your broadband you can choose from a selection of international packages or anytime UK calls. Currently (as of 2016), there are no 'Weekend' or 'Evening' options.
Another phone option for people considering TalkTalk services is 3G mobile service that they provide using the Vodafone network. Those interested in getting a quad-play deal with TalkTalk can choose from a range of different contracts - each supplied with new handsets, OR SIM-only deals.
The prices for a TalkTalk Mobile SIM are competitive, and data allowances can range all the way up to 2GB per month.
TalkTalk Package Deals
Every broadband plan provided by TalkTalk comes with:
Completely unlimited internet usage
Free super router
Free TalkTalk Mobile SIM with 500MB of data per month
Online security
Prices will not change for up to 18 months
Access to the TalkTalk TV store
Though all TalkTalk offers must come with a broadband connection, TalkTalk do offer a guaranteed price that remains the same for the full course of your 18-month contract. And the plans are simple, with a single price for line rental and broadband combined, but you can customise them too to suit your needs.
The flexibility of the TalkTalk network allows customers to simply add and remove extras when they need them. As a TalkTalk customer, you can:
Enjoy TalkTalk TV added to your broadband at any time
Add Unlimited UK mobile and landline calls
Access flexible international call plans
Use online security across a range of devices
Upgrade your fibre speed to up to 76Mb
Experience a range of unique special offers for existing customers
How to Join TalkTalk UK - Coverage, Comparison, and Reviews
Joining TalkTalk UK is easy. After reading reviews and comparing the prices here on Broadband Genie, you simply need to choose the package you want and TalkTalk handles the rest.
Enter your postcode to search by location, then use the filters and table headings to find your perfect deal. Once you're ready, click Go and TalkTalk will do the rest.
They'll cancel your old service on the day that your new service is scheduled to start. However, it's important to make sure that you've reached the end of your old contract if you want to avoid early termination charges.
You should also find that you can keep your existing number when you switch to TalkTalk too - so long as you let the company know that's what you want to do as quickly as possible.