In this guide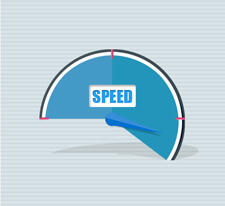 For most of us, a cheap standard broadband deal or affordable superfast fibre optic broadband service is more than enough. But if you've got a busy family home where the connection is shared, or you simply want to get downloads as quickly as possible and stream 4K video without worrying about bandwidth, then speed rather price is going to be your primary concern.
In that situation you'll want to know which broadband can deliver the best performance, so this guide to the fastest broadband in the UK is a good place to start in your search for a new high speed broadband connection.
Ready to buy?
What is the fastest broadband in the UK?
The very fastest broadband you'll find in the UK is an ultrafast gigabit fibre service. This is a "full fibre" connection that offers speeds up to 1 gigabit per second.
But it's not available nationwide - only a handful of providers offer this kind of high speed broadband, and only in selected areas. For example, Hyperoptic delivers gigabit broadband mainly in the London area and has been focusing on adding fibre lines to new build blocks of flats. Elsewhere, the city of York enjoys access to gigabit fibre thanks to TalkTalk's Ultra Fibre Optic (UFO) service.
Of the national providers, Virgin Media offers the fastest mass-market package with a top speed of 362Mb. If you cannot get Virgin Media the next fastest option is an Openreach (BT) fibre service with average speeds around 63-68Mb.
How much do the fastest broadband packages cost?
The fastest broadband packages are not actually that expensive. Hyperoptic's top speed of 1Gb is available for £60 per month, while Virgin Media 362Mb fibre starts at under £50. And there are always special offers and free extras available to add more value.
The fastest Openreach network fibre deals are even cheaper, with prices under £30 on some deals.
Which other providers offer fast speeds?

Virgin Media is the single fastest nationwide provider, but there's a wide choice of providers offering fibre optic broadband over a regular phone line using the Openreach network which is available to more homes.

BT
Average top speed: 67Mb. 
Prices start at around £40 with offers, but you may need to switch or negotiate at the end of the contract to avoid a price rise. BT also offers the fastest entry level package with an average speed of 50Mb.

Plusnet 
Average top speed: 66Mb
Plusnet offers good value packages with monthly prices starting under £30. It's also well regarded by customers; Plusnet is a frequent winner in our annual home broadband awards.

Sky
Average top speed: 63Mb
Sky Fibre Max up to 63Mb starts at £30 per month for broadband and a phone line, making it one of the better value offerings. Of course you can also add a Sky TV bundle with a vast choice of channels for a complete entertainment package.

TalkTalk
Average top speed: 63Mb
TalkTalk often has some of the cheapest deals available. It's fastest fibre broadband is usually available for under £30 for the initial contract term.

Use our home broadband comparison tools to see other fast broadband services and view the latest offers.
What is the fastest standard broadband?
Standard ADSL broadband using a BT phone line is quite a lot slower than fibre optic, but for some it may be the only fixed line broadband that is available.
There is not much difference between providers for standard broadband - all of them quote an average speed of either 10Mb or 11Mb for the ADSL2+ service available to most homes in the UK. In a few rare instances you may not be able to get ADSL2+, in which case the speed will be limited to a maximum of 8Mb.
What is the fastest broadband available in my area?
You can instantly find out the fastest broadband in your area using the postcode checker on any of our broadband deal comparison pages. Just enter a postcode and the table will be filtered by location to show packages available in that area.
If you'd like to learn more about broadband coverage visit our local broadband hub for information about specific towns and cities.
Will my location and postcode affect my speed?
Your choice of broadband services is affected by availability at the exchange serving your address. When you carry out a postcode check this shows what the exchange can offer. If fibre is not available you will have to choose a standard broadband package.
However it is also affected by the length of the line. In some cases an exchange may have fibre optic, but your home is too far to receive the service. And when it comes to standard broadband there's a significant impact on performance when you're far from the exchange.
When signing up to a provider you should always be given an accurate speed estimate using your home address.
When will my area get high speed broadband?
The majority of premises now have access to fast broadband services using an Openreach telephone line or from the Virgin Media network (and often there's a choice of both). 
If you're still waiting though Openreach has a wealth of information about superfast broadband deployments. It also offers a tool for checking the status of network upgrades in your area, so you can see what's planned and when fast broadband may become available.
Frequently Asked Questions about fast broadband
Will I get the speeds advertised?

Do I need the fastest broadband?

What is superfast broadband?

How do I test my broadband speed?

Can I get fibre broadband in my area?