3G dongles: buyers' guide
It's not hard to see why 3G dongles have become increasingly popular during the last couple of years or so. Having a 3G dongle connected to your laptop or netbook computer allows you to enjoy the freedom of mobile internet broadband, which means that you can essentially take your internet supply with you wherever you go. So alongside having high-speed internet at home, via an ADSL landline or cable supply, you can now carry on working, or surfing the web, or catching up with emails and it's all thanks to the 3G USB dongle.
Here at Broadband Genie you'll find a veritable mountain of information relating to the 3G mobile broadband dongle. The content in the table above will get the ball rolling, as it'll give you a pointer as to the best 3G dongle for your needs, all of which really depends on how much you plan on staying online while you're on the move, not just which is the cheapest. The best 3G dongle contracts will give you freedom and flexibility to use mobile broadband wherever you can get adequate coverage, but in order to do this you'll first need to use our tables to carry out a 3G dongle comparison.
Find the best 3G dongle
When looking for the best 3G dongle deal or offer you'll first need to get an idea of your mobile broadband needs. You might want to use a USB 3G dongle simply for surfing the internet in your spare time. On the other hand, you might need to look at the best 3G dongle contracts that will suit specific business demands if you're planning on using it to carry on working if you're out of the office. Whatever your usage requirements, it's a great idea to get an overview of the time you'll need to employ the services of a 3G mobile dongle.
Once you've got that time frame in your mind, you're ready to start using our 3G dongle comparison tables in order to compare the different deals and contracts that are open to people who wish to buy 3G dongle packages. Lightweight mobile broadband users will often find that a straightforward pay-as-you-go 3G wireless dongle deal might well fit the bill perfectly. PAYG 3G dongle coverage can sometimes be a little bit more patchy than other options, which we'll get to shortly, but for anyone who uses mobile broadband for casual use including web browsing and emailing then the PAYG 3G wireless dongle is often a good route to takep.
How PAYG 3G dongles work
With a 3G dongle purchased through the pay-as-you-go deals that are featured in our tables, you can be up and running using mobile broadband in no time at all. The PAYG 3G wireless dongle can be ordered online, or bought in a mobile network providers store, and then be configured for use in mere minutes. You'll need to check the 3G dongle coverage, which can be done using the link on the right hand side of the page in our comparison tables above before you buy. If things look rosy for the geographical areas that you plan on visiting then a 3G mobile broadband dongle should deliver the goods.
You'll need to ensure that there is adequate credit put onto the 3G USB dongle in the first place though before you can enjoy laptop internet, which again can be done online or in store. Use the comparison tables above to get to grips with the many and varied deals in relation to the 3G broadband dongle you're interested in. Obviously, the more you go online with your PAYG 3G mobile broadband dongle then the more you'll have to pay in order to keep the dongle in credit. There is often a time frame for using the 3G mobile dongle too, so don't end up buying it and not using the credit because it may disappear before your very eyes.
Bag the best 3G dongle contracts
If pay-as-you-go sounds unlikely to meet your requirements then you may well need to carry out a 3G dongle comparison of contract-based mobile broadband packages and read some of the UK reviews too. There are plenty of these cheap deals and offers around, as you'll see from our comparison tables, and they come in all sorts of shapes and sizes that are tailored for people with different demands. With a 3G dongle pay as you go option you'll find that there's no need to sign any kind of contract, the device simply has a set amount of airtime added to it and you're up and running. You'll also have specific upload and download limits that should be clearly set out in the terms and conditions.
Meanwhile, mobile providers who offer the best 3G dongle contracts and cheapest prices in the UK will often make the deal that little bit more tantalising with a much more flexible package. You'll have to sign a contract when you buy, and these can be anything from one month but normally clock in around 12, 18 or 24 months. So, in that respect you'll need to commit to a 3G USB dongle mobile broadband package for a set period of time, but there can be considerable perks through showing this sort of allegiance to a particular mobile broadband provider when you compare.
Buy 3G dongle contract time
You'll find that all of the mobile broadband network providers offer contract options alongside the 3G dongle pay as you go packages, and these are generally more useful to heavier online users. Check out our reviews section to see how these deals work for other people and how they compare with the best pay as you go deals and offers. If you compare the prices, offers and data options available into the comparison tables above you'll see that it can actually work out as quite a cost effective option for anyone on a contract. You'll be able to consider a free laptop option too with some of the contract options, so lookout for these when you carry out a comparison of 3G dongles.
The free laptop deals will usually thrown in a 3G dongle for nothing too, although most contract options now give you a 3G wireless dongle for nothing anyway. Some of the PAYG 3G Wi-Fi mobile dongle options will require you to pay a one-off fee for the dongle, although keep an eye on our comparison tables to see if there are any free giveaway deals on the go when you're looking to buy. These incentives do come along quite often, although they disappear just as frequently too.
Whatever the 3G dongle you're interested in, the main factors to consider when using our comparison tables revolve around the price to buy the 3G wireless dongle device, the contract term if any and the speed of service you can hope to get once you've got it. You can also read customer reviews to find out about their experiences with their dongles. Finally, pay particular attention to the download limits and restrictions, because if you're anything more than a very occasional internet or email user you'll find that it's very easy to notch up a large quota of data usage, which may or may not be covered in your chosen mobile broadband deal. A little bit of research before you sign on the dotted line will quickly pay dividends.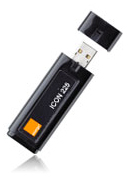 Getting a 3G internet dongle to provide you with wireless broadband is easy - they're available from all the UK providers: 3 Mobile, Vodafone, T-Mobile, O2 and Orange. It's impossible to say which is the best 3G dongle package, because everyone has different requirements and budgets, so while a 3 Mobile pay as you go 3G dongle might be good for one person, another may well find that an Orange 3G dongle package does the job to better effect. Similarly, a pay as you go 3G dongle might be right for one individual while a mobile internet contract deal or offer will be more suited to another.
Getting started with a 3G dongle
Once you've decided on the right course to take when it comes to picking the best 3G Internet dongle for your needs the set-up process should follow on in a very straightforward fashion.
There's not an awful lot to it, to be honest. A 3G broadband dongle comes with USB connectivity, so all you need to do is plug the 3G mobile dongle into an available port on your machine, which all Wi-Fi laptops have, and you should soon be able to receive a mobile broadband signal. A 3G or 3G sub dongle will normally be recognised by the operating system on your chosen computers, be they laptops, netbooks or even a standard desktop machine in cases where mobile broadband users don't plan on being very mobile at all.
You will find that there is some software and drivers to be installed, but again, most 3G mobile dongles will usually do all of this automatically when you plug it in for the first time. With everything in place you'll find that USB 3G dongles will start receiving a mobile internet broadband signal just as long as it's available, and you should also get a clear indication of signal strength, speed of service and the like.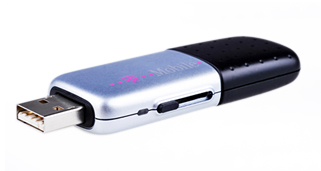 Keep in mind however that you'll find the speeds delivered via a USB 3G internet dongle will not match those rather grand figures provided by mobile broadband network providers. Our own testing shows that mobile broadband can be expected to deliver speeds of around 1-3Mb. The speeds are affected by a number of factors, from the amount of users online at any one time to poor coverage or even more physical factors such as thick walls, too many buildings and interference from devices even as seemingly innocuous as baby monitors.
Finally, don't forget to check if your chosen 3G wireless broadband mobile dongle deal can be used overseas, because even if it is the chances are that costs will be very high. Terms and conditions of any wireless broadband deal need to be double-checked so that you're fully aware of any fees that'll be payable if you decide to fire up the laptop internet on foreign soil.