Shell Energy Broadband user review
The following ratings from Shell Energy customers are taken from our annual home broadband survey. Customers were asked to rate their provider in each category; the score is the percentage of positive answers and the overall rating is the combined average score.
Customer care: 79%
(average: 81%)

Value for money: 71% 
(average: 70%)

Trust: 77%
(average: 80%)

Would recommend?: 64%
(average: 74%)
Overall Shell Energy broadband customer rating: 73%
(average: 76%)
Although Shell wasn't the worst performer overall, and it did have an above-average rating for value, its recommendation score was the lowest of all providers, with just over 35% of Shell customers saying they would not recommend them to friends and family.
Ready to buy Shell Energy broadband? See the latest deals below:
Shell Energy broadband - the Broadband Genie review
We like
We don't like

No price rises at the end of the contract
Cheap broadband deals
Discounts on petrol at Shell stations
UK-based customer support

Vague fair usage policy
Simple packages with few extras
Shell Energy broadband speed
Shell Energy average download speeds vs BT, Sky, TalkTalk, and Virgin Media
| | | | | | |
| --- | --- | --- | --- | --- | --- |
|   | Shell Energy | BT | Sky | TalkTalk | Virgin Media |
| ADSL download speed | 11Mb | 10Mb | 11Mb | 11Mb | N/A |
| ADSL upload speed | 1Mb | 1Mb | 1Mb | 1Mb | N/A |
| Fibre download speed | 35Mb / 63Mb | 36Mb / 50Mb / 67Mb | 59Mb | 38Mb / 67Mb | 54Mb / 108Mb / 213Mb / 362Mb / 516Mb |
| Fibre upload speed | 9.5Mb / 19Mb | 9.5Mb / 19.5Mb | 19Mb | 9.5Mb / 19Mb | 5Mb / 10Mb / 20Mb / 36Mb |
No big surprises with the advertised speeds for Shell Energy broadband; like most providers it uses the Openreach (BT line) network so performance is similar to competing ISPs. The choice of 11Mb, 35Mb or 63Mb download speeds will suit many households, but if you need a faster connection you'll have to move to a different network, like Virgin Media.
Shell Energy broadband value for money
Shell Energy broadband cheapest package vs BT, Sky, TalkTalk, and Virgin Media
| | | | | |
| --- | --- | --- | --- | --- |
| Shell Energy Fast Broadband (11Mb) | BT Broadband (10Mb) | Sky Broadband Essential (11Mb) | TalkTalk Fast Broadband (11Mb) | Virgin Media M50 (54Mb) |
| £19.99 | £24.99 | £25 | £22 | £26 |
Shell Energy broadband fastest package vs BT, Sky, TalkTalk, and Virgin Media
| | | | | |
| --- | --- | --- | --- | --- |
| Shell Energy Superfast Fibre Plus (63Mb) | BT Fibre 2 (67Mb) | Sky Broadband Superfast (59Mb) | TalkTalk Fibre 65 (67Mb) | Virgin Media M500 (516Mb) |
| £30.99 | £29.99 | £26 | £24 | £45.99 |
Last checked March 2021. The prices displayed above are the initial contract cost for new customers; charges may increase after renewal. The cheapest price is the lowest monthly cost regardless of speed. The fastest price is the fastest service available on Broadband Genie for the lowest monthly cost.
Shell Energy's prices are competitive. It's one of the cheaper providers for both ADSL and fibre optic internet and even better value when you compare the cost after the initial contract term. Most ISPs offer a cheaper price for the first 12, 18 or 24 months but then increase it upon renewal. Shell doesn't do this, so your monthly bill won't suddenly jump after 18 months. Though mid-contract price increases are still possible of course (as they are with any provider which doesn't have a price guarantee). 
Ready to buy? See the latest offers from Shell Energy Broadband below: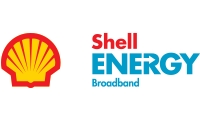 Shell Energy Superfast Fibre Broadband
35Mb/sec average speed
FREE setup
18 month contract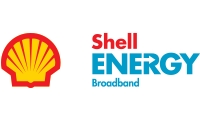 Shell Energy Fast Broadband
11Mb/sec average speed
FREE setup
18 month contract
Shell Energy broadband features and extras
Shell broadband deals aren't bundled with lots of extras. Besides the free Wi-Fi router, you can use the Shell Go+ app to get 3% off petrol at Shell stations, plus other "personalised offers". 
Shell Energy router
All deals include a free Wi-Fi router. For many existing customers this is the same model (Technicolor TG588V V2) supplied by First Utility. Unfortunately, this is quite outdated by current standards as it only offers 802.11n Wi-Fi and doesn't support the faster 802.11ac Wi-Fi. It also lacks multiple antennas, which can improve the signal. It does have a USB connection for file and printer sharing, and there are four wired network ports, but they don't support gigabit transfer speeds. 
However, Shell Energy is now supplying an improved model, the Technicolor DWA0120, to its fibre optic customers. This is a dual-band router that supports the faster 5Ghz 802.11ac standard alongside 2.4Ghz 802.11n. It also includes 4x gigabit network ports.
Shell Energy home phone
No inclusive calls are provided with Shell Energy deals, which is a good thing if you don't often use the landline. If you do make calls on a regular basis then you can choose to add one of the following call packages:
Evening & Weekend: £5. Inclusive evening and weekend calls to UK landlines and UK mobiles. 
Anytime Plus: £9 Anytime calling to UK landlines and UK mobiles. 
International Call Package: £6. 600 minutes to 40 international destinations, 75% discount to mobiles in those same destinations. 50% discount on calls to all other destinations. Only available with one of the above packages. 
Shell Energy broadband review conclusion
Our Shell Energy broadband rating: 3.5 / 5
We're spoilt for choice when it comes to budget broadband nowadays, but Shell Energy stands out by offering packages that aren't just cheap for the first 12, 18 or 24 months. That's a huge plus if you're not interested in regularly switching providers because other ISPs get a lot more expensive once you're out of the initial contract period. 
But it is a budget provider and that is reflected in its packages. While cheap, Shell doesn't provide the kind of extras you can find with other ISPs. Cheaper petrol is a nice bonus, but it's only a small discount and you have to fill up at Shell. The bundled Wi-Fi router on fibre packages is good, but ADSL customers will receive an older model that doesn't support faster Wi-Fi standards that are now commonplace.
You should also be aware of the vague fair usage policy tucked away in the terms and conditions. While Shell says all its broadband packages are unlimited, it also states that it may "change your service" if you "place excessive bandwidth demands on the broadband service for continued periods". There's no explanation of what it considers excessive, and while it's only likely to be an issue for a minority there are plenty of other packages which offer fully unlimited and unrestricted connectivity.
If you like what you hear, head to our Shell Energy deals page to start your switch.
More Broadband Genie ISP reviews
On Broadband Genie, you'll find reviews of almost every provider, not just Shell Energy. You can find them by following the links below: