The Genie guide to home broadband in Edinburgh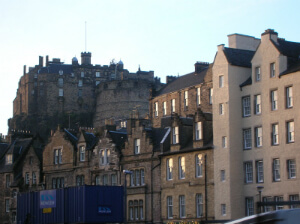 Home broadband coverage in Edinburgh is generally very good. The central and surrounding exchanges of Rose Street, Waverley, Leith, Abbeyhill, Newington, Fountainbridge, Donaldson, Dean and Granton all offer ADSL and ADSL2+ and are LLU, which equates to a maximum connection of about 17Mb with a wide choice of providers.
Superfast broadband is also available. All the main exchanges are enabled for fibre optic over a standard telephone, plus Virgin Media fibre is available on all exchanges.
To find out more about the broadband services available to your home make use of our broadband postcode checker. Tap your postcode into the comparison table and we'll filter the results based on availability at your specific exchange.
Superfast broadband coverage and speed in Edinburgh
| | | |
| --- | --- | --- |
| Area | Superfast (24Mb+) coverage | Mean download speed |
| Edinburgh East | 95.96% | 32Mb |
| Edinburgh North and Leith | 96.88% | 33.8Mb |
| Edinburgh South | 98.11% | 33.5Mb |
| Edinburgh South West | 97.89% | 35.1Mb |
| Edinburgh West | 95.53% | 35.4Mb |
Source: Thinkbroadband (last checked 14/07/17)
To date the Digital Scotland project has allocated over £120m to upgrading broadband services across Scotland, although in general urban centres such as Edinburgh are not the intended recipients as much of the funding is going toward helping rural areas and smaller towns.
The future of broadband in Edinburgh
Edinburgh is one of the places benefiting from Virgin Media's "Project Lightning", which aims to both increase coverage of the Virgin network and upgrade the top speed to 300Mb.
Ultrafast FTTP (Fibre To The Premises) is also available in Edinburgh. Hyperoptic began deploying gigabit broadband in 2016, starting with Platinum Point on the Firth of Forth. And in the same year CityFibre finished installing more than 125km of fibre optic cabling which will allow ISPs to offer incredible speeds to organisations throughout the city.
Comparing mobile broadband in Edinburgh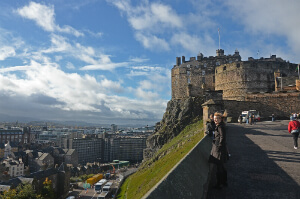 Edinburgh enjoys very strong coverage from all four mobile networks. EE, O2, Three and Vodafone all supply both 3G and 4G to central Edinburgh and surrounding areas such as Leith, Morningside, Newington, Sighthill and Murrayfields.
3G has generally better coverage throughout the whole country, but 4G is significantly faster. 4G can be quicker than many home broadband services, and is not only useful for high speed access on the move but also as an alternative to home broadband. However you may need to purchase new hardware to use it, but this does not need to be expensive as the standard is now widely supported by everything from cheap dongles to the latest smartphones.
Mobile broadband speeds in Edinburgh
For an idea of what you can expect from mobile broadband in Edinburgh, this table shows average speeds using data gathered by OpenSignal.
| | | |
| --- | --- | --- |
| Network | 3G download / upload | 4G download / upload |
| EE | 6.3Mb / 1.3Mb | 27.9Mb / 9.1Mb |
| O2 | 7.5Mb / 1.9Mb | 18.9Mb / 8.5Mb |
| Three | 7.4Mb / 1.5Mb | 27.1Mb / 7.7Mb |
| Vodafone | 6.3Mb / 1.3Mb | 18.2Mb / 7.9Mb |
Source: OpenSignal (last checked 14/03/17)
This information is only a guide. It is crucial to check signal strength before buying any mobile service to ensure you'll be able to get a fast connection. Click the logos below to access the official network coverage check tools: