Fibre optic broadband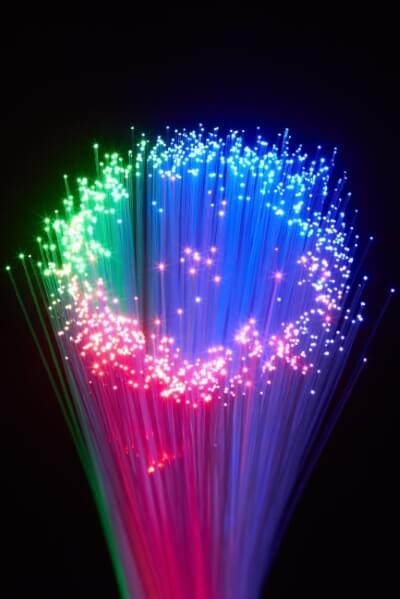 Hands up who's tired of sluggish ADSL broadband? Even if you're lucky enough to be in the small minority of those getting close to 17Mb on ADSL, we all look jealously at the state of broadband in places like Hong Kong or Kansas City, where screaming-fast 1Gb fibre broadband internet links are available.
But the times they are a changin'. Between Virgin and BT more than half of the UK now has access to a new generation of superfast broadband.
Fibre optic broadband is here and it's now affordable and widespread enough to cover a large amount of the population in a comforting blanket of super-speed connectivity.
What is fibre broadband?
Many of the broadband connections in the UK are using the old copper telephone wires. While this is cheap and covers vast areas of the country it was never designed for data; hence problems with speed and the degradation of the signal the further you are from your telephone exchange.
Fibre broadband uses high-tech fibre optic cabling which transmits signals as light, allowing for far greater speeds than copper wiring without the exchange distance issues.
Because of this you will find with fibre optic broadband that when it says '38Mb download' that is the speed you actually achieve (or very close to it), rather than the vague 'up to' or 'max' estimates of an ADSL connection. It's not expensive either so upgrading your broadband doesn't have to mean spending a huge amount of money.
FTTC vs FTTH
To complicate things a little more there are two different types of fibre broadband available: fibre to the cabinet (FTTC) and fibre to the home (FTTH) which is sometimes also called fibre to the premises (FTTP).
FTTC is the most common type because it only uses fibre cables up to your nearest telephone cabinet (those green boxes you see by the side of the road). From there into your home it utilises the same copper wire as ADSL (or coaxial cable for Virgin - see below).
The downside of this is that speeds can be negatively affected by the condition and length of this final length of cable, but it is much cheaper to install. Right now the vast majority of fibre optic broadband areas are served by FTTC.
There is a push to expand FTTH however, which is vastly superior. As you've probably guessed, the 'full fibre' FTTH eliminates that last stretch of copper and brings the fibre link right into your home. That makes it far more expensive to install but allows for vastly improved speeds - this is when you can get broadband at speeds of 1Gb and beyond.
Some providers are offering FTTH in the UK though coverage remains limited. BT has been trialling it in a few areas but much of the work here is being done by small companies such as Hyperoptic, CityFibre and Gigaclear, the likes of which specialise in bringing FTTH to new builds, rural areas and larger deployments for specific towns and cities.
If FTTH is available in your area we may list some deals when you check broadband availability with your postcode. But for now FTTC services are the best fibre broadband most of us can get. The majority of fibre broadband deals you'll see listed here will be FTTC using either the Virgin or BT networks.
Putting the 'cable' in fibre optic broadband
While still often referred to as 'cable internet' Virgin Media operates a Hybrid Fibre Coaxial (HFC) network. Like the BT network Virgin utilises fibre connections close to homes but then uses coaxial cable, rather than copper telephone lines, to carry the signal the rest of the way. This has allowed Virgin to upgrade the speed of its network at a faster pace and it can now offer speeds of up to 200Mb - more than twice as fast as BT's FTTC services.
However, Virgin's network is only available to just over half of UK homes and premises and it does not allow other providers access, so there's less choice in terms of special offers.
While those in major towns and cities often have both options, Virgin doesn't have great reach outside the more populous areas. But where available it is certainly worth considering. It has some fantastic television packages to go with the home broadband, while it's also possible to get its broadband without taking a landline.
Fibre broadband providers
It's not only Virgin and BT that are offering fibre optic broadband. Many UK providers now offer fibre broadband deals alongside their ADSL products (via BT Openreach's network), including TalkTalk, Sky, EE, Plusnet and John Lewis.
Prices are higher for fibre than for ADSL, but are coming down fast as competition increases. However if you need the cheapest broadband possible you should still consider standard ADSL broadband; especially if you mainly use the internet simply for surfing, email and social networking (Facebook, Twitter etc) as these activities do not need the extra speed of fibre optic internet.
Like its telephone services, BT owns the fibre optic lines and allows the other companies to resell access. It's also currently one of the major fibre ISPs with its popular BT Infinity service.
How to compare fibre broadband deals
There's no shortage of ISPs offering fibre optic internet, so how do you go about getting the right package when there's so much choice? You'll need to consider various aspects of each offer, but whether you're after the cheapest fibre broadband, broadband and TV or simply the best fibre broadband deals regardless of cost, we list a huge range of packages and provide the tools you need to easily compare all the options.
The first step is to enter your postcode into the comparison table, deals will then be filtered so you'll only see fibre optic broadband deals which are available nearby. Remember not everyone can get fibre yet.
Once you've filtered by location, use the filters down the left side of the comparison table to narrow your search. The filters cover various features of typical fibre optic internet packages including top speed, TV services and added extras, as well as specific providers.
Any packages matching your search criteria will then be displayed in the comparison table. Sometimes there will be lots of options so you can click the column headings to sort the table and prioritise particular features. For example, if you simply want cheap fibre broadband click the price column to sort packages from lowest to highest price.
Fibre broadband providers - what's the difference?
With so many different fibre optic deals finding the best fibre optic broadband for your needs can seem daunting. But there are some important differences to consider. Here are a few areas to look out for as you compare fibre broadband...
Data limits
Some of the cheapest fibre optic broadband deals can have data usage limits. If you download or upload more than this in each billing period you may be charged extra or have the speed restricted. But unlimited fibre broadband is offered by almost every provider and is usually not much more expensive, so it's generally better to go unlimited when possible.
Setup fee
Many cheap ADSL broadband packages have no up front costs, but fibre broadband often requires a setup fee. This is typically around £50 though can be higher if you're setting up a new line and an engineer visit is required. In addition to setup fees it's also usual to pay a postage charge for the Wi-Fi router.
Monthly cost
This is the amount you'll pay each month for the broadband service. Some of the best fibre optic broadband deals include free service for a set number of months (often 3-6). For a full breakdown of costs including special offers and line rental click Offer Details.
Contract length
The majority of providers will require that you sign for your life away for 12-18 months. Keep in mind that cancelling early will - with a few exceptions - involve a fee. If that's a daunting commitment there are some monthly and short term contracts, but if you're looking for cheap fibre broadband expect to sign up to a provider for at least a year.