BT and Virgin Media are giants of the broadband world. They're not just two of the biggest providers of home internet, TV, and phone services, they also operate the two largest broadband networks in the UK.
At a glance, each appears to offer a similar range of services. But there are some big differences between these two providers. So if you're choosing between them, how do you know which is best?
Read on to find out!
BT vs Virgin broadband packages
Most of the time, when comparing broadband providers, there isn't a great deal of difference between the services they offer. That's because the majority of internet service providers (ISPs) use the BT Openreach network. This means most packages will offer similar speeds, even if the prices vary.
What is Openreach?

Openreach is the company that maintains the former British Telecom Network used for the majority of broadband and phone services. If a repair or installation is required, it's Openreach who will send an engineer, not your provider.

More than 650 service providers using the Openreach network. That's the majority of the UK's broadband providers. This includes Sky, TalkTalk and BT. The exception to this is Virgin Media - it uses its own, separate cable network.
However, Virgin Media operates its own network, and it doesn't share. This means you see plenty of differences when it comes to Virgin Media deals compared to BT, or any other provider on the Openreach network.
We've compared the cheapest and fastest deals for both providers, but this doesn't tell the whole story. Availability is a big factor for Virgin Media. Not everyone can get its services. If this sounds familiar, you might want to skip down to the section on coverage to check what's on offer in your area.
BT cheapest broadband vs. Virgin Media cheapest broadband
BT and Virgin Media cheapest broadband package comparison. Prices last checked November 2023

| | | |
| --- | --- | --- |
|   | BT Broadband | Virgin Media M125 Fibre |
| Download speed (average) | 10Mb | 132Mb |
| Upload speed | 1Mb | 20Mb |
| Data usage limit | Unlimited | Unlimited |
| Traffic Management | No | No |
| Contract length | 24 months | 18 months |
| Monthly price (initial contract term) | £29.99 | £26.50 |
Winner: Virgin Media
Virgin's M125 package is a smart option. For less money than BT, you get more than ten times the download speed. Virgin also has slightly shorter 18-month contract terms compared to the 24-month contract that BT is offering. This offers more flexibility when it comes to managing your bills and keeping costs as low as possible.
BT vs. Virgin Media - who offers the fastest broadband?
 
BT and Virgin Media fastest broadband package comparison. Prices last checked November 2023

| | | |
| --- | --- | --- |
|   | BT Fibre Full Fibre 900 | Virgin Media Gig1 |
| Download speed (average) | 910Mb | 1.1Gb |
| Upload speed | 110Mb | 104Mb |
| Data usage limit | Unlimited | Unlimited |
| Traffic Management | No | No |
| Contract length | 24 months | 18 months |
| Monthly price (initial contract term) | £67.99 | £45 |
Winner: Virgin Media
Virgin's Gig1 package offers a blisteringly quick 1.1Gb average download speed. It's not too expensive, either, given the speed. 
BT Fibre Full Fibre 900 is the quickest BT deal, offering an average download of 910Mb. While not quite as fast as Virgin, it does have a slighter faster upload speed of 110Mb. However, it's also a little more expensive.
If you need faster upload speeds, then BT Full Fibre 900 is the better option. But Virgin Media has availability on its side, as its network coverage is much better.
BT Full Fibre depends on access to an FTTP (fibre to the premises) connection, which fewer homes can get. And if that's not available, the best you'll be able to get from BT is 67Mb fibre. Still, in some ways, this is an advantage over Virgin Media. Even if you can't get BT's high-speed package, you can still get a decent broadband service of some kind.
What is FTTP broadband?

Full Fibre broadband is also known as 'Fibre To The Premises', 'Fibre To The Home'. This is often shortened to FTTP or FTTH. They're all the same thing!

Instead of copper telephone wire making up the final part of the journey from that green cabinet on the street, fibre optic cables are installed right up to your home.

It's amazing the difference in speed this small data journey can have. With full-fibre broadband you can expect to receive speeds of 1Gb+.

The downside is full-fibre is only available to a small percentage of homes in the UK, and it's taking a good while to get everyone up to speed.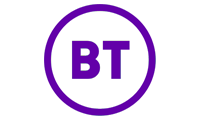 BT Full Fibre 900
Speed: 900Mb/sec avg. speed
Set-up cost: £0 set-up fee
Contract: 24 months
Is BT better than Virgin Media broadband when it comes to affordability?
Monthly price
Winner: Virgin Media
Virgin Media's cheapest package starts at £26.50 per month for a 132Mb average download speed, which is excellent for the money. 
BT is pricier. Expect to pay around £30 for either ADSL (10Mb average speed) or an entry-level fibre service (36Mb average speed).
Choosing a TV bundle will bump the cost up with both providers. It works out to around £10+ for BT, depending on additional channel packs. Virgin Media TV bundles start at about £40 per month, but it can get expensive when you start adding movie and sports channels.
Setup cost
Winner: BT
BT broadband's set-up deals vary a lot. Often you can get a special deal with £0 set-up, other times, you can expect to pay between £32-£62, depending on the package.
Virgin Media's standard set-up fee can be around £35, but you might find broadband offers with free installation. Virgin uses its own infrastructure. This often has to be installed before you can use its broadband.
BT Broadband uses either a phone or fibre optic line. There's a good chance you've already got a phone line in your home, so there's probably not much to do when setting it up besides plugging in your free router.
Broadband rewards
Winner: BT
You'll normally find BT offering free gifts for new broadband sign-ups. Usually, BT will offer a Reward Card (pre-paid credit card). It's often pretty generous, so this can add up to a significant saving for BT customers.
Virgin Media rewards can offer bill credits to new customers, as well as free set-up.
We'll give this one to BT as the Rewards Cards are more enticing and offer more flexibility than a Bill Credit.
Broadband availability and coverage
Winner: BT
BT uses the Openreach network, with broadband delivered by either a phone line or fibre optic cable. Just about everyone can get some kind of BT Broadband service.
The Virgin Media network, on the other hand, is separate and entirely owned and operated by Virgin. While the advantage is that it can deliver much faster speeds, it does mean that fewer homes have access to a Virgin line.
Virgin Media has the upper hand when it comes to ultrafast access. Its network is available to just over half of homes, with speeds up to 1.1Gb in most areas.
When buying broadband, your first step is always to find out what's available, which you can do right now by entering your address below:
Broadband Genie deals checker
Customer service
Winner: Tie
In our 2023 Broadband Awards, neither BT nor Virgin Media scored particularly well for customer service. BT had a rating of 67.6%, while Virgin Media was only slightly behind with 65.1%.
If customer service is a concern, you can check out our survey results to see which providers had the best scores. In general, you'll find that smaller and more specialist providers have a better reputation.
Phone, TV, and mobile services
Winner: Virgin Media
Virgin Media and BT can both offer deals with a full range of additional services. Virgin has the advantage here thanks to its massive entertainment bundles and greater flexibility for phone services.
Home phone: You can get BT phone service without inclusive calls. But if you do use the phone regularly, there are a variety of inclusive calling bundles, including unlimited UK landline and mobile calling and free international calls.
You'll find a similar selection of inclusive calling bundles with Virgin. You can also opt to take a 'phone line-only deal' and just pay for what you use at a standard rate. 
TV: Virgin Media TV is a leading premium entertainment provider. Its action-packed TV packages can deliver hundreds of channels, encompassing everything from the latest US TV shows and blockbuster movies to more niche interests. You also get access to a vast library of on-demand content and a Virgin TV box with enough storage space for hundreds of hours of recordings. 
BT TV deals can't match Virgin in terms of the variety of their content. However, it can be quite a lot cheaper and may still offer everything you'll need. The basic bundle offers Freeview, plus a few extras for a very low cost. You can also add some premium movies, TNT Sports, and entertainment bundles that contain a selection of the most popular channels.
No matter which TV package you go for, you can also add Netflix.
Mobile: Virgin and BT both offer mobile phone packages, with a variety of tariffs, including SIM-only plans, and bonuses for broadband customers.
Expert Summary: BT Broadband vs. Virgin Media - which is best?
Winner: Virgin Media
Between these two, our top pick would be Virgin Media. We love its superfast speeds, TV bundles, and broadband-only deals.
However, it's not necessarily as simple as that. For one thing, these providers are evenly matched in terms of what they can provide. Broadband speed aside, they offer a very similar selection of services.
Crucially, when it comes to choosing between BT and Virgin Media offers, the major deciding factor is availability. If you're in a Virgin network area, then Virgin can probably offer the best speeds of any ISP. Plus, it offers great TV bundles and broadband without a phone line. Unless you're in the minority of homes covered by BT FTTP services, it can't touch Virgin for performance.
If it turns out you can't get Virgin Media, the decision then comes down to whether BT offers the best value package among the vast array of other Openreach network providers. 
Why do we need your address?
We need your address to show you the broadband deals available at your home. This information is gathered in partnership with thinkbroadband.
Read our privacy policy for more details.