In this guide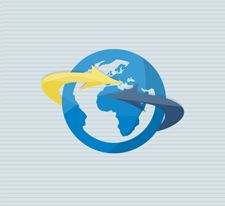 Using a mobile device abroad is often called 'roaming' – which becomes 'data roaming' (or broadband roaming) when using a mobile broadband service outside of the UK.
While you should be able to use your mobile broadband dongle abroad, it could set you back a pretty penny - the data will not always come from your normal monthly allowance and can instead be charged at a much higher rate.
Horror stories of Brits abroad running up huge bills are not unknown so make sure you are 100 per cent sure of all the charges you may incur while abroad - we can't stress this enough. And make sure everyone is aware of them too - you may know what not to do, but do the kids? It really is up to you to make sure you're not the next horror headline in the tabloids.
Compare costs quickly: the Mobile Broadband Roaming Tool
Broadband Genie has created a unique tool to help guide you when selecting a network for use abroad. 
Our Mobile Broadband Roaming Tool allows you to quickly see list of prices for the four main networks, alongside specialist services when applicable. 
If you want to know which networks are available in a particular country, and get an idea of how much it can cost, this is a really quick and convenient way to compare prices.
Charges and caps: The EU vs The Rest of the World
Using international broadband is cheaper in the EU than elsewhere. The European Commission introduced a law capping the wholesale cost of broadband roaming to one euro per MB on July 1, 2009, and a year later on July 1, 2010 it introduced measures to ensure 'bill shock' would be a thing of the past within the EU. In July 2012 prices dropped once again to a maximum of 0.70 per MB, and were then reduced to 0.20/MB in July 2014. 
Since June 2017 roaming in the EU is free. This means you can use your device for the same cost as the UK, including free minutes, texts or data. But do read the small print because most providers still have a limit on how much data you can use while roaming.
Contract mobile broadband roaming
Price differences can be significant - you can pay anything from about 20p up to £10 per MB for roaming! Here are the rough prices by provider - for accurate price details for each country, see our mobile data roaming tool linked above.
EE
4GEE Max plans include free roaming in selected locations around the world. If you're outside Europe and do not have a 4GEE Max plan, you will need to purchase a data bundle. A Travel Data Pass is available in 11 countries. Find out more. 
O2
Outside the EU prices can be up to £6 per MB, but bolt-ons are available that offer better value for heavy users. Find out more.
Three
Just switch on roaming and away you go. Prices range from super cheap (the cost of your standard UK allowance) in "Feel At Home" countries, up to £6 per MB in more exotic locations. There is a 12GB fair usage limit outside Europe. Find out more.
Virgin Mobile
Outside the EU its a flat/MB charge, which can be expensive - do check individual country prices carefully before considering this option. Find out more.
Vodafone
All new Pay Monthly customers get access to Vodafone Global Roaming. There are 60 countries included in "Roam-further" where you'll pay just £5 per day to use your home allowance. In other locations there is a higher per-day fee for a limited bundle of data. Find out more.
Pay as you go mobile broadband abroad
Three Mobile Broadband has options in several countries where your data allowance will come out of your normal bundle. Alternatively, prepay customers will simply be charged per MB depending in destination.
EE lets its prepay customers buy roaming ad-ons for data; simply allow roaming and, once abroad, open your browser for options.
Unfortunately O2 doesn't cater for pay as you go mobile broadband roaming. If you're a Vodafone PAYG customer you'll also find it barred as standard, but you may be able to talk to them to add Vodafone World to your deal for your trip.   
Why is roaming so expensive?
While the ISPs will quote you all sorts of complicated reasons why the prices for mobile broadband roaming are so high, the simple answer is lack of regulation and competition - it's currently quite a small market, so there have been no price wars yet.
Mobile service providers have been involved in some pretty vicious price battles over recent years as the 'land grab' for customers has rolled on, so they are always looking for places to pull in bigger profits as cash flow from voice and text falters. 
What to avoid when roaming
Just checking your web email, looking up the football results on the Sky Sports website or looking for a weather forecast aren't going to break the bank too badly, but some things you may not even think before doing at home - where monthly limits are counted in gigabytes if they exist at all - can be your downfall.
While you may love Eastenders, or Match Of The Day, streaming a TV show on your hols is going to be a costly mistake: downloading a 30-minute programme, for example, can equate to a roaming bill - in theory - of £4,000 or more. Yes, you read that right, £4,000 - that would be 500MB at £8 per MB.
Alternatives to roaming
While using a dongle you already own is the most convenient way to get online abroad, it's certainly not the only one. Here are some alternatives you might want to consider:
International mobile broadband deals: Recognising the need for an affordable service to fill the niche, there are now several companies offering mobile broadband specifically geared toward international use. Ignoring the additional costs of buying their equipment, the data packages can be very competitive.
Hotel Wi-Fi: Some hotels charge high rates for Wi-Fi, and it can often be very slow, but this doesn't apply to everyone. Some hotels and apartments offer free internet access which may well be enough to get your web fix for the duration of your stay.
Internet cafés: These are commonplace and can provide a cost effective solution to your roaming broadband needs while on holiday. Quality can vary hugely from dingy dives to posh cafés, and they're not to everyone's taste, but if you're on a budget they can be a life saver. Make sure to check your resort has one before you rely on this option though.
Buying a dongle or SIM abroad: If you're planning on a long stay - perhaps a month or more - or you know you will be making multiple trips to the same country it is worth considering buying a dongle or SIM for that destination from a local mobile network. If it's a business trip, why not ask your contact in the country to give you the low down on dongle and package prices where they are, so you can compare costs?
* While we do our best to stay on top of price changes regarding roaming, they are rarely advertised or flagged up to us by the companies themselves: please use this as a guide and be sure to check before you commit. Please contact us if you notice any errors or omissions.